Get Date, Calendar & Time From Multiple Cities In Mac Menu Bar [Paid]
Very few of us work without a clock on our screens; some either check it regularly to ensure they are not late for something, while others check it to see how much longer until the work day is over. For whatever reason, many might find that the default clock displayed in the Mac menu bar, is somewhat bare bone, displaying only the current time. The Clock is a Mac app available for $2.99 in the Mac App store that will add a feature rich clock to the menu bar. The app not only lets you see what time it is, but also lets you view the day and date. Clicking the clock opens a full calendar, and you can add clocks from different cities and time zones to it. The app also has a feature to view how much time you have left until business hours in a particular city are over, and it lets you set break alerts to make sure you take a break at regular intervals.
Launch the app and a digital clock will be added to the menu bar, you can remove the default system clock if you like. Click the clock, and a calendar will open, displaying the entire month's calendar. There is a small bar just below the calendar with a plus and minus sign and a cog wheel button. Click the plus sign to add a clock from a different time zone. Type in the name of a city and the app will list all matching results. Double click a result and the clock for that particular city will be added. Every time you click the clock, the calendar will be displayed, along with clocks from all time zones you've added. Right-click a clock and select Highlight Days Off in Calendar to view holidays observed in that particular time zone. Click Days off & Business Hours Preferences to see which holidays are being observed and to manually select days off.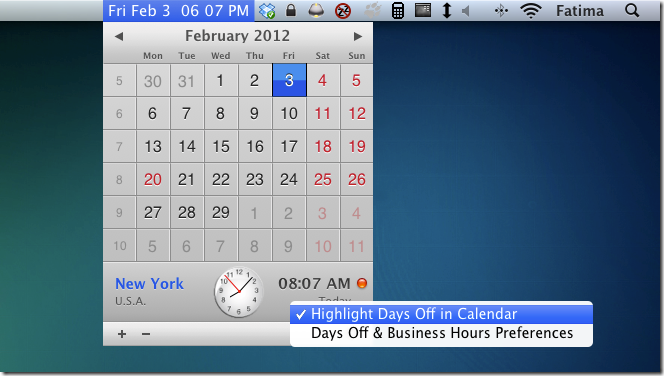 Click the cog wheel to access the app's preferences. From the Clock tab, choose whether you would like to see a digital or analog clock, if you would like to display seconds, use the 24 hour format, show the day and date, and view time left until business hours are over.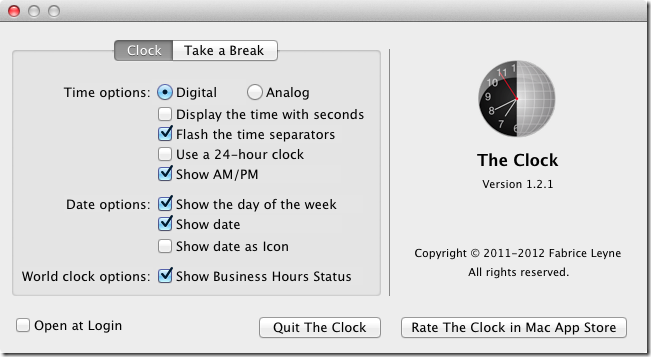 From the Take a Break tab, set up a break alert. Chose how frequently the app should remind you to take a break and the interval of each break. The app has an Enforce Mode, which locks your system down so you have no choice other than to take a break. The system remains inaccessible until the break period is over.
The calendar feature of this app is useful if you don't like to swipe to the dashboard, or view iCal just to check a day or date. If you work with people in different time zones, then this app is all the more useful for you, and worth the price tag it carries.
Get The Clock From Mac App Store