Good Screen Recorder Lite: Screencast Tool With Mouse Click Capture [Mac]
Finding a halfway decent screencasting tool is hard enough, but finding a free one is next to impossible. Admittedly, not everyone needs to record what they're doing on their screen (unless it is some seriously fancy clicking and swiping), but for those Mac users who need to create instructional videos or demos, Good Screen Recorder Lite is a free Mac app that lets you record whatever transpires on your screen and also capture mouse clicks. The app lets you record your entire screen or any area on the screen. You can chose the width and height of the area by dragging the edges of the frame, chose the frame rate, mute sounds in the recording and customize the count down time before the app starts recording once you've clicked Record.
The app adds a camera icon (the old movie making kind you would see in a 70's movie) to the menu bar. To start recording, click the icon. Chose whether you want to record the entire screen or just an area. If you chose to record an area, a selection box will appear on the screen. Drag  the box to the area of the screen you want to record and resize the box so that everything you want to show fits in it perfectly. You can see the dimensions of the box on the screen as you change them. Once you've set the box's size and position, click Record.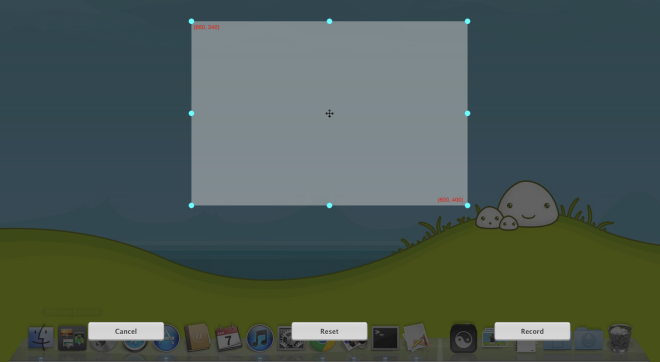 When you start recording, the icon in the menu bar turns into the Stop button that you see on most media players accompanied by a timer that shows how long your recording is. Once you're done recording, click this button, and the app will open your file in QuickTime. To disable opening in QuickTime and enable capturing the mouse clicks, go to the app's preferences (accessible from the menu bar).
Select the frame rate, which audio device the app should record sound from (you may have several connected to your system), the output folder i.e., where the screencasts are saved, the length of the countdown timer and whether or not you want mouse clicks captured.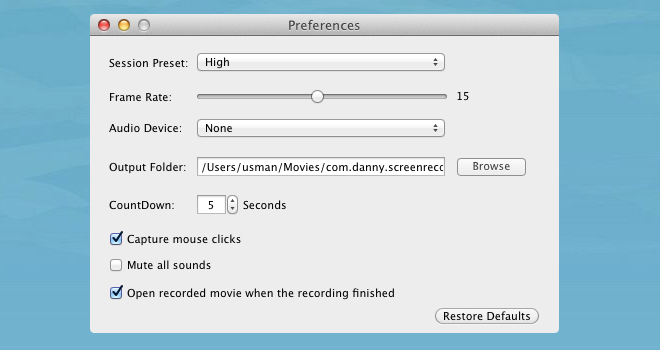 As far as screen casting apps go, this one is very basic but it does not trick. It does not let you annotate items on the screencast, but for the price tag it carries, it is exceptional. A paid version of the app is also available in the Mac App store, worth $2.99, that lets you record actions in a particular app window.
Get Good Screen Recorder Lite From Mac App Store