Grandview Is A Writing Pad For The Easily Distracted
Distractions during work are normal, but there are some tasks that fall prey to procrastination more easily than others, and writing is at the top of the list. When you're writing, it's just you and your thoughts, and a text editor. In times like these everything from organizing the mess of icons on your desktop to adjusting your screen so that there is minimum glare seems like an extremely important task that should be done before you're comfortable enough to start writing. Grandview is a free Mac app that gives you a distraction-free writing space. The 'space' is basically a big blank white void on your screen where you write; you can write such that you see a whole sentence once it's complete or you can see the sentence as you type it.
Grandview works exclusively in full screen mode; the app's interface is meant only for writing. To set font and background color and font type & size, go to the app's preferences via the A icon present in the menu bar.
Grandview runs in the menu bar, and is activated via a Command+Shift+A hotkey combination, which can be edited to your suiting. There are two writing views that you can use; the Whole writing view allows you to see everything that you've typed, whereas the Horizon Mode (Whole writing view turned off) lets you see only the word you are currently typing with the sentence viewable only when it's complete.
Select a font type from Font, font color from Text Color, and change Background color to your liking. The Font size in whole writing view allows you to change the font size. It will not affect the text size if you have Whole Writing view turned off since you see only one word at once.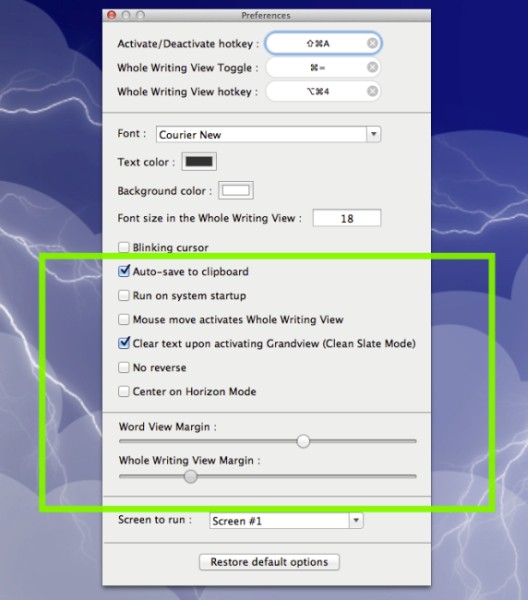 You can choose to enable the insert cursor where you're currently typing. The app saves all text and copies it to your clipboard if you enable the Auto-save to clipboard option, allows the Whole writing view to be triggered via your mouse, gives you a clean space to work with each time and supports working with multiple screens.
Checking the No reverse option will disable the Backspace key in Horizon mode and the Center on Horizon Mode will center align the text. You can manage text margins via the two sliders at the end. As you move these sliders, an on screen box allows you to view the margin area.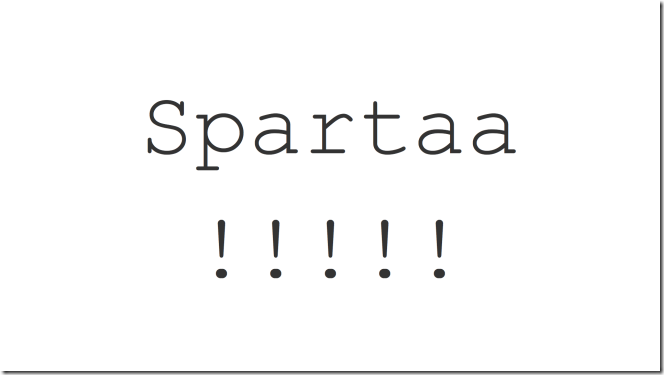 The app might not be suited to everyone, but as far as distraction free writing goes, it doesn't get any less distracting than this. Hit the escape key whenever you want to exit the app's writing mode. Anything you've written can be accessed and reopened from the menu bar. The one bug with the app is that it does not recognize space between words in the menu bar when you access previous items.
Get Grandview From Mac App Store