HandbrakePM Uses HandBrake Engine To Encode Videos To iDevices [Mac]
If you're not a videophile and love to use a video encoding utility on your Mac which offers ready-made video presets to directly encode video files to your iOS devices, including, iPod, iPhone 4, iPod Touch, and iPad, you should try HandbrakePM. As name hints, it uses Handbrake encoding engine to convert videos for iOS devices. The application is designed to be simple with minimal set of Audio and Video options, so users can quickly pick up the output format followed by their iDevice from the list to start the conversion. In short, it is for Mac users who love simplicity.
All it requires you to drop the video files which are to be converted over the main interface and hit Process to start converting all the videos in the list simultaneously.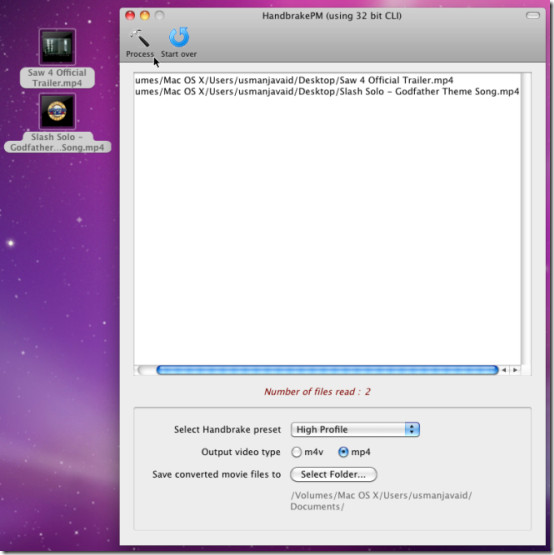 It offers almost all the Apple devices related presets ranging from iPod, Apple TV 2, Apple TV Legacy, iPad, to iPod Legacy while supporting both M4V and MP4 video formats.
The Start over option present besides Process will clear the list to convert another video set with different preset. Moreover, you can also drag video files over its dock icon to add them into conversion list without launching HandbrakePM.
If you are a Mac user who uses Handbrake only to convert videos to their iPhone, iPad, and other iDevices format, then HandbrakePM is the perfect replacement out there. It works on Mac 10.4 or later.