Herald – Apple Mail Email Notification Plugin [Mac]
When it comes to mail notifiers that notify about the incoming mail, we have seen plenty of them in Windows. There are some standalone GMail Notifiers, Outlook Notification plugins, etc. But what about Mac?
Herald, unlike other notifiers, is a beautifully coded plugin for the Mac OS X email client called Apple Mail. Apple Mail(which is also called Mail.app) is an email client from Apple that is integrated in every Mac OS X operating system.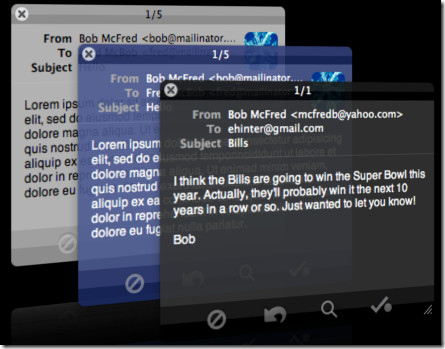 It is totally customizable. Once installed, you will get a pop-up alert every time a new mail arrives. The best thing about this plugin is that you can perform actions directly from within the notification dialog. Weather you want to View, Delete, Reply, or Mark it as Read, all options are given at the bottom of the notification dialog.
The message window is scrollable which means you can read the email without shifting to Apple Mail. Once read, you can then reply, delete, or perform some other actions. Below are some screenshots showing the General, Appearance, and Mailboxes tabs.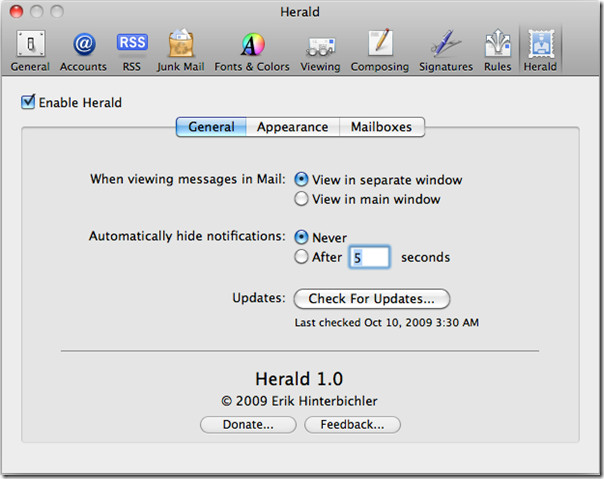 The screenshots above are taken from developer's page
According to the developer Mail plugins are not officially supported by Apple, but Herald has been rigorously tested. Did I forget to mention that it groups all emails in a single notification window in order to reduce clutter? You can flip through them easily.
It works on Mac OS X 10.6 Snow Leopard. Enjoy!