Hide Mac Desktop Shortcuts & Files With Camouflage
So your desktop is cluttered with files and shortcuts that you don't know what to do about, and they're ruining your beautiful desktop background? Camouflage is the tool you may want to check out. This application hides all your desktop icons and leaves nothing but the background wallpaper. Hidden icons can be easily toggled with hotkeys and right-click menu.
Camouflage offers different methods to utilize the icons. If you don't want to use the hotkeys, you can choose to have the Desktop folder opened in Finder whenever you click anywhere on the desktop.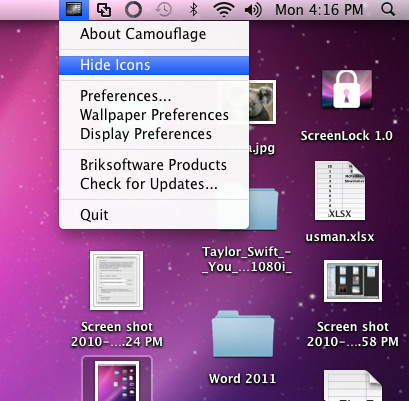 With Camouflage installed, clicking the icon will allow you to hide or show the icons as well. The same menu also lets user access the utility's preferences, where you can control its integration with Finder, choose to have Camouflage launched at startup, etc.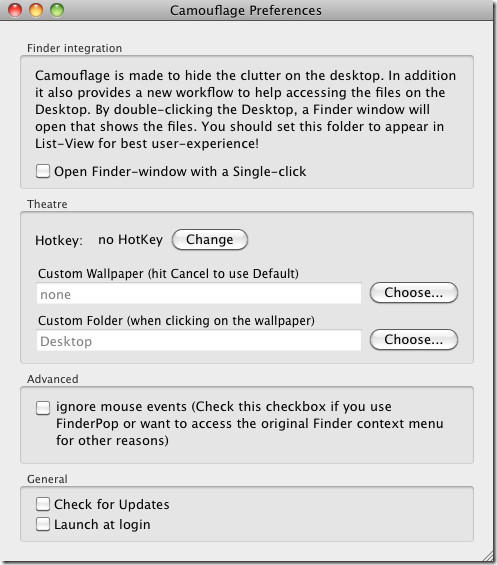 It offers the following key features:
Perfect system-integration: change your wallpaper and Camouflage will show the change instantly.
Works with multiple monitors: attach new monitors and the icons will instantly be hidden.
Drag & drop: drag files on the desktop and they will be copied onto your real desktop.
Finder integration: click the desktop and Finder will be activated and opens or selects a separate desktop window. (You can disable this with the Popup Desktop option of the menu. To still open a window, press the option-key while clicking the desktop, or by double-clicking on the desktop)
Support for Path Finder
Ability to show and hide the icons (available in status item menu)
Works with desktop managers
Ability to 'click through' Camouflage to get the normal Desktop-Context menu (Use with caution, you may select a file and don't notice it. You may only want to use that feature if you are using FinderPop)
We tested Camouflage on our Mac OS X 10.6.3 system and found it to be working fine.