Hot Mouse Flower Is A Hotkey-Triggered Virtual Keyboard For OS X
Working productively is not just a careful balance of how many times you're going to check Facebook and look at cats between getting some actual work done. It also involves finding a comfortable arrangement to work with your mouse and keyboard. Not that this is difficult for the average user who can easily switch between using a mouse and keyboard without trouble. Conversely, if you use programs that require you to switch between the two devices very frequently (perhaps in Photoshop) it gets frustrating after a while particularly if you're working with additional programs. Hot Mouse Flower is a free Mac app that puts a virtual keypad triggered by a hotkey on your screen. The keypad is arranged in a disc and the keys listed are the Function keys, a few letter keys and additional characters.
Hot Mouse Flower adds an icon to the menu bar that is something between a hotwheels car and a burning mouse. The icon merely indicates the app is running and gives you access to its preferences. The hotkey that triggers the app can be edited, you can reorder the keys that appear in the virtual disc, change the opacity of the disc and change the colors and angle.
The Preferences holds a key set in the left sidebar and the Flower Panel Settings are present in the main window. Keys at the top appear in the innermost circle of the disc while those at the bottom appear as the outermost circle of keys. You can drag one over the other to rearrange them.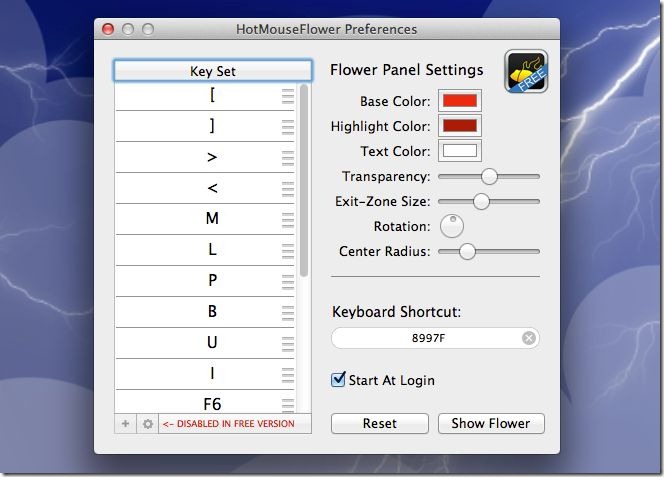 Once you've set the color, orientation and key layout, hit the shortcut key and the keys will appear. When clicked, the key executes a function for the active application. Hover your mouse over the exit key (no need to click) and the disc will disappear.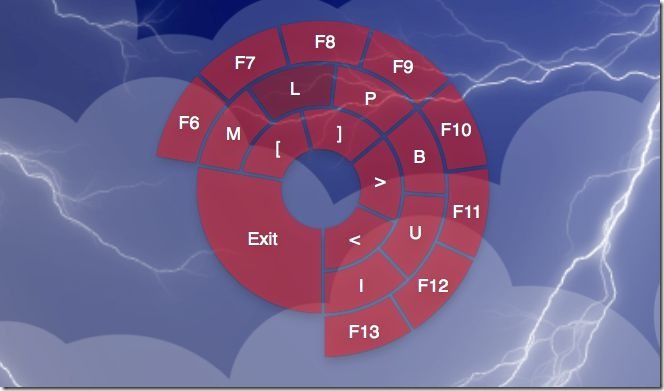 The app isn't just useful for working efficiently between a keyboard and mouse, but is also an easy way to access the Function keys on an Apple keyboard. When you're not using an Apple keyboard with your Mac, this app's paid version can give you access to special keys. It is fully customizable. The disc appears exactly around the area your mouse pointer is positioned.
The free version doesn't allow you to add new keys to the keys that are displayed. To purchase the full version you have to donate to the developer whatever amount it is you feel like paying.