How To Look Up What An Emoji Means Using The macOS Dictionary
Emoji's are taking over like no one could have imagined. People, the younger ones, are able to use the little picture icons to express themselves, often forming coherent sentences with just the little images. Come iOS 10, you will be seeing more and more Emoji usage. iOS 10 comes with an 'emoji suggestion' feature in the Messages app that will let users replace words with an emoji. If you don't know what an emoji means and would like a super simple way of looking it up, the Dictionary app in macOS can help. Out of the box, it can't tell you what an emoji means but if you install the Emojipedia dictionary, you will be able to look them up like any other word.
Visit the link at the bottom and download Emojipedia. If you use Safari to download the zip file, it will automatically extract it. If you use any other browser, you might have to manually extract the zip file.
Once extracted, you get a single file called Emojipedia.dictionary. Copy this to;
~/Library/Dictionaries
and open the Dictionary app. If you don't see Emojipedia in the available dictionaries, go to the app's preferences and enable it. To look up an Emoji, simply paste it into the search bar. Alternatively, you can right-click it inside an app and use the 'Look Up' option to look it up.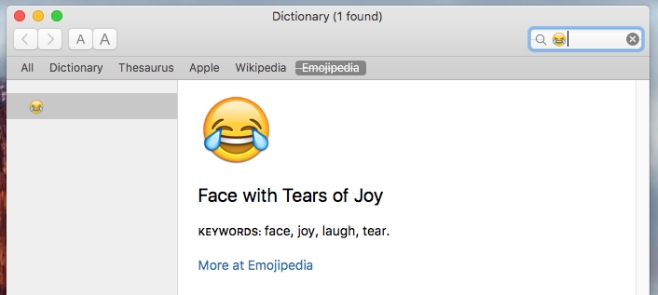 Since Emojipedia integrates with the Dictionary app, you can use the Dictionary pop-up/three finger tap to look up an emoji as well. At present, the dictionary supports 1791 emoji. The description for an emoji includes what the image represents as well as what it can be used to describe e.g. happiness, joy, etc.