How To Set Reminders For Notes In Evernote On OS X, iOS & Web
It's hard to find any shortcoming with Evernote, both as a service and with any of its apps. It's rich in features and since it's available on so many platforms, you can create and sync notes from just about anywhere. Though hard to spot, one shortcoming that Evernote did have was the lack of reminders for the notes users created and with a recent update to both its desktop and mobile apps, that has been fixed as well. If you use Evernote on a Mac or an iOS device, or its web clipper in your browser, you can now set reminders for your notes. Users can receive emails for the reminders they've set, as well as Notification Center alerts on both OS X and iOS. Sadly, the Windows and Android apps have been left out. Not only are Windows users unable to set reminders, it seems they will not be able to view the ones set from a Mac or an iOS device either. Here's how you can set up Evernote to give you reminders on your device or as emails.
On OS X, you can add a reminder either from the column view, or by opening a note separately. A clock button next to the share arrow button opens a small popup, from which you can choose the date and time of the reminder.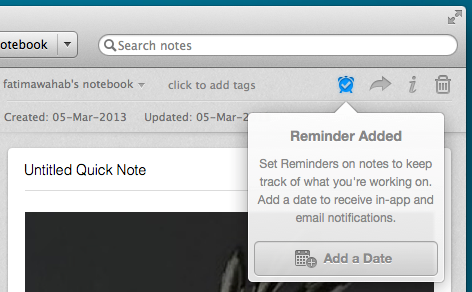 When you set up your first reminder from Evernote for OS X, it will ask you if you want to receive email reminders as well. Alternatively, you can go to Evernote's preferences and enable email reminders from the new 'Reminders' tab. The reminder is sent through Mountain Lion's Notification Center, and you can review reminders or dismiss them like any other notification.

On iOS, tap the alarm clock icon at the bottom of a note to create a reminder. You can select the date and time by tapping 'Notify me' on the popup that appears.
The reminder will appear much the same as any other iOS alert, and can be dismissed just the same way. You can enable or disable email notifications for reminders in the iOS app from Account Settings > Reminders Settings.
To set reminders for a note from the web, the process is pretty much the same as that for adding one on OS X; just click the alarm clock button and select the date and time.
These reminders are pretty basic for now. On iOS, you can only select the reminder time in hours, and not down to the minute. The reminders cannot be set as recurring either, not even on OS X. Though hopefully, a future update might fix these issues, as well as bring the feature to Windows and Android.