[Giveaway] Hypegram: Stream Unlimited Songs Gathered From Music Blogs
A big music appetite is hard to satisfy, but if your taste in music isn't particular to a specific genre, or you  find online radio stations from services like Pandora or Grooveshark aren't picking the right kind of music, try Hypegram. Hypegram is a  $4.99 Mac and Windows app that allows you to search for and listen to unlimited music. The app is essentially a client for music blog aggregation and discovery service Hype Machine. It allows you to follow blogs and view music selections from them. The app differs from other online music services because the music is selected by people and instead of following radio stations for a particular artist, you can follow music blogs. This gives you a larger variety of music to listen to. You aren't restricted to a particular genre, and you can refresh the app to get a new playlist each time. Songs can be favorited and purchased on iTunes.
Note: Hypegram is a paid OS X and Windows application that costs $4.99. We're giving away 5 free copies of the OS X version to 5 lucky readers. You'll find additional information about taking part in the giveaway at the bottom of the post.
To take full advantage of all of Hypegram's features, you need to sign up for a free Hype Machine account. Like with the web service, you will still be able to search for and listen to music without an account. If you're using Mountain Lion, you will be able to tweet what your listening to without having to connect your Twitter account separately.
The interface is simple enough. The left most column lets you change tabs, the column in the middle lists search results from a particular blog or tracks that you've liked (depending upon the tab you've selected), and the last panel is dedicated to displaying album art, the favorite button, link to where you can read more about the song online, follow the blog the track is from, purchase the song on iTunes, and tweet what you're listening to. Media and volume controls are all located within the bottom bar.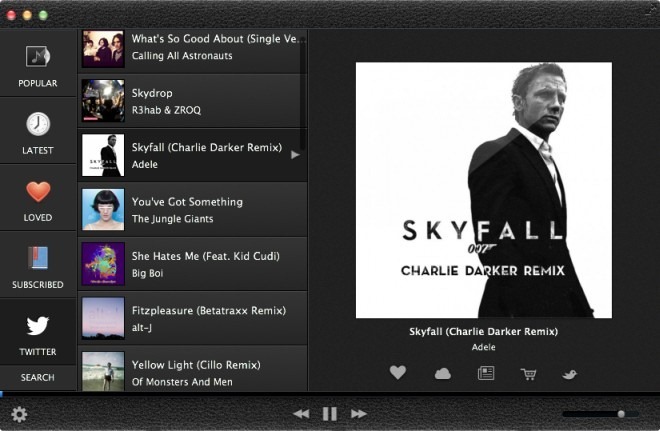 To log in or create an account, click the cog wheel icon in the bottom-left corner. You will have to visit the app's web interface to sign up but it's a relatively quick process. Once you've signed up for an account, you can follow blogs and favorite songs.
Hypegram is great for listening to unlimited music for free, however, it lacks two features you would normally find on desktop music players. It does not let you create playlists and it does not seem to buffer the entire track, though playback is free of any hiccups. The songs you've favorited will play in a loop, but there is no option to set them to shuffle.
What sets Hypegram apart, as mentioned earlier, is that you get unlimited music hand picked by fans. The app's connection with the Hype Machine web service provides you with tons of songs curated from different blogs, thus adding the human touch, which most services lack.
Download Hypegram From Mac App Store
Giveaway
We're giving away 5 OS X copies to 5 readers. The giveaway will last for 48 hours. The steps for participation are simple:
Follow @addtips on Twitter.
Tweet/retweet the giveaway.
In the comments below, provide a link to your tweet.
Alternatively, you may comment on our Facebook or Google+ page, where the comment should preferably be under the shared post and not on the page itself. Our editors will pick the 5 winners randomly. Good luck!
Update: The giveaway has been closed and promo codes have been sent to the winners. Thank you all for participating!