iBooks Author: Apple Releases eBook Creation App For iBooks [Mac]
Reading on an iPad is unquestionably fun; the device itself is enough to tempt you to read, even if you'd rather wait for the movie. To make it better, Apple has iBooks, an iOS app available for free in the App Store that makes reading both fun and interactive. The app itself is extremely popular, and now Apple has released iBooks Author; a Mac app that lets you create ebooks in all their splendor for reading in iBooks. The app might just be a publisher's dream come true; it comes with six templates that can be modified, you can add just about any kind of content, be it movies or audio files, slideshows, charts, tables or 3D objects. The templates are fully equipped to support basic book elements, like glossary, preface, table of contents and more. It additionally lets you import whole chapters from a Pages and/or Word file.
When you first launch the app, you will be greeted with the template screen. There are six templates to chose from, all fully customizable.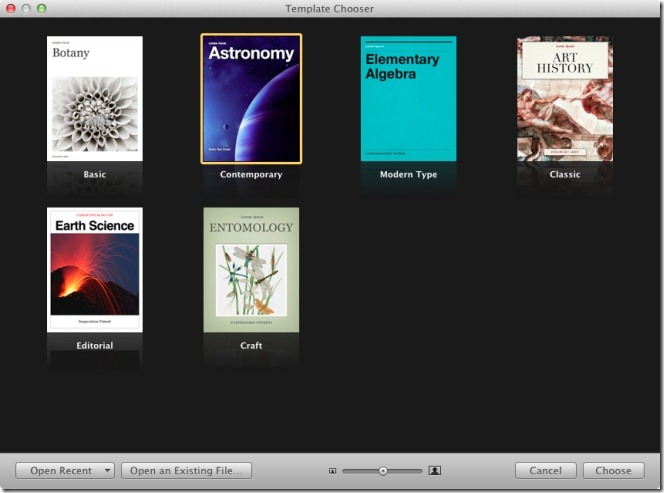 Start out with editing the Title page. Depending on the template you've picked, you will see different elements that you can add, like a title, a sub-title, cover image, author name and an abstract. Not all elements are labeled as such, and they can be freely repositioned. Elements can be dragged to rearrange them, and the app highlights rulers as you drag items to make alignment easier. You can add additional images or text from the buttons on top, and also through drag & drop.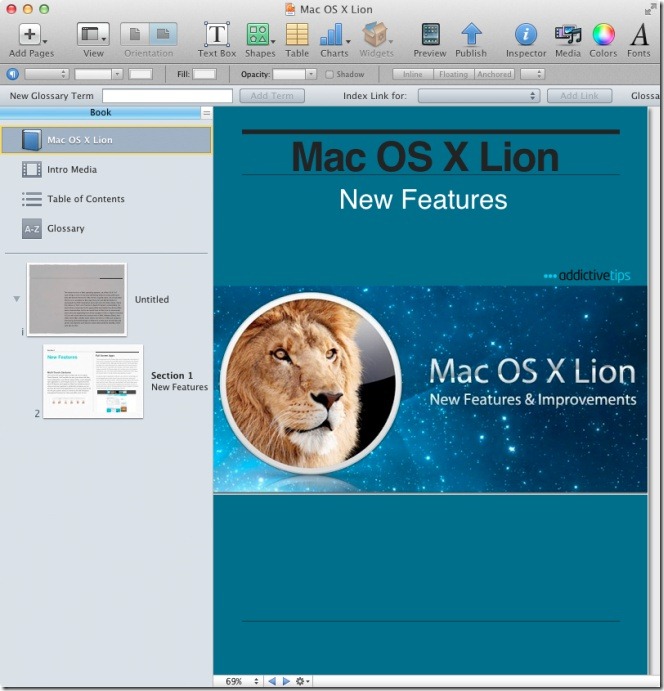 From the Intro Media page, add a movie (MP4 format) by dragging & dropping it onto the page. The Table of Contents doesn't have to be added manually; as you add more and more chapters, the app updates this section automatically. Move on to the first chapter, and you will find elements like the Chapter name, a summary of contents, and perhaps a small summary of the chapter itself, but it depends on the template you've chosen. What you might miss is the freedom to create a custom template. You can delete a template element from a chapter by right-clicking it and selecting Delete Section, and you can add pages or chapters by going to the Insert menu and selecting an element from the Pages submenu. To add a shape, textbox, table or chart, use the buttons at the top.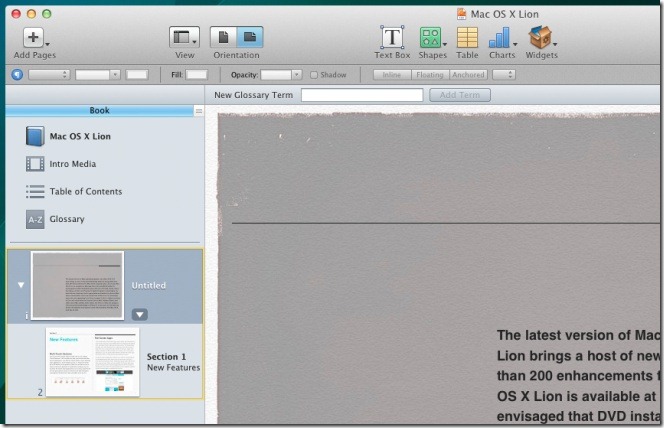 The widgets button is perhaps what you'll love the most. It lets you add interactive elements, like movies, images, 3D objects and more. To change the text font, click Font button on the top right. To change colors of elements, select them and pick a color from the Colors button. To quickly add media from iTunes, iPhoto and Photo booth, click the Media button. To view and modify an element's attributes click the Inspector button. From here, you can quickly see what formatting has been applied to various elements, and modify it.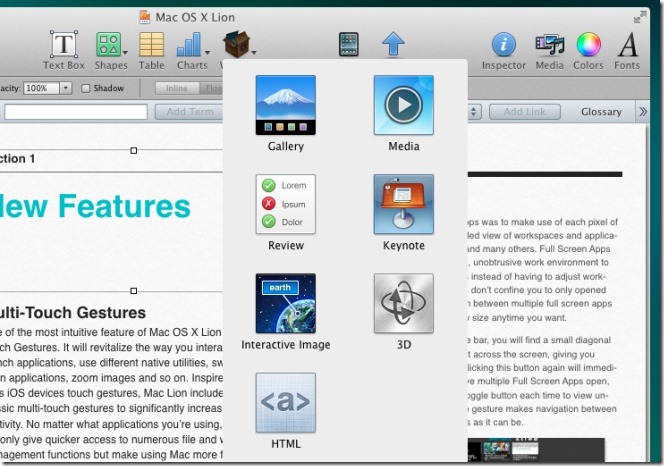 To preview what your book looks like, click Preview. Connect your iPad and launch iBooks on it. You can flip through your entire book as you would any other. All elements that you've added to the book will be fully functional.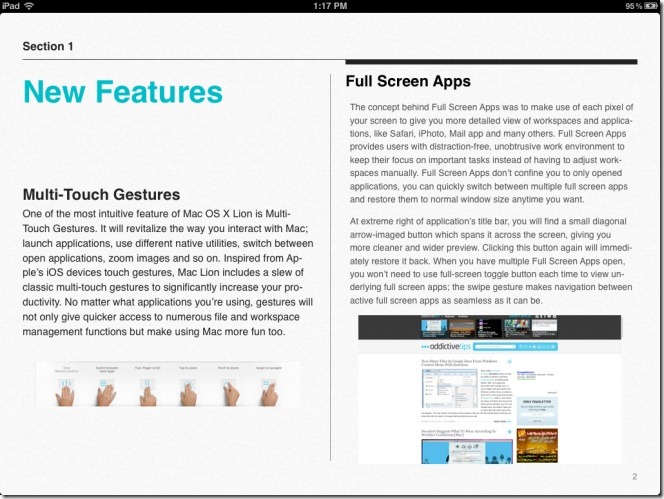 This app, no doubt, opens a lot of options to authors looking to publish content for the iPad. It makes it easier, and lets you consolidate different types of content in a single ebook.
Get iBooks Author From Mac App Store