iFototessere: Create & Print Passport Sized Photos On Your Mac [Paid]
In January, we covered ID-Photo, an iPhone app worth $1.99 that helped you take better photos for a passport or ID card. iFototessere is a similar Mac app worth $0.99 in the Mac app store that allows you to crop a picture, or take a new one and crop it perfectly for multiple ID picture measurements. The app comes with 20 different photo size measurement that you can fit an image to, or take a new photo from your webcam, so that it fits the exact measurements you need. While the app doesn't provide instruction for taking pictures correctly like the iPhone app, it allows you to move the image around the canvas, adjust the zoom, brightness and contrast. The app lets you print images in sets of 2, 4 or 6 pictures.
iFototessere lets you use either one of your existing photos or take a new one. If you have a photograph that you want to use, click the Open button and select the image. If you'd rather take a fresh one using your webcam, click the Camera button. The app captures an image after a 3 second delay when you click Save. If you have multiple webcams set up with your Mac, use the Video Devices button to select which one you want to use.
Before you take an image (note that there should be only one person in an image), it's a good idea to set the photos size to the largest one available from the Format dropdown, so that you can crop it later. If you think you'll fit the canvas without any trouble, select the photo size you need and take the photo. Once you've captured the image, use the Zoom, Brightness, and Contrast tools to fix the photo. Select the number of images you want to print from the Number dropdown, and save the image or click Print.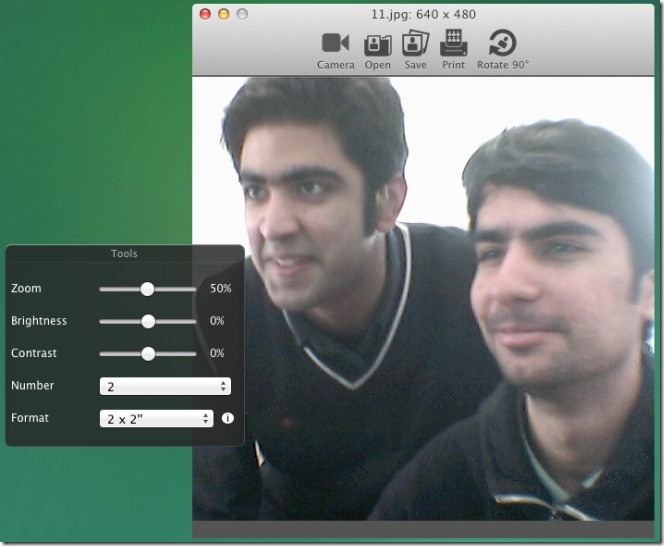 From the app's preferences, you can chose the layout of the photo and the resolution that it should be printed in. The app only has 300 and 360dpi, but if your camera's resolution is higher, it will take a print a better quality image.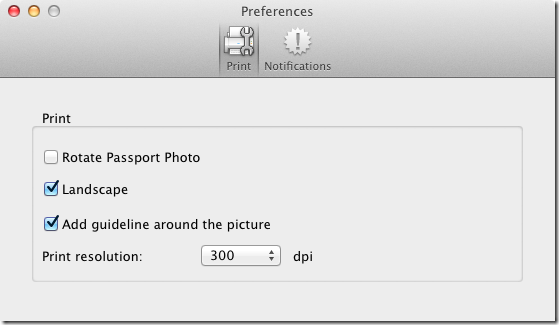 iFototessere serves a good purpose and the interface is excellent. It is meant to only take good pictures or adjust/crop them so that they meet ID photo standards. It cannot be used to edit the background, which is why you should arrange one before you get started.