iKeyboardRemote: Send Commands To iPhone Or iPad From Paired Mac
If you have a Bluetooth keyboard, you can easily connect it to your iPhone, and use it to control your device. In the event that you haven't splurged on such a keyboard – partly because it's splurging, and partly because you aren't that crazy about typing from a full, physical QWERTY keyboard on your iPhone – then iKeyboardRemote might be of use with considerable savings, since it is free. This Mac app is a  simple remote control that pairs with your iPhone via Bluetooth, and allows you to start a slideshow of the pictures on your phone, play/pause and move to the next or previous track, lock your phone screen and control the volume. A paid version of this app ($9.99) allows you to type text to your iPhone.
Before you can start using the app, you will have to pair your iDevice. The connection will have to be initiated from your iPhone, and requires no app installation whatsoever. To initiate a connection, go to Settings > General > Bluetooth, and send a connect request to your Mac. You can disconnect the phone from your Mac any time by clicking the Disconnect button.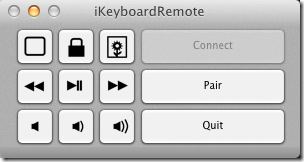 Once you've paired your Mac, use the buttons to perform normal functions on your iPhone. The Volume and Music control buttons are obvious in the second and third row. The three buttons on the first row of the controls pad allow you to swipe through screens, lock your phone screen, and start a slide show of all images saved on your phone's memory. There is no button that allows you to unlock the screen. The app smoothly controls playing music, volume and the slideshow. You will experience no lag or delay in the commands you send.
If you find clicking the app's control pad somewhat annoying or inconvenient, you can use these hotkeys to send commands:
ESC: Home button
F4 : iPad slide show / iPhone song album cover
F6 : Lock button
F7 : Previous song
F8 : Play/Stop
F9 : Next song
F10: Mute
F11: Volume down
F12: Volume up
Get iKeyboardRemote From Mac App Store