Initiate Custom Web Search From Mac Menu Bar Using MenuSearch
Plenty of application launchers allow you to search quickly without opening up the browser first. MenuSearch is an app for Mac OS X that puts customizable search on system menu bar. Switching between widely used search engines and defining your own list of websites to search is also possible. The app supports pre-defined hotkey combinations to quickly set focus on search bar to initiate search. You can also set post-search behavior, such as, make search field active after searching and show and save history.
MenuSearch helps you search any website of your choice by entering its search engine URL; switching to custom search engine is simple, once specified, you can pick custom search engine from default search engines list.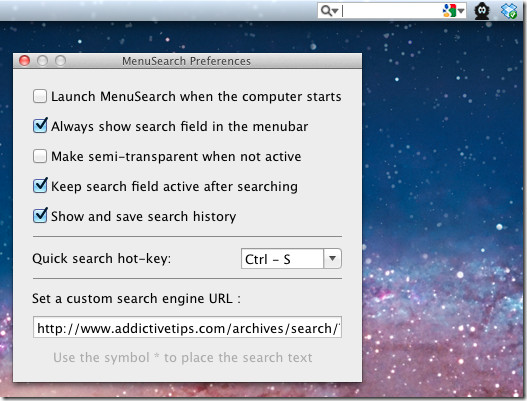 The default search engine is set to Google but you can replace it with Yahoo, Wikipedia, Bing, Duam, Naver, Baidu, or Yandex. The Preferences window is also accessible from search engine menu. In Preferences, you can toggle numerous search related behaviors on/off, specify search hotkey, and enter custom search engine URL.
MenuSearch maintains search history to quickly aid you in future searches. The search icon drop-down menu displays all the previously searched keywords.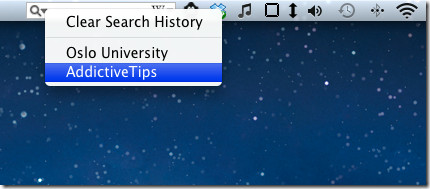 As mentioned earlier, it supports custom search engine URL; you can add search query URLs of websites that you most frequently visit. In the screenshot below, you can see AddictiveTips search being used in MenuSearch app.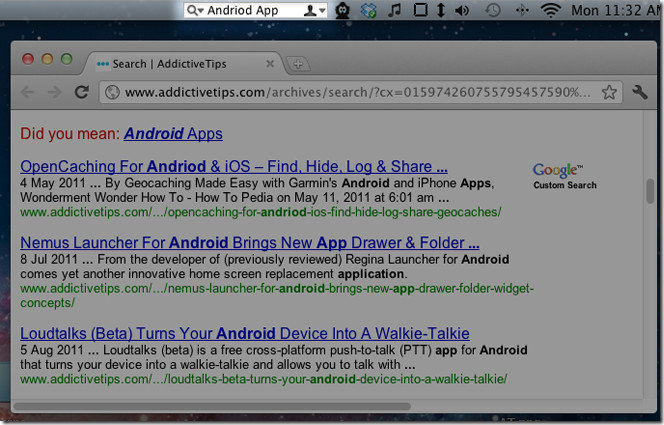 MenuSearch works on Mac OS X 10.6.6 or higher.