InstantShot Screenshot Tool Is Now Available For Mac OS X 10.7 Lion
InstantShot is a widely used, feature-rich screenshot taking application for Mac OS X, supporting Mac OS X Tiger, Leopard and Snow Leopard. If you have recently switched to Mac OS X Lion and want to use InstantShot without facing any issues, you will glad to know that you no longer need to try older versions on Mac OS X 10.7, as InstantShot has recently been upgraded with exclusive Mac OS X 10.7 Lion support which also brings a slew of bug fixes.
If you're not familiar with InstantShot, it's a powerful screenshot taking utility which comes with multiple screen capturing modes. Despite being highly configurable in terms of capturing screen areas methods, it operates from system menu bar, as well as through user-specified hotkey combinations.
Apart from classical screenshot functionality such as, fullscreen capture and selected area, it can also capture screenshots after defined amount of time and take multiple screenshots after regular intervals.  Moreover, you can select the output format just before taking the snapshot from screenshot mode menus accessible from menu bar.
The inside a rect option is quite similar to capturing screen area of an application window and taking screenshot of selected area; it lets you draw an rectangle around the area which you want to capture. With each screenshot mode, it allows sending captured screenshot directly to Mac OS X clipboard, so you can easily use it in required workspace.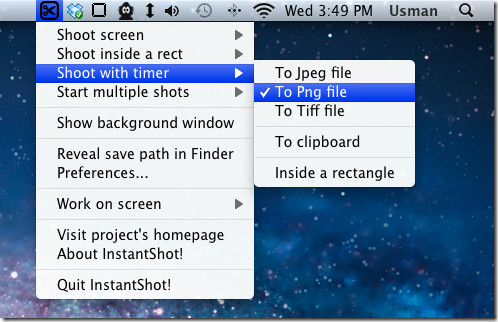 To change the default settings and specify hotkey combinations, open Preferences from menu bar. Under General tab, enter output path and filename prefix. The Timed captures section deals with setting up amount of time after screen area will be captured. In Background window section, you can hide only the wallpaper, whole desktop and choose to keep Normal window option enabled. You can alternatively choose window color from white to any color of your liking.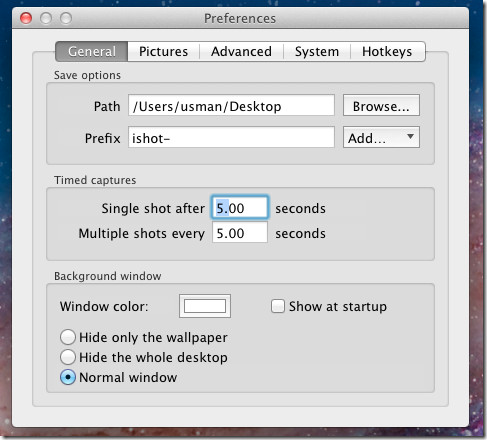 The Pictures window allows you to set JPEG image quality, specify same file name conflict resolution technique, enable/disable cursor over screenshots, set image scaling and screenshot width & height restraints, etc.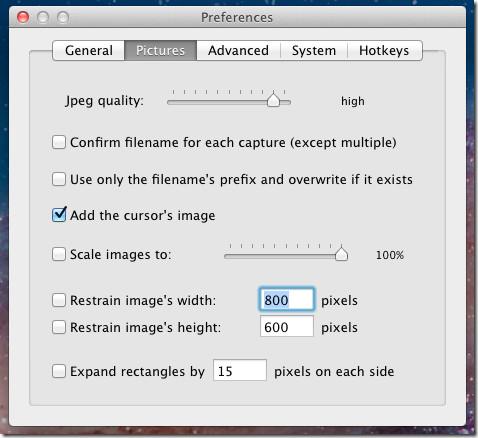 Under Advanced window, you can toggle screenshot sound on/off, switch between default menu bar icons, enable/disable screen tips, and set default duration for multiple shots. From System window, it lets you view and set alternate method to grab windows and enable option to start InstantShot after logging on to system.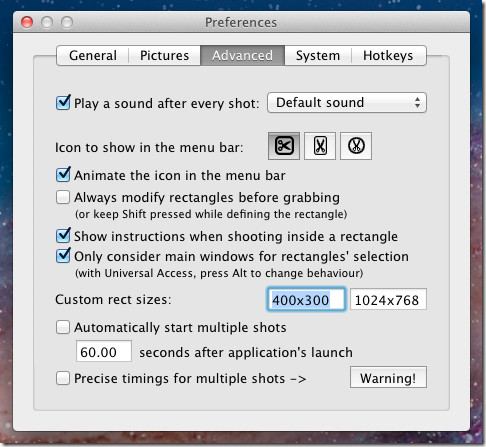 The hotkey combinations for screenshot taking modes can be enabled and configured from Hotkeys window. You can also set shortcut keys to show/hide background and bring up Preferences window.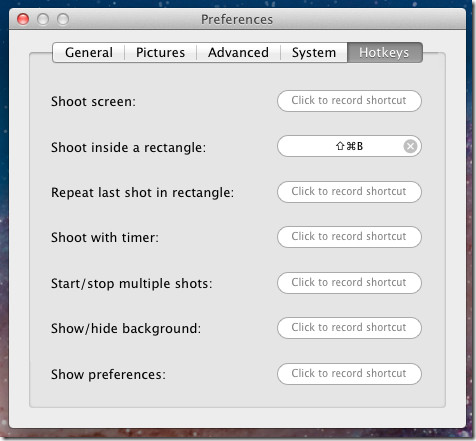 InstantShot is not comparable to previously covered Evernote's Skitch in terms of features, but it does provide some unique options, such as, automatically hide desktop or wallpaper to take clear screenshots.