Kiwi Is A Compact App.net Client For Mac With Twitter Support
App.net has recently announced free accounts and if you're on good terms with someone who has a premium account (they only get two invites per account), you might have gotten lucky enough to get an invite to one. So far as the look and functionality of the service is concerned, App.net is similar to Twitter and if you're looking for a nice desktop client to read and manage your App.net feed, Kiwi is a good option. It's a Mac app worth $3.99 (users with App.net accounts can get it for free) that looks very much like a standard Twitter client. It is meant for your App.net account with the added feature to post simultaneously to App.net and Twitter. You must be running Mountain Lion and have an App.net account to use Kiwi. Your Twitter account should be connected in System Preferences>Mail, Contacts & Calendars if you want to post to Twitter.
Sign in to your App.net account and wait for your feed to load. For those of you who remember, Kiwi was once a Twitter client and while its interface has improved quite a bit, most of the layout has remained the same. The Home button lets you view your timeline, the @ button lets you view direct mentions, the star button shows you your favorite items, the globe button lets you view updates from all App.net users, and the envelope button takes you to your messages.  The compose button located at the top-right brings up a popup to start typing your status update. It shows you the number of characters left as you type, and lets you attach an image to your update as well.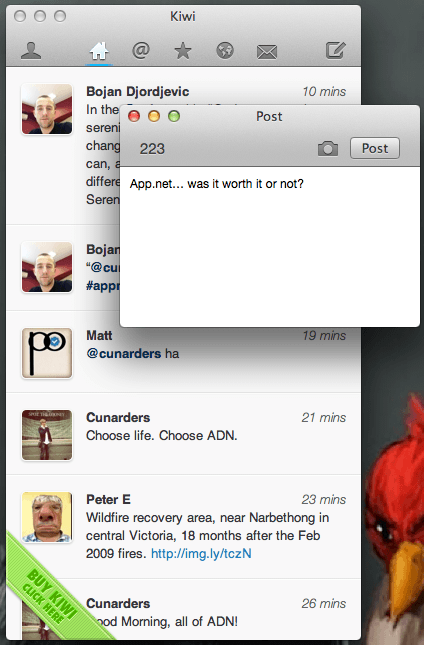 To connect your Twitter account, go to Kiwi's preferences and check the 'Crosspost' to Twitter option. If you've added several Twitter accounts to Mountain Lion, you will be able to add any one of them from the 'Select Account' button just below this option. Other than that, you can customize the look and functionality of the app from this tab. The font size can be increased, and links can be set to open in the background.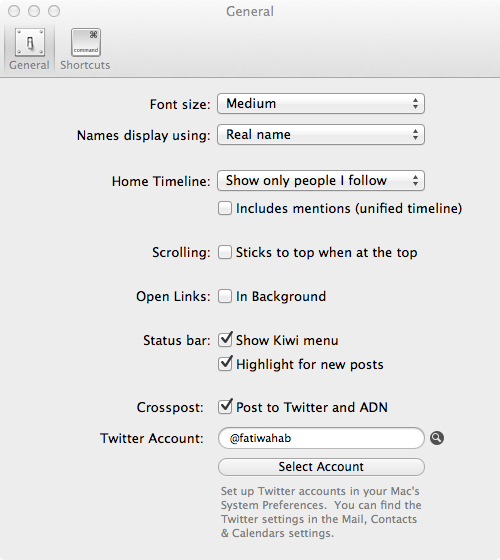 Kiwi is heavy on keyboard shortcuts. You can access it from its Menu Bar icon but it has two global keyboard shortcuts that allow you to show the app and start compose a new post from anywhere. The shortcuts can be modified from the Shortcuts tab in Kiwi's preferences. It also supports two gestures: two finger and three finger swipe for viewing a detailed conversation or switching tabs.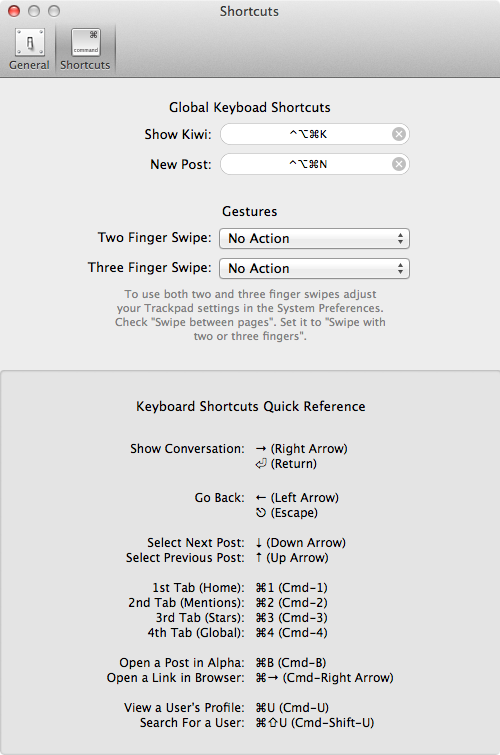 Other than these shortcuts; Kiwi responds to several other conventional shortcuts as well. You can view a complete list of them in the preferences.
Kiwi has gone from being a Twitter client to an App.net client and it's working fairly well. The app did crash a few times, though the crashes seemed random. The only thing we'd like to see improved is an easy toggle n the compose popup to enable/disable posting to Twitter on the fly so that the user doesn't have to return to the app's preferences each time they want to change that.