Launch Any App Or Script By Moving Mouse Over Left Edge Of Screen [Mac]
The Launchpad utility itself is widely used to group apps, keep them organized and, of course, launch them easily. The only problem with it is that it can quickly get cluttered. Whenever you install an application, a shortcut to the app is added to Launchpad, and these shortcuts need to be moved around to keep things organized. Third party app launchers focus on trying to make it easier to launch your frequently used applications and system utilities. AmbiLauncher Lite is a free Mac app that adds a color spectrum along the left side of the screen. For each corresponding color, you can associate an app or script. When you move your mouse to and back over a color in a boomerang movement of sorts, it launches whichever app or script is associated with that color.
The utility adds an icon (a mouse over a screen) to the menu bar. You can access the app's preferences and the color sections from this icon. The Peferences allows you to choose the width and opacity of the spectrum and also, how long your mouse should take to complete the gesture required to launch an app.
The preferences window will give you a more accurate idea of the launch gesture. It basically starts from one point, touches the color and makes a U-turn to return to the side of origin.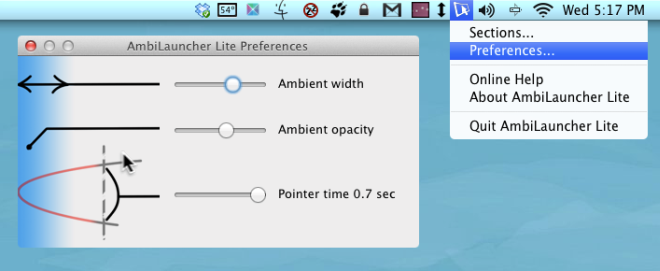 The Sections window lets you associate apps with colors. You can add colors by clicking the Add Section button. The color can be changed to any of your own choosing by clicking the color box. To add an application, just drag it over the specified area. If you drop an app icon onto an existing app, it will replace the existing application. To remove an app, simply click Clear App.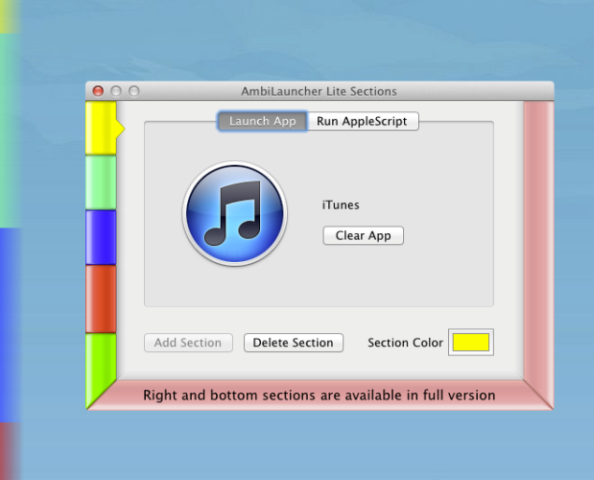 Since this is the lite version of the app, the color spectrum only appears on the left side. The full version (costs $2.99) provides color spectrum at bottom, and left & right side of the screen.
Get AmbiLauncher Lite from App Store