Lion Secrets: Customize Mac OS X Lion Without Terminal Commands
Mac users, like Windows users, can tinker around their system files and modify the default settings, but not everyone is well versed in executing Terminal commands without doing serious damage. That leaves many people wanting to customize their OS, but lacking the ability to do so easily. Lion Secrets is a Mac app that makes these modifications easier. The app gives you an easy-to-use graphical interface, while executing Terminal commands at the back end to reflect any changes that you want to make. The app allows you to modify both startup programs, system preferences, alerts and appearance in Mac OS X Lion.
Once installed, go to the Mac Secrets tab, which is divided into two parts. On the left, you can see all items that you can modify categorized by function. The app features six categories: General, Dock, Finder, Mail, Safari & Screen Capture. When you select a category, further customization options get listed to the right. The General category allows you to disable the zoom animations when a new window is launched, unhide the user library folder, and allows keys (letter keys) to repeat. Additionally, you can modify the scroll bars, so that they are always visible regardless of whether or not a window is being scrolled.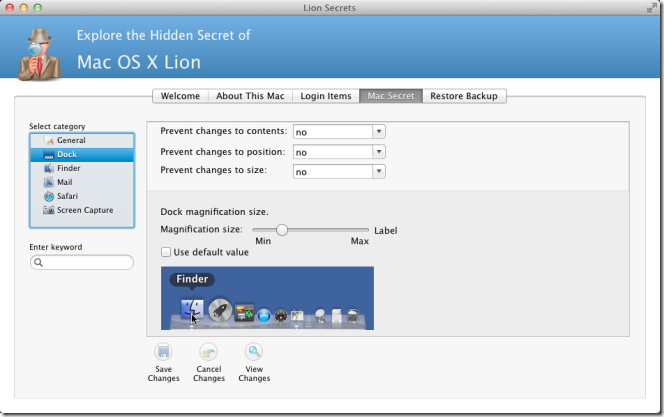 The Dock category allows you to modify how windows are minimized, the size of the dock, it's position, style and animations. The Finder category allows you to change which options you see when you right-click the Finder on the Dock. Mail has options for changing the animations in Apple Mail, while Safari modifies the menu bar in the native browser to show the debug and develop menus, and also what appears on the Bookmarks bar. The Screen Capture category modifies how screenshots are taken using the native screen capturing feature.
To customize which programs start when you boot your system, go to the Login Items tab under Dock, and uncheck the programs you want to stop from starting with the system. To add a program, click the small plus button in the lower right corner, and add the app.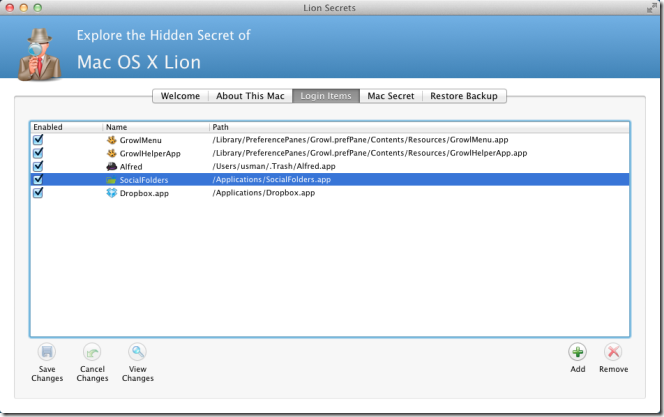 Once you've made all the changes you want, click the Save Changes button at the bottom of the app window. You can cancel the changes you've made, or view a summary of changes by clicking the respective buttons at the bottom of the app window.