LyricsMenu Shows Lyrics Of Songs Being Played In iTunes [Mac]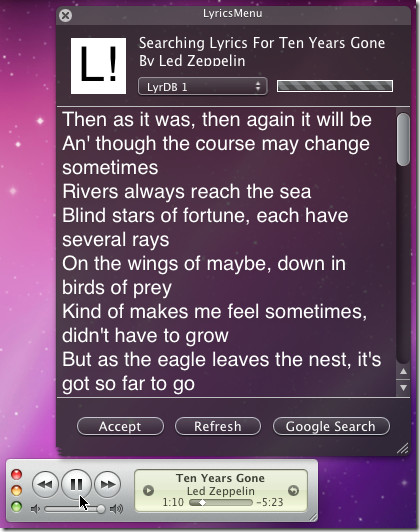 LyricsMenu is a beautiful lyrics fetcher for iTunes, which is designed for providing user a powerful way to view lyrics of track which is being played with an option to search lyrics on the fly. To cater all types of genres and artists, it supports a list of online lyrics database resources for retrieving lyrics in plain text format in nicely designed transparent UI. Along with showing artist name with title, it grabs album arts automatically from iTunes.
To begin, play the track in iTunes for which you need to look up lyrics for. For the first time, you need to specify the online source to let it begin fetching lyrics. Being a non-intrusive application, it doesn't bother you in any way nor it contains too many options and configuration to set it up. The application is completely free, portable, and suit users who love to hum along.
It works with Mac 10.6 or higher. Testing was done on Mac 10.6.2.