LyricsSeeker: Get Lyrics For iTunes Songs From MetroLyrics [Mac]
If you find it a bit tedious to search the lyrics of songs that you play in iTunes, LyricsSeeker is the application you need. Supporting Growl notification, LyricsSeeker is a Mac app that automatically displays the lyrics of the song as soon as you play it in iTunes. Like other lyrics apps, it reads meta tag information of the song to fetch lyrics of from online sources. You can adjust the Growl notification settings, toggle it on/off and change the lyrics display time duration. LyricsSeeker automatically saves history of lyrics of one playback session, so you can quickly access recently fetched lyrics.
LyricsSeeker works from menu bar. After launching the application, play the track you want to fetch lyrics for. It starts finding the lyrics of the song and displays it underneath the system notification area. You can access Settings to extend Growl notification delay, enable options to open lyrics in background and show lyrics in notifications from the menu bar. By default, it maintains history of 18 lyrics items, however, you can save up to 30 lyrics items in one session.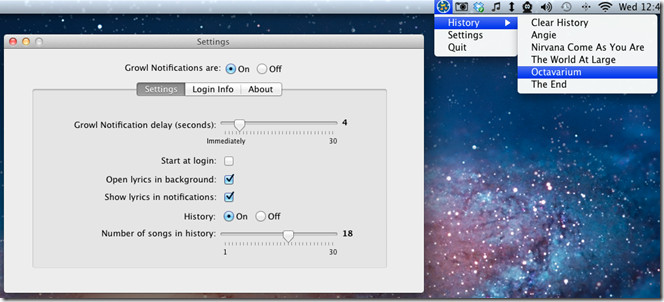 LyricsSeeker fetches lyrics of the song from metrolyrics.com. When you click the Growl notification box, it opens metrolyrics.com source page in your default browser.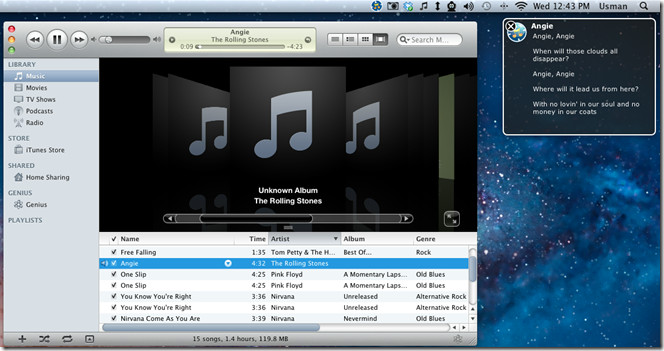 If you want to read lyrics from metrolyrics.com page, disable Growl Notifications from Settings prior to enabling Open lyrics in background option. It will directly open the lyrics source page in your browser without showing the notification. LyricsSeeker works on Mac 10.6 and higher.
Get LyricsSeeker from Mac App Store