MacKeeper Is An All-In-One System Maintenance & Security Tool For OS X
We've covered a lot of small tools that help you clean up your Mac, make it run smoother, securely delete files, recover deleted file, or search for them. Though OS X does most – if not all – of these things natively, it doesn't offer as many customization options, or work as well as several third-party offerings. You can always look for apps that are meant to solve individual problems, or you could invest in an app that does everything for the right price. MacKeeper is a very famous app that acts as an antivirus and anti-theft app for your Mac. It also lets you encrypt data, recover deleted files, securely shred files, create backups, remove junk files, find duplicates, estimate the disk usage and break it down for you, uninstall apps and the many files they can sometimes leave behind, help you optimize start-up apps, and edit the default apps for different file extensions.

Note: MacKeeper is a paid OS X app that costs $39.95 for the lite version, $59.95 for the Standard version, and $89.95 for the Premium version. We're giving away 5 licenses to our readers. You'll find additional information on taking part in the giveaway at the end of this post.
MacKeeper can be tried out for five days before purchase. Once installed, it will give you an overview of your system, showing you when was the last time you cleaned, optimized, recovered, shredded, or backed up your files. Broadly, its features are divided into four categories: Security, Data Control, Cleaning, and Optimization.
The anti-theft and internet security features have to be activated. Anti-theft lets you track your Mac in the event that it's stolen. Like 'Find My Mac' which is tied to your Apple ID, the anti-theft feature is tied to your MacKeeper account. You can track where your Mac is, and also have the app take snapshots of whoever stole it using the camera.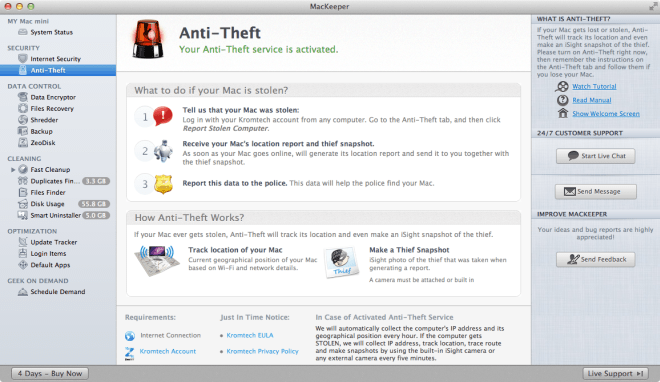 The Internet security feature acts as both an anti-virus and protection against malicious and phising sites. It's compatible with Safari, Chrome, and Firefox, and runs in the background.
The Data Control features lets you encrypt folders and files, recover deleted files, shred files, backup files, or use MacKeeper's online cloud storage service to sync them across multiple Macs. MacKeeper provides dual protection to your encrypted files; once they've been encrypted, you can hide them, and when opening the file, you have to first enter your encryption password into MacKeeper's encryption tool, and then open the file/folder using the password you set specifically for it. MacKeeper can encrypt files using both AES-128 and AES-256 standards. If you don't feel like encrypting files, you can choose to just hide them as well.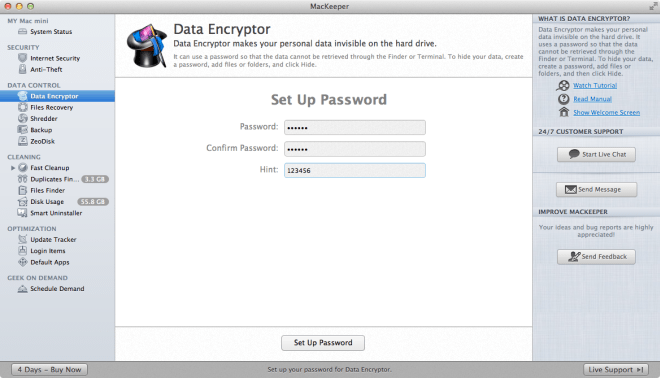 File recovery lets you recover any files that you may have accidentally deleted. It can scan any drive connected to your Mac for recoverable files. You can view a consolidated list of files, or view them by type. The Shredder allows you to securely delete files so that they bypass the Trash altogether and cannot be recovered.
File Backup lets you selectively backup your files. You can define a destination for backing up particular folders from the Backup tab in MacKeeper's preferences.
The 'Cleaning' features let you remove junk files, find and remove duplicates, search for files, view how space is used on your drive, and uninstall apps. Both the 'Fast Clean up' and 'Duplicate Finder' features work fairly fast, though the layout could use some improvement since it's not very easy to tell which group of files are duplicates of each other.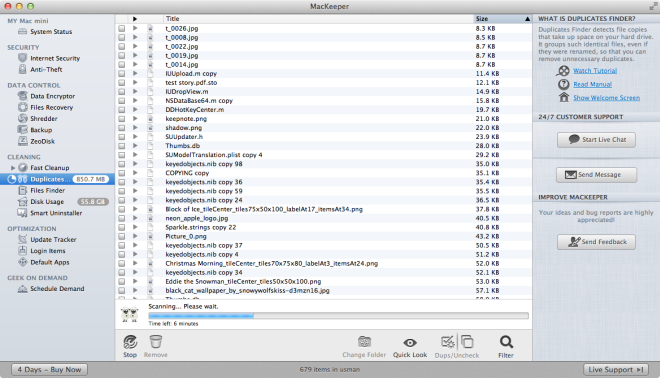 The Disk Usage feature allows you to scan your entire disk and find out how much space each folder is using up. MacKeeper also color codes them to show how much space is being used relative to each other. You can browse folders and get a space usage breakdown for the contents of each one. Folders can be deleted, filtered, or previewed to take a quick look at their contents.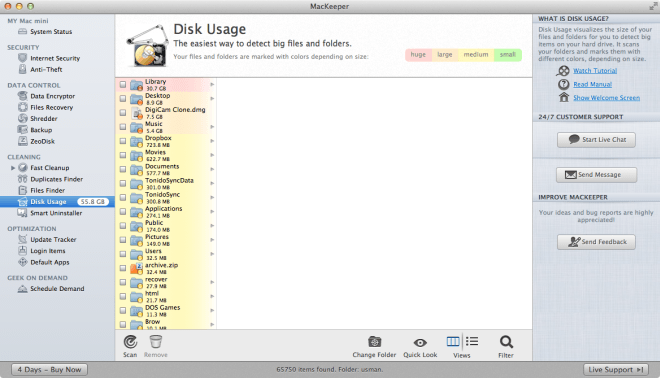 The Smart Uninstaller deletes apps, which is easy enough to do the default way, but MacKeeper also removes the files these apps create and leave behind when they've been uninstalled. Apart from saving space, the feature also keeps you safe in case any of the apps you deleted saved sensitive data on your Mac.
Lastly, there is the Optimization section that's great for people who are a bit lazy about keeping their Mac and all installed apps up to date with the 'Update Tracker' feature. It also lets you manage your login items and default apps. You can add or remove apps to your list of login items.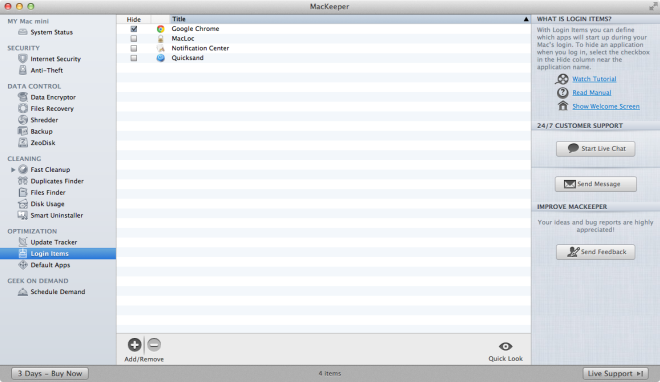 You can modify the default apps for different file types. MacKeeper scans you system for all file types and the apps installed. It lists file extensions along with the respective apps that open them, and you can choose to modify them. Although an excellent feature, the layout might be confusing or even intimidating for the average user who is accustomed to visually appealing apps.
MacKeeper's preferences allow you to tweak how some of its features work. If you want to select how securely the app shreds files, head over to the 'Shred' tab in its preferences and choose one of three shredding algorithms.
If you want to backup your data to a specific drive or location using MacKeeper, the Backup tab allows you to specify multiple backup destinations, as well as a default one. Your backup destinations can include any connected drive, FTP, FTPS and WebDAV servers, or ZeroDisk drives.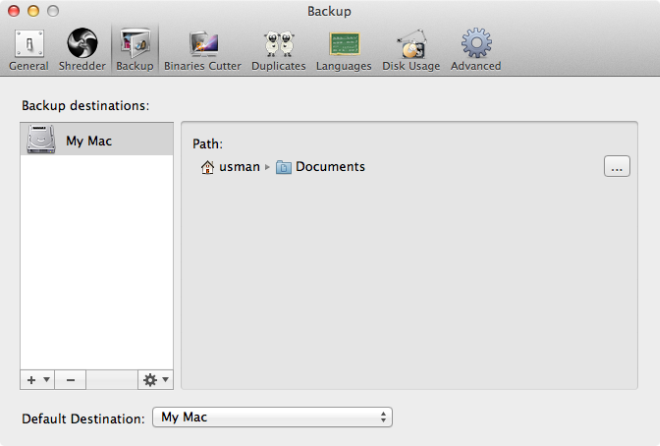 Under the Binaries Cutter and Duplicates tabs, you can specify which folders the app should search in for universal binaries when searching for apps, and which extensions or file types it should ignore when looking for duplicates, respectively.
Under Disk Usage, you can specify a minimum size for files that should show up when you run the disk usage check, and limit the results to a specific number. You can also choose to include packaged content in the results.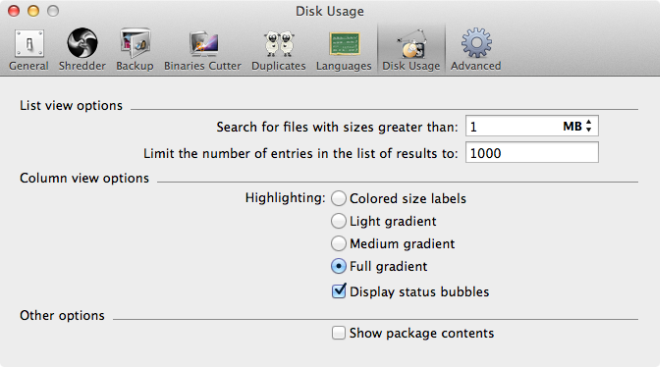 As far as apps for managing your Mac go, MacKeeper has a very rich offering. It will cost you to own this app but considering how much you might have to pay for individual apps that collectively perform all these functions or perhaps only some of them, it's not a bad investment.
Giveaway
We're giving away 5 MacKeeper licenses to five lucky readers. The giveaway will last for the next 48 hours. Participation is simple.
Follow @addtips on Twitter.
Tweet/retweet the giveaway.
In the comments below, provide a link to your tweet. To do so, right-click the timestamp below your tweet and copy its URL.
Alternatively, you may comment on our Facebook or Google+ page, where the comment should be under the shared post and not on the page itself. Our editors will pick the 5 winners randomly. Good luck!
Update: The giveaway has been closed now. The winners will be contacted soon with their licenses.
Update 2: License keys have been sent to the winners. If you entered for the giveaway, please check your Twitter Direct Messages, Facebook Messages or Google+ Wall.