Mactracker – Get Detail Information About Mac Hardware And Software, Compare Different Mac Systems
System Profiler in Mac, just like Windows System Information utility, doesn't give a detailed insight into different system components, including, hardware, peripheral devices, installed software, display adapter, sound driver, etc. That's the reason why many Mac users like to use third-party system information tools to get in-depth information regarding their systems. Mactracker is quite different from other system information tools available for Mac. While it gives information on everything which you want to know about your Mac, it caters to almost all the Mac software versions and other hardware devices to let you know which device is compatible with your Mac in terms of both hardware and software. Mactracker also provides historical information about different Mac versions, supported hardware, software and other related devices. The Timeline feature shows all the versions of Mac minis, Mac desktops, Notebooks, and other iOS devices by their year of introduction. You can further pick up one model and delve deep into its software and hardware components to check out compatible hardware and software devices, OS versions supported, system architecture, etc.
The app usage is extremely easy. Once download, launch it from dock bar. The left sidebar shows all the categories, holding extensive information regarding, Mac models, Your Mac, Mac History, Timeline, Mac Desktops, Servers, Software and Models with G5 processors.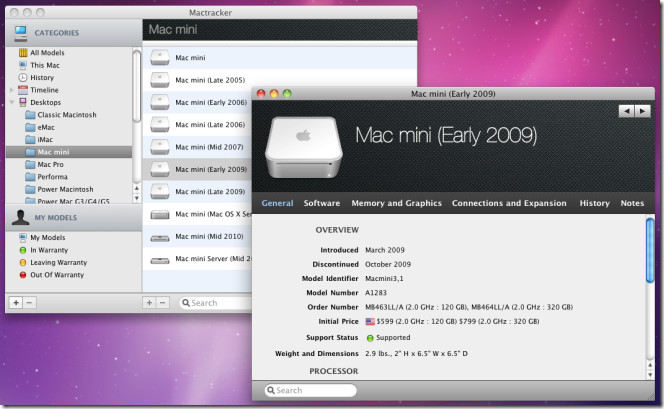 From All Models category, you can navigate through different models which got released in past years. This Mac category identifies your Mac system and lists down all the most relevant Mac models, so you can easily pick one out. The Timeline shows Mac and iOS devices releases year-wise while under Software you can learn about Mac And Mac OS X. As shown in the screenshot above, you can find out more than just basic system information of selected model, including, Software, Memory and Graphics, Connection and Expansions, and History.
The My Models section refers to adding different Mac models in the list. To add a new Mac model, click Add button and specify at least one system component to let it identify the Mac you're pointing at.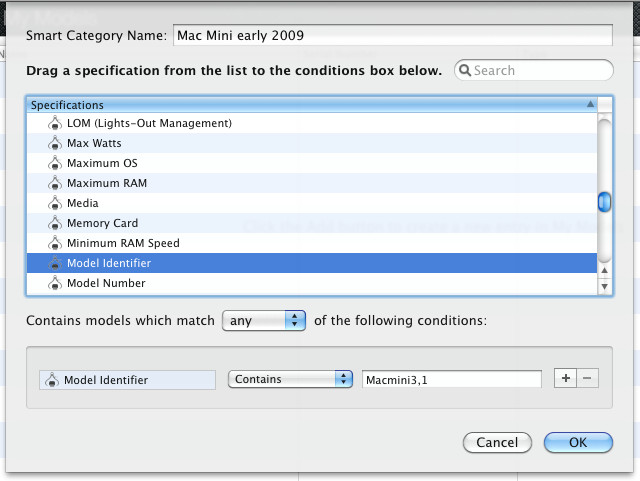 Mactracker offers an interesting feature of doing comparisons between selected Mac models. This gives user an idea which system components can be upgraded or which displays adapters will not work with his/her system. You can also pick out any two Mac systems to quickly outline the major differences between them. To compare Mac systems, hold down control key and select two Mac models. Now right-click and select Compare option.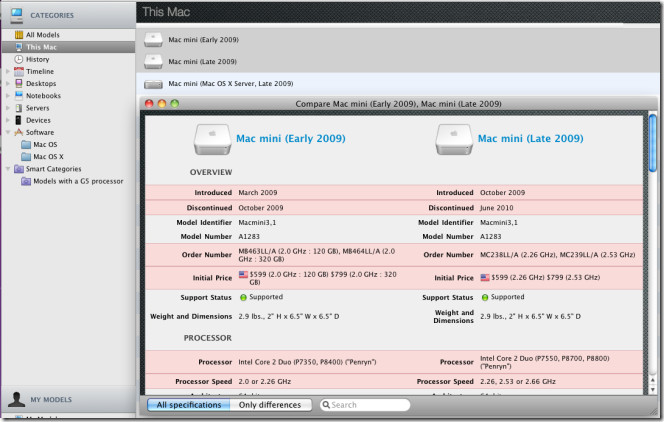 Mactracker features a host of novel options to get complete information regarding almost all types of Macs. It works on Mac 10.6.6