TaskBadges – Manage Todo List & Add Number Of Open Tasks Badge On Text File
Task management tools are developed to give users a more convenient way to keep tab on both completed and unfinished tasks. You can use a task manager to check how many important tasks are still in queue and what tasks can be skipped to save time for relatively more important tasks. If you hate going through long winded process of configuring time and task management utilities, try out TaskBadges to keep all open tasks under your scrutiny.
The application prevents users from wasting their time on task management tools which are complex. TaskBades takes a novel approach to manage your to-do list. You create to-do list in plain text file, and drop it over TaskBadges configuration console. Once added, it will show number of tasks which are yet to be finished on text file icon. The application supports various to-do list styles, including to-do lists styles of todotxt.com, TaskPaper and basic to-do list with square brackets styles.
The main interface is responsible for updating the task lists and to-do list file icons. After you've created text file with either task list in square bracket style or todotxt.com supported format, drag it over on main screen to update the open tasks information. A small icon showing number of icon tasks will pop-up on file icon.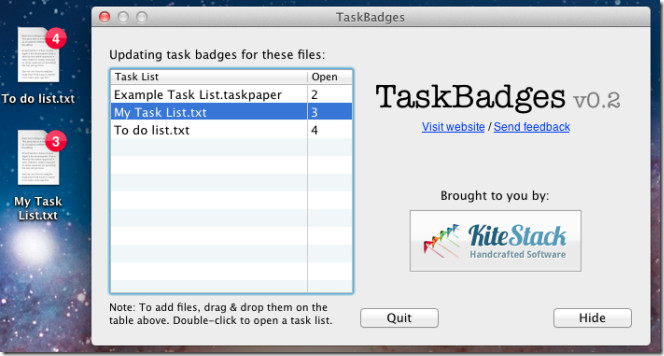 When you create a new text document, it doesn't automatically detect the number of open tasks. So, you have to add it to TaskBadge interface to let it determine number of unfinished tasks. However, once added, you don't need to drag it over in TaskBadge Task List.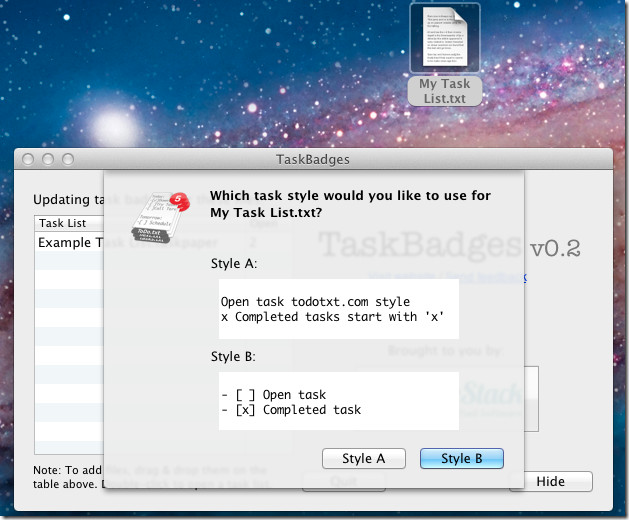 Not only does it provide an easy way to create to-do lists but also keeps you updated about all the unfinished tasks. When you complete a task, mark it as completed according to the style of your text file and it will soon update the open tasks icon on file.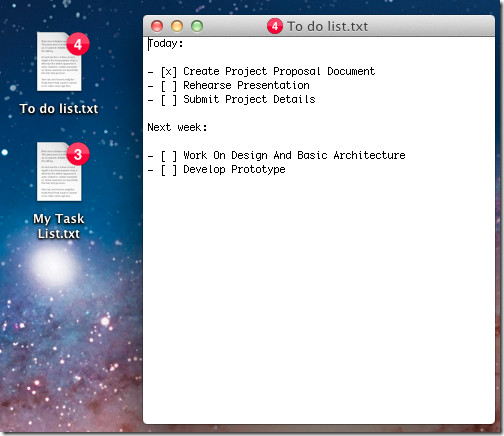 TaskBadge provides an easier way to create todo lists and keep track of unfinished tasks. It must be noted that it's in beta, therefore you may expect some functionality specific glitches. It works on Mac OS X 10.6 or later.