Mirror Display: Share Your Mac Screen To Any Device [Paid]
We covered some remote desktop sharing apps for both Mac and Windows in the past. These apps come in handy when you're trying to troubleshoot someone's system, need to access your home system from work or trying to demonstrate a software to someone. The slight shortcoming with these apps is that they require configuration on the other end and/or a client installed across all devices that will be accessed. Mirror Display is Mac app available for $1.99 in the Mac app store that lets you share your screen with up to 10 devices via a web browser. The app provides you a simple address that you can open from any device's browser (Window's PC, iPhone, Android, Windows Phone, iPad, Kindle etc.) While it doesn't allow you to control one system from another; however, for simple demonstrations and tutorials, this app is heaven sent.
When you launch the app on your Mac, it gives you either an Ethernet address or a Wi-Fi address which you will need to share with whoever you want to show your screen to. The app must be kept running to keep the connection alive.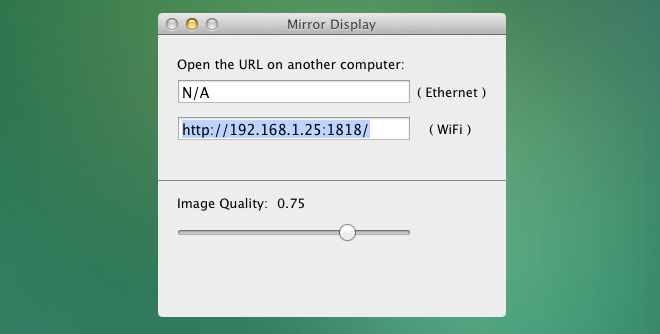 Whichever address you decide to use, pass it around. You should be able to connect up to 8 devices (perhaps even more). No matter which device you use, all you have to do is enter the address in the URL bar of the browser.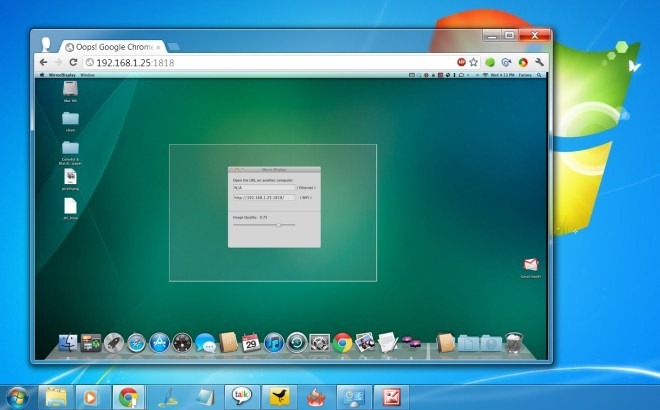 The app does not allow you to see the mouse pointer; however, all other movements are perfectly visible. You can see selections, window movements and even any text that is typed. It won't give either device control over the other one and is best used for instructional purposes. Imagine a meeting or perhaps a training session where you want to teach everyone how an app or software works. Regardless of which device they're using, this app will allow you to share your screen with just about anyone. The best part is, everyone has a browser and you will not have to waste time helping people install clients on their devices so that they can receive what you're broadcasting from your system.
Depending on which device you are sharing the screen to and the quality of the connection you have, you can change the quality of the picture you transmit via the image quality slider. Remember that the app must be kept running on your Mac for the connection to stay alive.
Get Mirror Display From Mac App Store