Monitor Mac Disk, CPU, Memory, & Network Usage With Magican Monitor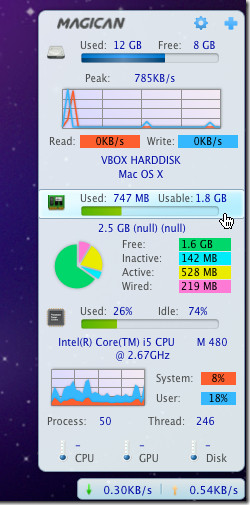 Looking for an all-in-one system monitoring application for your Mac which you can keep at your fingertips? Have a look at Magican Monitor. Unlike other monitoring programs, it's an on-screen system monitoring application to inspect network bandwidth, downloading and uploading speed, keep tab on CPU and Memory usage, check Disk read/write speed and battery consumption, and view Disk, GPU, and CPU temperature. Since the application is designed as a desktop widget, each provided element can be customized to keep only required information on screen. You can, for instance, remove Disk or Memory panes to view only CPU related info, change colors to differentiate CPU, memory, or disk consumption rate, and set network refresh rate and usage history timeline for CPU, Memory and Disk.
Furthermore, it plots usage data on graphs to let you visually analyze the usage rather than reading usage statistics for each element. Take Memory usage as an instance, it plots used, inactive, wired, and free data sectors on Pie chart to help you determine how much memory space is being consumed. Similarly, CPU usage chart lets you view how many users or system initiated threads are being processed.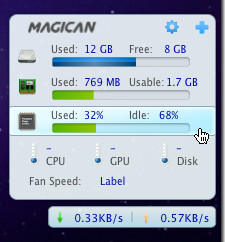 By default, it shows only network usage info. When you hover mouse pointer over it, it will display CPU, Memory and Disk usage details. You can click any element to toggle detailed view which shows complete statistics accompanied by graphs.
The Color settings for each element can be changed from Preferences. Apart from color settings, you can also set usage information update interval.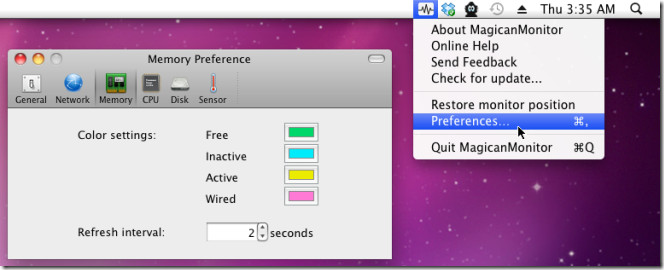 Do check out Magican Monitor usage video on product page. It works on Mac 10.6 or later.