Monitor Up To 4 Different Websites In An Ad-Free Interface [Mac]
A web browser, at its core, is a feature rich app for viewing websites. It is, however, meant for more than just viewing websites and browsing cat pictures. Modern browsers are smart, support add-ons and extensions, provide developers tools for creating web portals and many now exist for both desktop and mobile platforms (Safari, Inter Explorer, Chrome, Firefox and Opera). For simpler web viewing needs – ones that might not require multi-tab browsing and are more focused on monitoring a site – smartView is a free Mac app that can step in. Free throughout July and available in the Mac App Store, smartView normally costs $0.99. The app is meant for segregated viewing of up to four websites. Each site appears in its own window and is free of ads. At its core, smartView is a web viewer; however, it is suitable for monitoring web pages, for opening your frequently visited websites, keeping them separate from your browser and easily switching between them.
smartView emphasizes two key features; maximum visibility and no ads when viewing webpages. The developers claim that it can stop ads from most of the known sources; however, it does not appear to block Google Ads. When you first launch the app, you will see its preferences window. Since it isn't a fully featured web browser, you don't have a URL bar on top of each window (which is part of its minimalist design concept). To open a website, enter its address in the URL field, input a title for the window, select whether it will behave like a normal window or always remain either on top or in the background. Once you've set these parameters, check the Window 1 active, and the window will open in the top right corner of your screen. The window number in the checkbox will be replaced with the number of the window you're opening.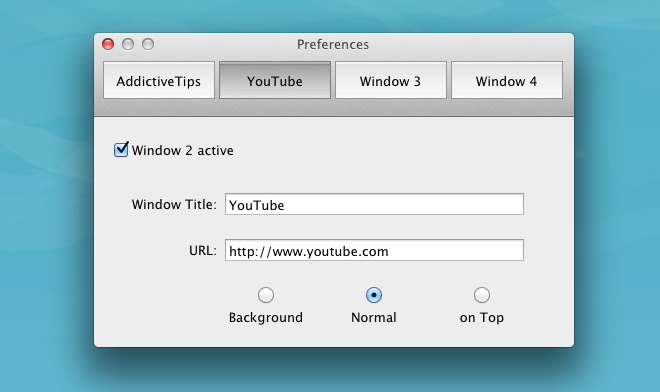 The window that opens is quite small but can be enlarged by dragging one of the corners. Apart from the title bar, there are no other toolbars in this window. Only two right-click context menu functions are available in the window; Back and Reload. The site itself is fully functional; both text input fields like search bars and page elements like hyperlinks, work. Images can be downloaded, copied or opened in a new window.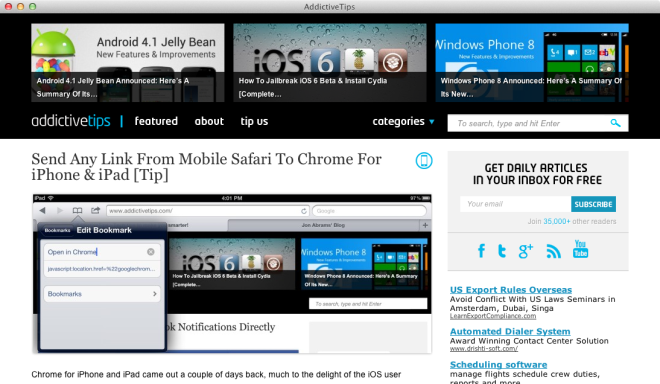 The downside of smartView is that it does not appear to support YouTube videos. It might have to do with Flash and pretty much means that embedded YouTube videos will not play. It appears to be a simple app, not something everyone would use and best bought free.
Get smartView From Mac App Store