MoreSpace: Compress Files & Folders Into HFS+ Format To Save Space
Space and file size matter more in cases where data has to be transferred online, because there is always a limit and because sending large files takes time and precious bandwidth that you may be short on. As far as your local hard disk is concerned, time isn't a issue, but space still matters; however, files can't be kept in an archive format all the time. They will have to be extracted each time you want to access them and will need to be recompressed once you've made changes. MoreSpace Folder Compression is a Mac app worth $0.99 in the Mac App Store that compresses files but does not add them to an archive. Files are kept in their original format and compression is on the HFS+ system. The app actively monitors any folder that you've added and compressed for changes, and when a change is detected, i.e., items are added to a folder, the app will compress the new items. In addition to compressing any folder you choose to add, it will also compress your email.
The app's interface and usage are simple, and two buttons at the bottom let you add a folder or your email folder. Compression begins automatically when a folder is added. It can be cancelled mid-way by clicking the Cancel button that appears during compression, or it can be rolled back by clicking the Uncompress button that appears once compression is complete.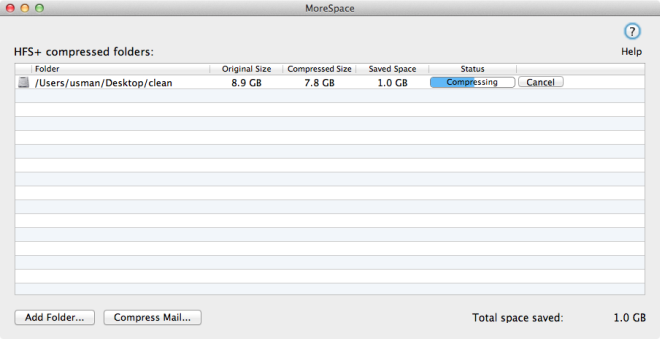 Using the Compress Mail button, you can add your entire mail folder saved by the Mail app. As opposed to adding a regular folder, this folder is added so that the Mail app can still access the files. The files in a compressed folder can be opened by other apps i.e. if your compressed folder contains images, you can open them with any image editor of your choice. Compressing emails is a little different though, and the files are normally hidden, which is why using Compress Mail is the best way to compress your emails.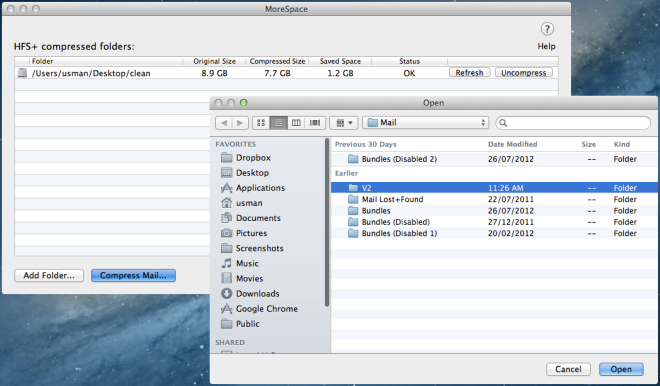 MoreSpace Folder Compression does not run in the background and does not have a way of being minimized and running exclusively in the Menu Bar. What this means is that if you quit the app, it will not detect changes to a folder. You will have to launch it periodically to compress the newly added files.
When files are moved to a different location, i.e., a folder or another drive, they are automatically decompressed. The amount of space the app saves when it compresses a folder, is displayed at the bottom of the app window. Tests revealed the app saved a little over 1 GB of space and reduced a 8.9 GB folder to 7.7 GB. If your hard drive is nearly full, this app can get you extra space, while cleaning your drive of unwanted files or backing up your data to an external drive.
Get MoreSpace Folder Compression From Mac App Store