Mou Is Feature-Rich Markdown Editor For Web App Developers [Mac]
Markdown Editors are developed to give users a simple yet powerful environment to write and customize text documents and convert them into structurally valid XHTML and HTML format. Since Markdown editor is a general-purpose rich-text editing tool, it can be used by anyone who needs more than just creating a plain text documents. Markdown editors have user-specific text editing capabilities, you can embed images, web and mail links and use specific syntax for formatting text, i.e to change text into heading style, insert blockquotes, emphasize text, add weblinks, change text style to bold and italic and so on.
Mou is a unique markdown editor for Mac programmed for web designers to get syntax highlighting, live preview of documents, and to achieve text-formatting styles which are essential for webpage publishing and design. Besides syntax highlighting support, it offers some useful features, such as, auto pair, incremental search, enhanced CJK characters support, HTML export and much more.
Mou comes packed with a slew of handy actions, which can be triggered via default hotkey combinations to quickly change text into Upper, Lower and Title case, insert new line, comment section, hard line break, embed image and links and more. The application supports Mac OS X 10.7 Lion Full-Screen App mode, allowing you to work in a distraction-free environment.
The live preview pane is displayed at right side. It can render the markdown in real time and show the output. You can also use it to verify weblinks; it doesn't redirect the link to your default browser, when you click a web link, it opens it in live preview pane. When launched for the first time, it shows help manual which includes some usage details. The help document lets you know how to add heading into document, create ordered and unordered lists, insert inline links and anchors, block quotes, change text styles, etc.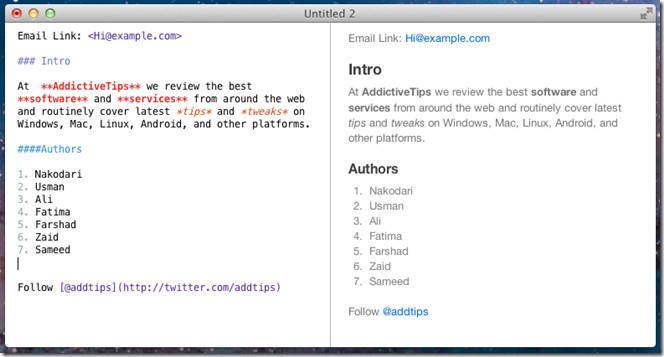 Mou includes highly customizable themes. You can pick your favorite from Preferences and tweak with default text and background colors to make your text look prominent. The theme file is a simple text file which can be easily edited using any text editor.

Under Text Editing, you have options to change font family and size, enable/disable Auto pair characters mode and make links clickable in Editor view options.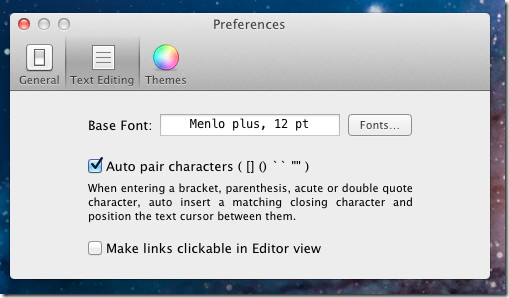 The Action menu lets you perform numerous text formatting actions on selected portion of document.You will find options like, copy HTML, insert Link and Image, change word case , add New Line, Comment, and insert HTML Entities including, < >, and &nbsp; (Non-breaking space).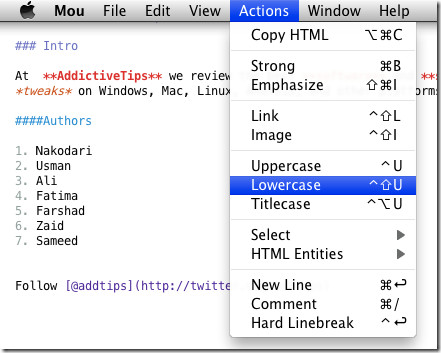 When your document is ready, either use Command-E hotkey combination or select Export HTML from File menu to save document into HTML format. It's advised to verify the structure of document after exporting it to HTML.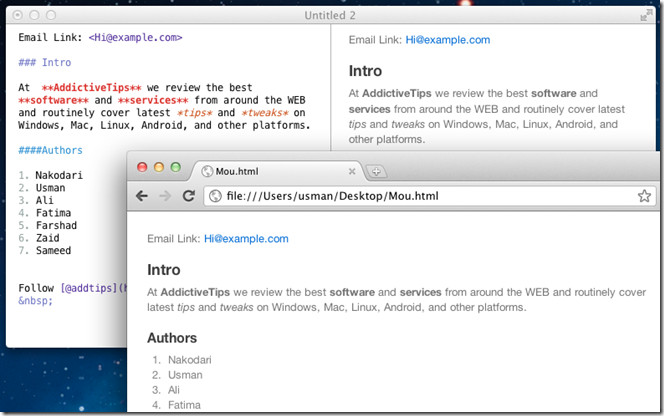 All in all, Mou is a great addition to Markdown Editor archive. The web page elements support makes it a must have tool for web designers and publishers. It must be noted that Mou is in beta testing phase, so you may face some functionality specific issues.
Mou works on Ma OS X 10.6 or higher.