What's New In OS X 10.8 Mountain Lion? [Review]
Mountain Lion, the latest installment in Apple's OS X, was released yesterday and brings the version to OS X 10.8. Available to download from the Mac App Store for the promised $19.99, it is a 4GB download and boasts some 200+ features as per Apple's official page. We aren't going to sit and count off each one on our fingers, but here's a look at what's new and noteworthy in the OS. Apple hasn't just thought of what new features users need, it's also executed them well keeping in mind the smooth UI it is well known for developing and maintaining.  The new OS integrates better with its mobile counterpart, iOS, and even borrows a couple of features from it. Apps have been added or renamed to create a better, more integrated feel between Mac and iOS devices but with Apple, it is safe to say that no functionality has been lost. Twitter has been integrated and the promised Facebook integration will arrive later this year in Autumn. Some features of the OS, though not many, are tied to iOS 6 and while they are still there, will not be fully functional until the latest version of iOS is released to the masses.

Finder
Finder, the file browser in OS X, is pretty much unchanged except for the addition of two items. A share button which is a recurring addition to most things in OS X and the ability to encrypt drives from the the right-click context menu. The share option is a button added to the toolbar in Finder and it allows you to share a file or picture on Messages or Email it. This is going to make adding files to emails a lot faster and sharing a file or photo via the Chat client will be similarly convenient.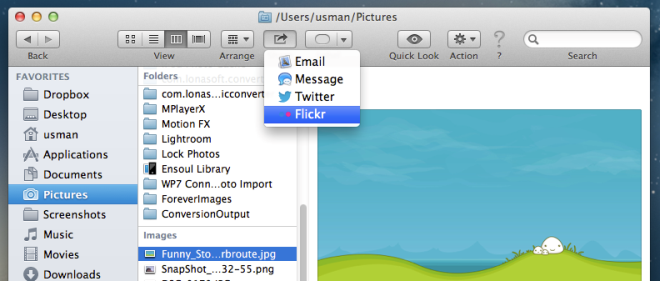 Other visual enhancements to the Finder include showing progress on the file icon when a file is being downloaded from a server or a drive. The progress bar will be similar to the one you see on the Launchpad icon when an app is downloading from the Mac App Store. For those of you who don't like the order of the items in the sidebar, Finder will now let you change it as per your liking. One small step for man?
Safari 6.0
The latest version of Safari finally merges the URL bar and the Search bar into one. Sharing as a basic function has been integrated in Safari as well as allowing users to share their searches on Twitter, Mail and Messages.

Whether you looked something up on Google or browsed to a particular page on a website, the share button will copy the URL of the search and let you share it via Email, Tweet it or send it as an IM. This should make it easier to share those Easter Eggs you find on Google.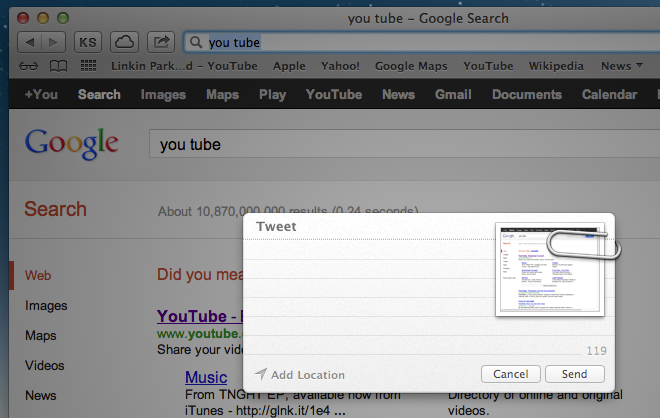 Mail
Mail looks and behaves pretty much the same as it did before with one slight enhancement that might turn out to be a real winner. You can now mark contacts as VIPs. Anyone who sends you important emails frequently like your boss, a team member or your Mom, will be given more importance and the feature will also act as a quick search filter for quickly viewing emails from that one contact.

Calendar
Again only small changes here and nothing noteworthy to speak of. A sidebar has been added to make it more convenient to switch to another month and to easily switch between the different calendars you've added. Changing the date of an event has been made easier with a date picker. The date picker opens when you click the date on an event. You can modify this date for an existing event or add the date to an event that lacks one.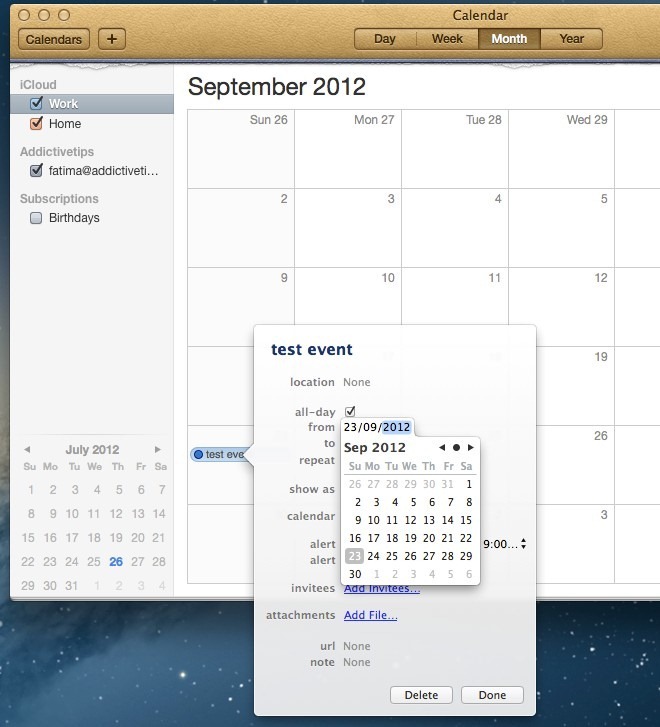 Notes
The Notes app is one of the new ones in Mountain Lion. It is the same Notes app that you use on your iOS device and it has been ported to Mac as a default app. The wisdom behind it is of course to sync your notes, whether made on the desktop (Mac) or on a mobile device (iPad or iPhone) and ensure they are available on both. Many users complained that Stickies did not support this and there were a few apps available in the Mac App Store that brought the functionality to both devices. The Notes app does the same via iCloud. The interface is almost exactly the same as the one on iOS but since a desktop gives you more flexibility, the Notes app in Mac lets you create folders and add links and photos to a note. Notes can be pinned to your desktop and in effect, turn into stickies as well. The app has reasonable text formatting tools. Double click a note to open it in its own window i.e., in stickie mode. Click the side bar to add a folder or just hit Shift+Command+N.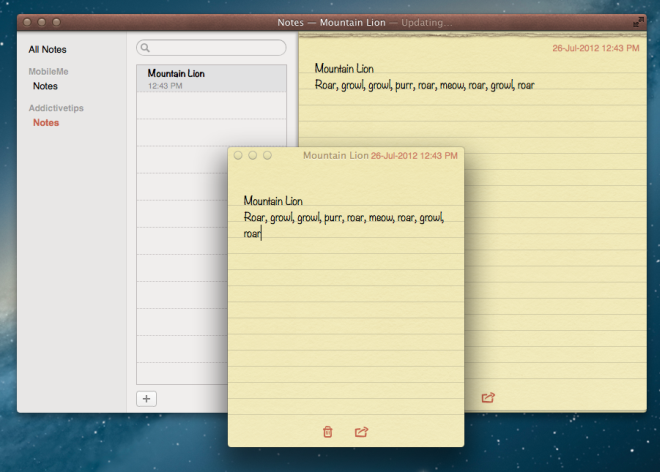 Reminders
Reminders is yet another leaf taken from the books of iOS. The app is an almost exact replica of the iOS app with a few liberties taken since it is on the desktop and therefore has room to do more. In this case you can add lists of your own. On iOS you were limited to Reminders and Completed but the Mac version gives you complete freedom to add as many lists as you like and subsequently add reminders to those lists.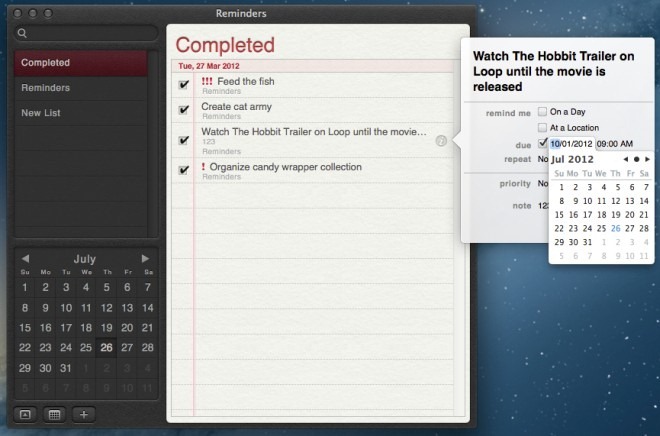 Game Center
Game Center is yet another app take from iOS. Sign in with your Apple ID and stats from games you've played on your iOS device will be listed as well as stats from OS X games that support Game Center. There aren't very many of those just now but you can expect the number to increase. Seems as though Apple is interested in establishing itself as a gaming platform too, or it might just be another step in the unification with iOS.  Only time will tell how developers will make use of it and how far it will go.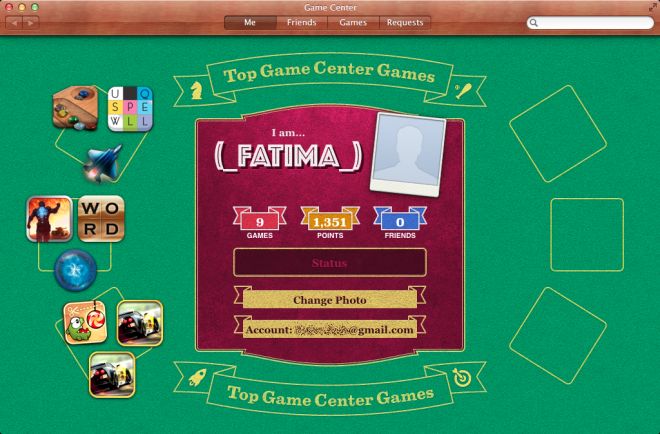 Contacts & Messages
Address Book has been renamed to Contacts and the new feature here is the groups you can create. Contacts has been integrated all across the OS and will make it easier for you to start group chat sessions in Messages app which itself pretty much the same as what it was when we reviewed it in Beta. The integration of Contacts here means that no matter where you have information coming in from i.e. an email, a Twitter ID or a Phone number, Contacts is going to gather it all in one place. It's the one app to bind them all.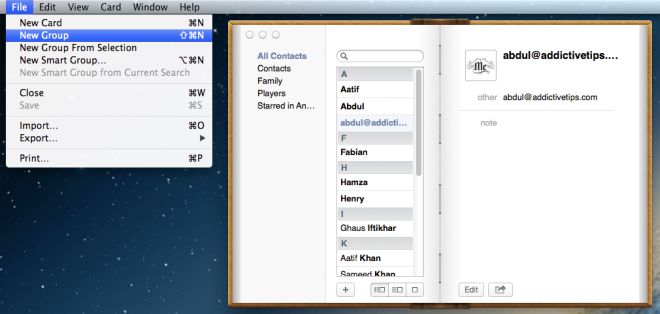 Preview & TextEdit
Sharing documents on Messages or adding them to emails and sharing pictures to Flickr, Facebook and Twitter is now a one button effort in Preview. Adding notes is much easier but perhaps what is the best feature added to this app is the ability to fill PDF forms. Finding a decent tool for filling in a PDF form isn't easy and Apple obviously thought it was a basic enough need to include it in the Preview app. Take a PDF form, any type and open it. Preview will detect fields like text input areas and check boxes. Clicking on said fields will allow you to input data in them. You can check option boxes and radio buttons, the whole deal.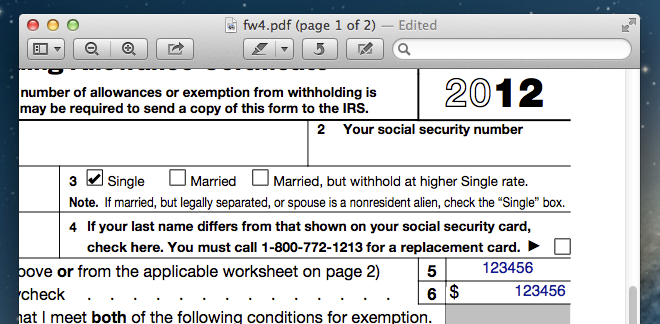 TxtEdit is yet another app that Apple has revamped and the changes are excellent if you plan on using iCloud. The home screen of the app is now divided into two tabs that allow you to access documents stored on your hard drive or access and upload them to iCloud. Adding a file to iCloud is as simple as dragging & dropping it. You can create a blank document as well and save it to cloud as opposed to your hard drive. As a bonus feature, you can now pinch to zoom in on text. I would personally like to see this particular gesture implemented all across the OS.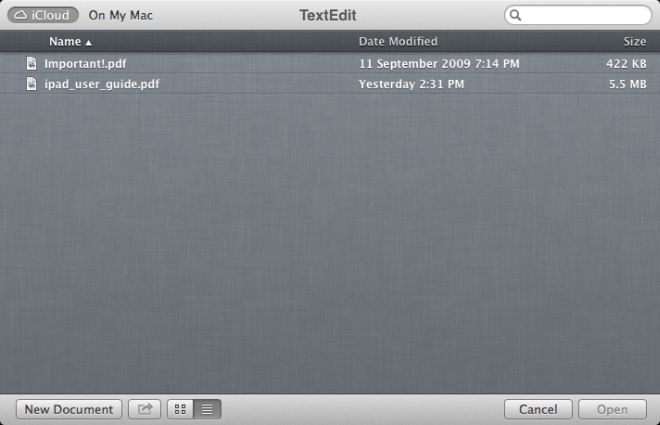 The divided tabs allow you to access iCcloud and your hard drive from the same place. The unification in TextEdit will lend a lot of convenience to users. Instead of having to visit a different folder on your drive (like with Dropbox) you have the choice to toggle between the two from within the app. It's the kind of integration you can expect only at OS level and Apple seems to have taken great advantage of it. Even if you don't think the new OS is more than bells and whistles (and there are users who do think that) the sheer genius behind this integration is admirable.
Launchpad & Dashboard
In Launchpad, you can now search for apps by typing their name in the search bar. The search bar appears across all the pages your apps are spread out on and searches as you type for apps that match. This is useful both for finding an app when you aren't sure what it was called or when you have so many of them installed that you're likely to overlook it in a manual search.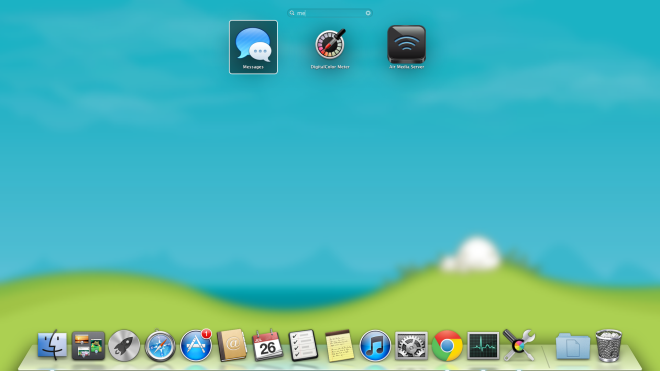 The same search feature has been implemented in Dashboard where you can also group widgets into folders. This is surprising since the number of Mac users unhappy with the Dashboard is more than those who are happy with it yet, Apple not only kept it around but gave it an iOS make-over and a new default background which kind of makes me miss the old one. Click and hold a widget and they start to quiver like the apps in Launchpad and a black cross appears over the ones you can delete. Finding new widgets has also been made easier with a little button at the bottom of the Dashboard that says More Widgets.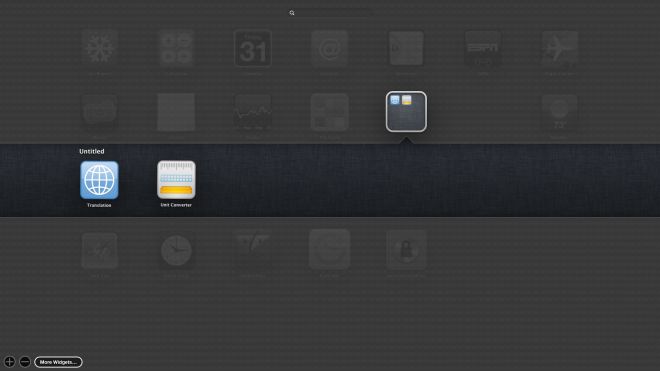 System Preferences
Lots of changes here; you will notice Notifications, Mail, Contacts & Calendars and Dictations & Speech as new items. If you dig deeper, you will see several new things in Security & Privacy.  Each of these items are integrated system wide and are therefore managed from a central place in the OS.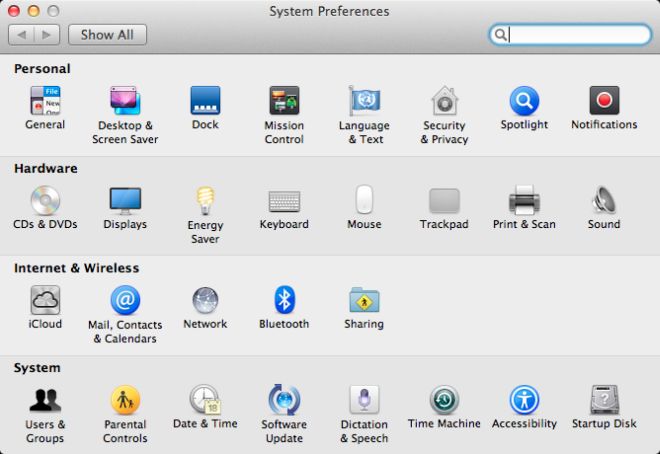 Notification Center
This is yet another one of the more popular features in iOS; a notification system that integrates messages from apps. Whether it's Apple's answer to the popular Growl app or is just one more way to make OS X more like its mobile cousin, the notification center is likely to be well received. In addition to providing you notification from apps like Calendar, Reminder, Notes, Messages, Chrome, it also allows you to connect your Twitter account, send out Tweets and alerts you when you are mentioned in a Tweet or when you receive a Direct Message. You've got your two different styles for notifications as well, same as in iOS and there is the option to turn them off for a single app.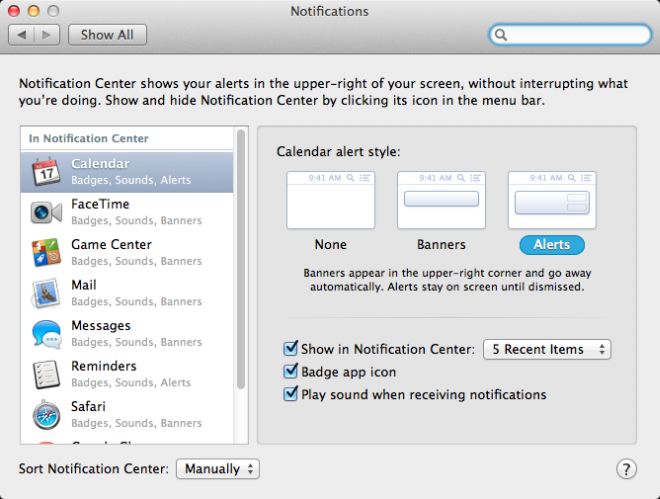 Like the notification center in iOS, you can choose to manually allow apps to send you notifications from Preferences. Any app can be added or removed. Apps that don't support Mountain Lion will still use Growl so don't think it's a good idea to remove it just now and rely completely on the default notifications. A notification panel opens at the right of your screen when you click the newly added list like button at the right on the Menu Bar. This button which sits next to Spotlight lets you open/close the notification panel which works exactly the same way as it does in iOS.
iCloud
You will find iCloud integrated in just about every app possible; Mail, Contacts, Reminders, Notes, Safari, TextEdit, everything! The point is to give users a central place for storing everything ensuring that their data is available no matter where they go. When you first boot into Mountain Lion, you will have the choice to sign in with your Apple ID, and at the same time, enable iCloud. If you choose to skip the step, you can sign in and selectively enable apps from System Preferences.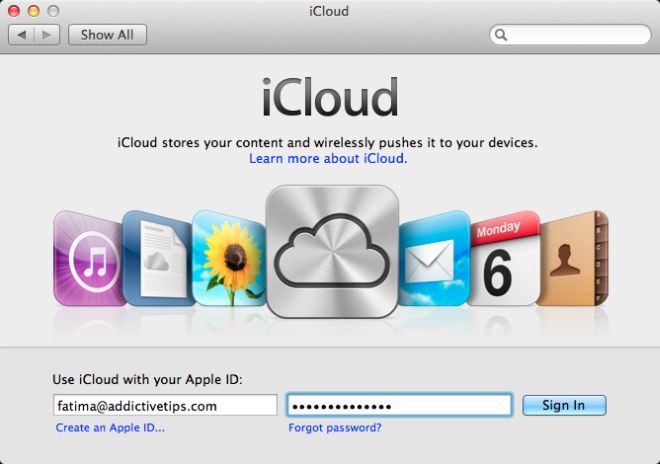 Security & Privacy
Drive encryption has been added, as have restrictions for apps that have not been downloaded from the Mac App store. This is one feature that will have you drooling rainbows although, considering you have only one consolidated hard drive, encryption can take a while. Our's took something like 8 hours to complete and is 500GB in size (not very large, just sufficient). All four tabs in this preference demand attention. You can set up encryption, from FireVault, manage which types of apps should be allowed to run from the General tab, exercise some serious control over the firewall from Firewall and lastly, manage which apps are using your location from the Privacy tab.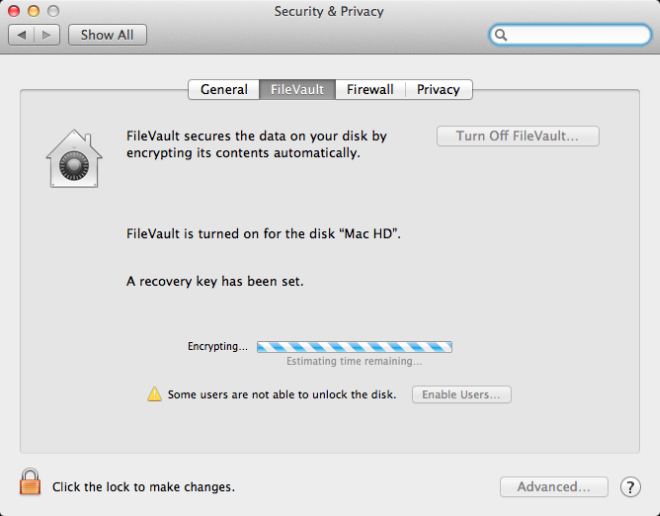 Firevault, which is easily the one feature in this preference that will command your attention, allows one or any number of users to decrypt the drive. Unlike BitLocker on Windows, the decryption key isn't saved on your system. You have to write it down or use some other means of preserving it. You can choose to save it with Apple if you like and it can be recovered by answering three security questions. There is the dire warning that if you lose your key, forget you password and have decided not to save it with Apple, you can forget about ever accessing your Mac HD again.  Users can later be authorized to unlock the drive from their own accounts but you will need to enter their password first. Firevault can be turned off at any time.
Twitter
As mentioned above for several apps, Twitter is now everywhere in OS X. You can share pictures and web searches as well as send tweets all from Mountain Lion's default feature. To link your Twitter account, visit Mail, Contacts & Calendars in System Preferences. Options for sharing on Twitter are present in Preview, Safari, TextEdit and Finder. So far. you can Tweet with your location and if you want to share an image, you will have to open it in Preview first and use the Share button to share it to Twitter. The only deal breaker is if you don't share a link from Safari, i.e., you use a different browser and copy and paste the link to the notification centre there is no URL shortner associated with the service. Developers can take note and perhaps a little app will appear shortly for it in the Mac App Store. Of curse, with all this Twitter integration, and almost enough features for users to want to abandon their Twitter Clients, one might wonder that there isn't an easy way to follow your feed. While it would be more than intrusive to have them pop-up as they come, it is the only thing that might keep you from switching completely to tweeting from your OS.
Screensavers
The Screensavers in Mountain Lion seem to have a new groove too. You can now have several images appear in different layouts and select a folder where the images will be pulled from. Additional options include typing a custom message, viewing art from iTunes or learning a new word everyday by selecting the Word of the day option.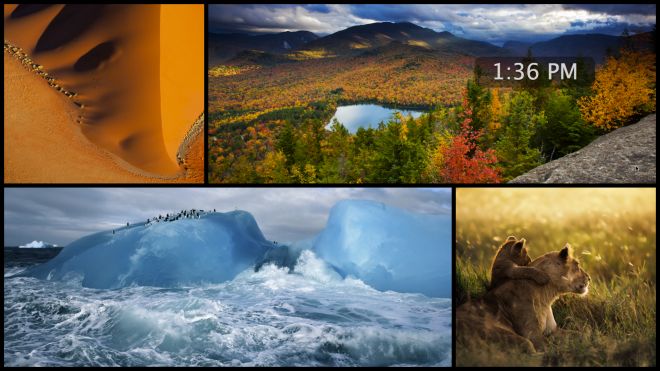 In Summary
Facebook integration, something that seems very exciting once you give Twitter a go; will sadly arrive in Autumn.
Not all, but some features that tie the knot between iOS and OS X will be available only when iOS 6 rolls out, and this means a little less syncing and not as much universal iCloud support as you could hope.
Yes, OS X is looking more and more like iOS; embrace it because it isn't bad at all. Apple isn't likely to retract it, but even if you do fail to get used to it, you can always count on there being an app to help you with that.
Notification Centre is excellent and might just change your life. It is smart and knows when to pop up and when not to. More importantly, it comes with a flip switch for turning it off.
Sharing & syncing are an integral part of Mountain Lion so you should actively be looking for the share button in the default apps at the very least. Hopefully as new apps arrive in the Mac App Store, you will find better use of the feature.
You can now view the Mac App store in full screen mode.
Dictionary has been improved and new ones have been added.
QuickTime X has a better encoder and, as you can guess, has the same sharing options you will see in the default apps.
Conclusion
Mountain Lion did not bring a huge UI overhaul to the table, but there are certainly some new elements to the interface. Some might say the new features are really just something that should have been there to begin with, but that isn't true for all of them. iCloud is going big as far as OS X is concerned. Bear in mind that you might not get a complete feel of what the OS is supposed to be like given most of us do not have iOS 6. Hopefully, with additional updates, the two will mesh well and give a better user experience than ever before. The new features open up new development prospects for apps while making a few of them obsolete. Perhaps the best thing that can be said for OS X Lion fans at this point is that none of Lion's features have been axed. Some things have been renamed, but that really is as far as it goes, and settling into this new version should prove to be simple for most. Let us know what you think of Mountain Lion and stay tuned for more.