NewsBar: View RSS Feeds & Classify Them By Color On Your Mac [Paid]
Earlier last month, we reviewed two Mac apps, Blotter and Mindful, that put the current day's iCal events in a translucent display on your desktop. Both apps present a convenient way to always have your daily events on your desktop. NewsBar is a Mac app available for $4.99 on the Mac app store that does the same to your RSS feed. It is feature rich app that allows you to dock your feed to any side of the display, or view it as a floating window. The app supports feed search, marking items as favorites, setting keyword alerts and choosing a unique color for each feed. It lets you add just about any RSS feed, or import your items from Google Reader.
When you first launch the app, it will display feeds from sites like ESPN and Engadget. You can remove these feeds and add new ones from the RSS tab. Click the plus button to add a feed, or select an existing feed and click the minus button to remove it. To import your feeds from Google Reader, go to the dedicated Google Reader tab and sign in with your Gmail or Google Apps account. The app will present you with one of three options to import feeds; you can overwrite the existing feeds, allow the existing feeds to overwrite the ones in Google Reader, or merge the two and keep both.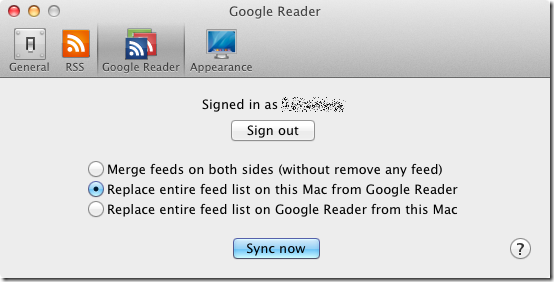 Once imported as per your preference, you will see the RSS feeds appear in a vertical column on the left side of desktop. The top bar has buttons for searching, adding new feeds, viewing starred items, and visiting the app's preferences.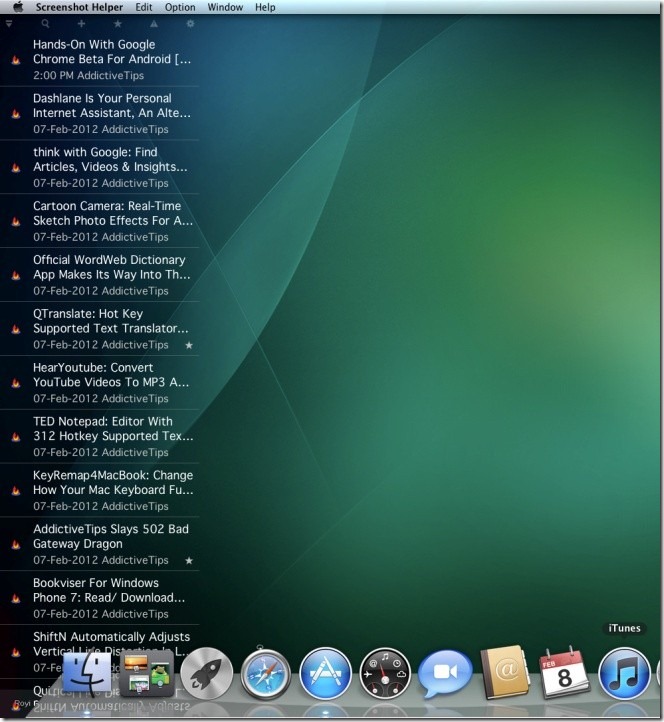 To modify how a feed appears in this column, visit the RSS tab once again and double click a feed to edit it. Click the plus sign, either on this tab or at the top of the feed viewer on your desktop, to add a new feed. Enter the feed's URL and double click it to edit. Enter a name for the feed, select how often the app should check for new items, how many recent items it should display, and from how long ago the items should be displayed. Select what color this feed's text will appear in, and, if you like, select a background color for it, as well.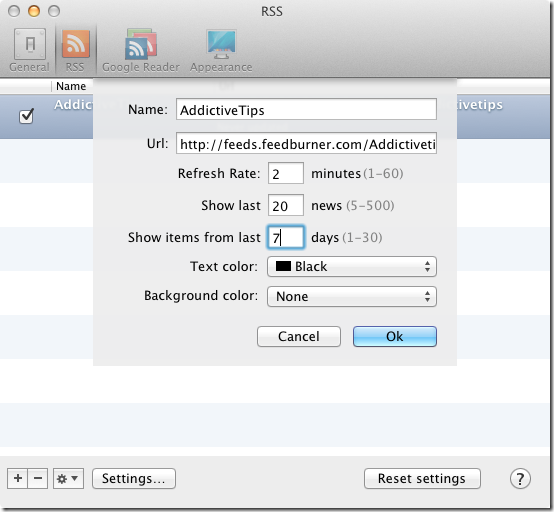 From the General tab in preferences, select the default refresh rate for the feeds. There are options for how an item should open when you click it, and how soon it should return to the top of the feed list. From the Appearance tab, select which side of the screen you want to dock the feed list to, and if you are using multiple displays, select which monitor it should appear on. You may also select a background color, background opacity, text color and size and the height of a single feed item.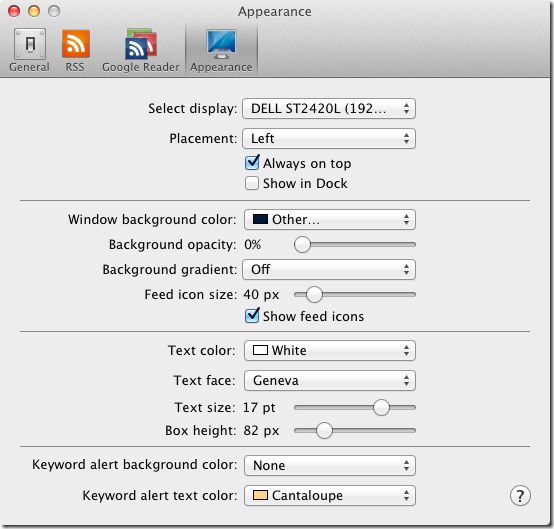 Note that this app isn't a feed reader, and it will simply list the items in your feed. It is, however, an excellent way to monitor feeds. The app supports sound alerts for new items, which saves you the trouble of having to visit a tab in your browser whenever you want to check for new items. Additionally, the app is a feed monitor that does not rely on any particular service, nor does it mandate you to have an account to some specific service. As long as you have an RSS feed, you can use it to its full potential.
Get NewsBar From Mac App Store