Official Pocket App For Mac Released; Allows Clutter-Free Offline Reading Of Bookmarked Articles
Pocket, formerly known as Read It Later, is an immensely successful web service that allows you to mark online content for reading later. In addition to its web service, it also has web browser extensions and apps for Android, iOS and Kindle, and now, for OS X as well. The Pocket app for Mac is basically a desktop reader for articles you bookmark while surfing the web on any of the mentioned platforms. It allows you to download items in your list for offline reading, and can also be used to save items directly to your Pocket account from the clipboard. The app shows you the number of unread items in the Dock and lets you sort the content by type, same as it does on its web interface. It syncs automatically and has full screen support for clutter-free reading. Bookmarked items can be emailed and/or shared via Facebook, Twitter, Evernote or Buffer.
Pocket has a clean interface, much like the one you see on its website. Items in your queue are listed on the left while the large panel on the right acts as the viewer. The search bar is located at the bottom with sorting options and links to Home, Favorites, and Archive under the Pocket drop-down menu.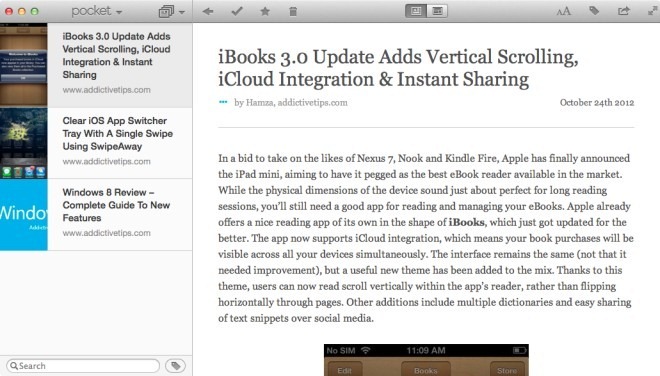 To save an item to Pocket from the clipboard, copy its URL, launch the app and press Command+S. The item is saved and downloaded immediately. To tag an item, select it and click the tag button in the top-right corner (next to the share icon) and as many tags as you need. To filter the content by type, click the drop-down next to the Pocket menu and select what type of data you want to see. To archive an item or favorite it, use the check mark and star buttons in the title bar.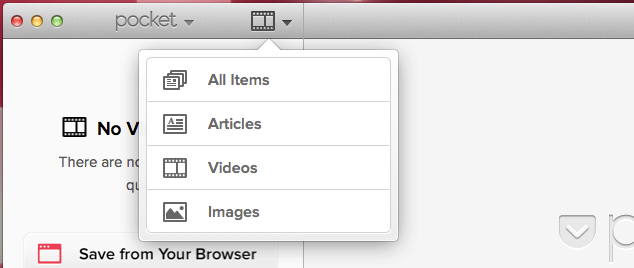 The viewer in Pocket offers two types of views. The text-only view downloads text and images from the article sans any links and ads, whereas the HTML view allows you to see the item as it would appear on the website.
The app does not provide a lot of customization options. You can log out and log in with a different account from its preferences, choose how you'd like to view a particular downloaded webpage, clear all downloaded items to free up space whenever you like, and restrict the app from syncing each time it loads by unchecking the Refresh when opening app option.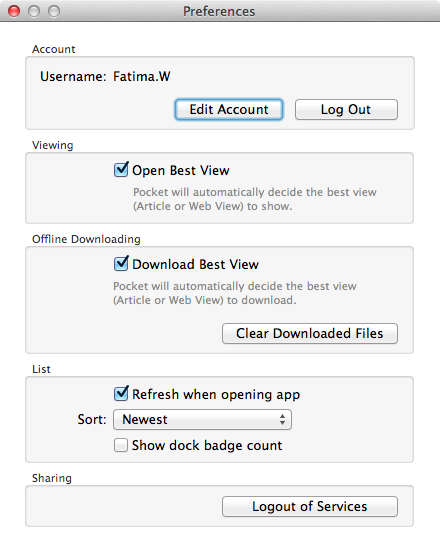 Pocket for Mac is best for reading content offline, when you're sitting in a WiFi-less area with your MacBook, for instance. Though, even if you're at home with an active internet connection, it can serve as a light, clutter-free desktop reader.