Auto-Open Files, Apps Or Scripts On Mac When A Calendar Event Is Due
One of the things I love about well-built reminder apps – like the stock Reminder app in iOS – is that alerts can be triggered not just by time but by location as well. While the Reminder app in iOS has only limited choices as to what can trigger an alert, there are other apps available that give you a richer choice. As far as triggers are concerned, you will find apps supporting quite a variety of them, but alerts are a different story, and are often limited in type; you'll get an audio alert, or a notification on your screen but there seemingly isn't much else that can be done. The stock Calendar app in OS X is pretty smart when it comes to alerts; not only does it give you audio alerts and on-screen notifications, but it will also allow you to open a particular file when an event is due. Read on to see how it works.
Open Calendar and create an event the same way you always have. Double-click the event to edit it and click the 'Alerts' drop-down. By default, it is set to send you an email or message when the event is due. In the  drop-down, you will find an 'Open File' option as one of the alert types. Select it and pick the file that should open when the alert is due and click 'Done'.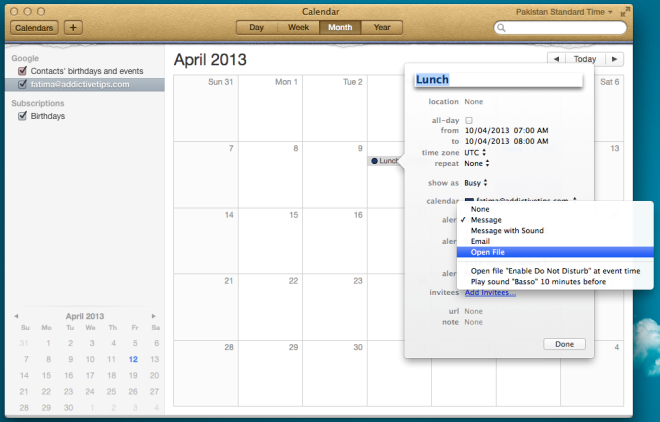 You can choose a different file for each event, and even have several files open in response to a single event by adding another alert and assigning a different file to it. Calendar remembers the files you've recently used for an alert, and you can easily select them again from the options listed under the Open File alert's options menu. If you want to select a new file, click 'Other' to open the file selection dialog.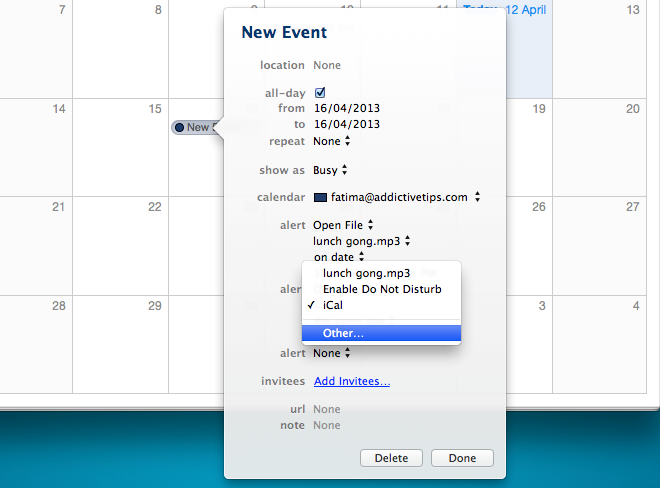 You are free to add any number and types of alerts to a single event, and that is one reason why you would want to use Calendar instead of a third-party app that may limit you to just a single alert type. You can open any type of files, even apps and scripts, which means you can automate quite a number of tasks this way. A really great way to use this feature is to schedule Do Not Disturb using Automator and a simple little script to make sure you don't get any distractions during important events.
[via Cult of Mac]