IceClean – Optimize, Repair & Cleanup Files In Mac To Keep It Stable
Similar to previously featured OnyX for Mac, IceClean is multi-featured system optimization and maintenance tool which provides front-end for numerous Unix built-in system tasks. IceClean has been optimized for Mac Snow Leopard, offering all the basic and advance tools and maintenance functions to keep your system clean and safe from native conflicts which may disrupt core system functions. For those who never tried it before, IceClean enables you to easily execute various Unix system tasks, System cleanup, Finder customization, Screen lock, Force empty Trash, Secure deletion, Show hidden files/folders, and System maintenance process, just to name a few.
Having all the capabilities of OnyX, IceClean also offers a great deal of security and network utilities. The application provides an easy way to run tracerout, netstats, whois commands while you can check on network status and socket connections. You can also query IP number, list down DNS servers, and check TCP/UDP statistics. System resource usage monitor has also been incorporated to keep users notified about total CPU and memory usage. System cleanup utility is responsible for inspecting system for junk files, such as, system logs, .localized and temporary files. You can also include root and users system caches, and perform numerous junk cleaning operation over Safari browser, such as, deep Safari cleanup and removal of Safari icons.
The Utilities section contains tools to perform advance system functions which are either hard to execute or require running several commands before you perform them. While it's options to optimize, rebuild, and remove Spotlight database, it also lets you view Spotlight index status and enable/disable Spotlight indexing. Additionally, you can show hidden files and folders, enable/disable Finder animations, force launch of system Dock and Finder, forcibly empty all Trashes, and clean all .DS.Store files from the system in one go.
When you launch IceClean, it greets you with system profiler window showing information related to core system components, such as, total available processors, RAM, load average, etc. Next to Profiler, network commands consoles are present, which include, Lookup, Netstat, and Whois. You can access aforementioned tools and functions from its menus in system menu bar. For instance, all system maintenance related tools are bundled in Maintenance menu.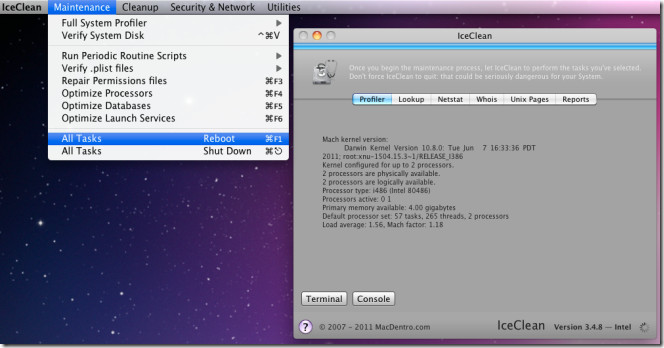 You will see all reports and information regarding system components in Reports window. When you, for instance, check out total RAM or CPU usage, it will first calculate the usage and then show the information in Reports window.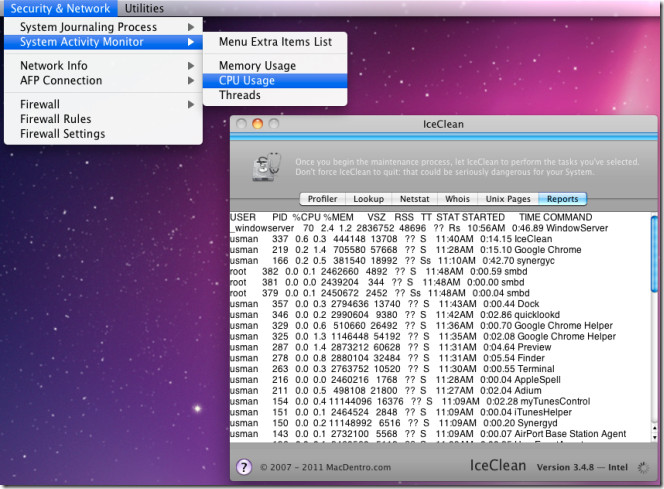 The Cleanup menu deals with options to remove junk from your Mac. You can remove system and user caches, delete font caches, and perform other deep system cleanup operations.

We have covered most salient features and tools it has to offer. Nonetheless, IceClean has certainly a lot more to cover. Head over to product page to review complete feature list.