OptiTask: Pomodoro Timer That Lets You Add & Manage Multiple Tasks [Mac]
Pomodoro timers are as common as they are useful; there is nothing like a ticking timer to remind you that your tail is, or will be pretty soon, on fire. While the Pomodoro technique is effective as far as getting things done is concerned, it is still a timer. OptiTask is a free Mac app that is a Pomodoro timer and task manager in one. The app allows you to add as many tasks as you like, and go through them one by one in each of your work periods. It lets you choose how many Pomodoro intervals will have to be completed before you can take a long break, the interval of a single Pomodoro, and the break intervals.
Launch the app and click the cog wheel button to open its settings. Select the time intervals for a single Pomodoro, a short break, a long break and how many Pomodoro intervals must be completed before a long break starts. You must Save any changes you make, or the timers will reset themselves to the default values.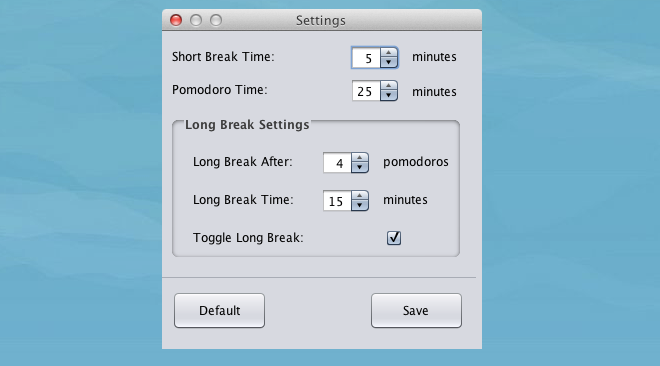 Click the Manage Tasks button to add tasks. Hit Add and a new null task will be added, which you may double click the task and rename it to anything you want. Add as many tasks as you like, and use the large up & down arrow buttons at the right of the tasks' list to reorder them. Tasks are started in the order they are arranged in. You can mark a task as complete by clicking the check box against each one. Please note that a task is not automatically marked as complete when a Pomodoro interval ends, so it has to be marked manually.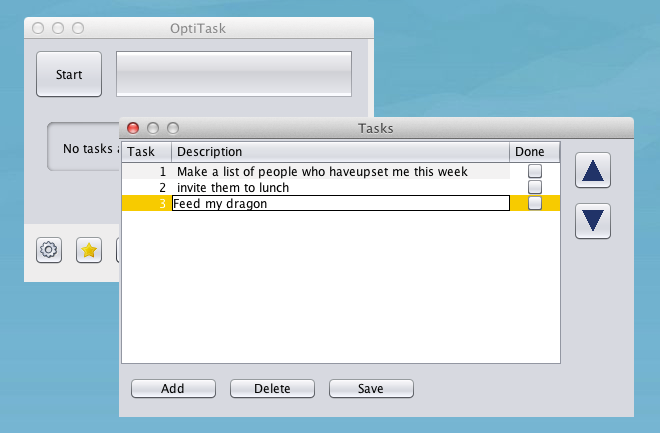 Once you've added the tasks and selected the time intervals, return to the app's main window and click Start. A timer will be displayed in the horizontal bar next to the start button, and a shrinking orange bar depicts the passing time.
The app is foremost a timer and a task manager. As far as forcing you to work or take a break, it remains quite passive, without any alerts.