Organize And Track Movies, Music, And Book Catalogues With Booxter
Streamlining items like, e-books, movies, and music become necessary before creating one separate catologue for each type of item list. Seemingly, collection manager is one such type of utility which you should opt-in to make catalogues look tidy and well organized. Unlike many other item collection managers, Booxter offers simplicity in organizing books, music, comics and movies. It is geared towards both novice and power users alike, who love to collect every its & bits of information regarding movies, books, and music. They can for instance create a music library for entering details of album, artist, genre, series, format, location, album tracks, year of release, cover art while description and rough notes can also be jotted down to mark significance. With each type of library, it has an entry form which covers all the aspect of the item type. Be it movies you want to track down, read comics, or check out music info, you can easily search through the categories to find the required information.
The first step would be to choose the type of item to create a library for. Running it for the first time requires user to save the library at any local location.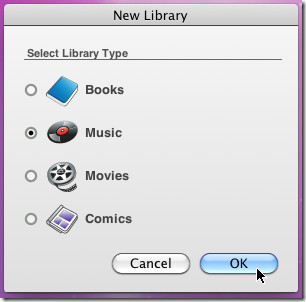 Once saved, it will show the main library window, letting you populate the list with items. To start creating items list, click Add on the toolbar and enter information that you want to save. Optionally, you can get ASIN number of item from Amazon to quickly populate fields with basic information.
Apparently, there is no imperative field that must be filled, so you have the choice to keep information as minimum as required. The screenshot shown below exhibits music album creation form which contains fields, such as, title of album, tracks, artist name, format, language, Genre, etc., with some loan management fields to track down borrowers.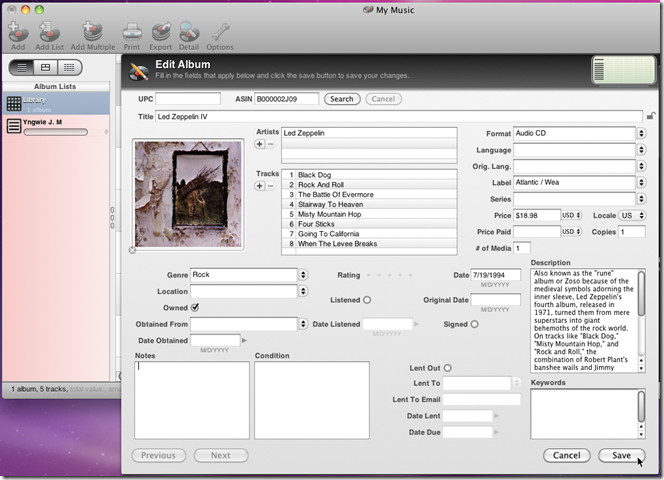 Once information is entered, click Save to list down the album on the main interface. If you're managing music albums, you can switch between different view modes to get the information listed in different forms. Adding another album is easy, click Add List to insert an empty album in left sidebar, select the newly created album list, and click Add button to enter the required details.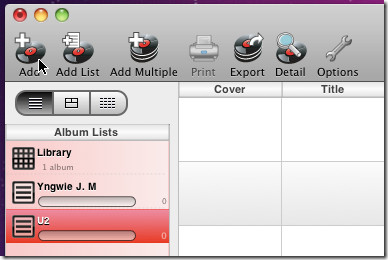 The viewing modes helps you in filtering out information saved in items list. To view listed item information in List, Filtered, and in Tag form, select one among the modes present above the Album Lists.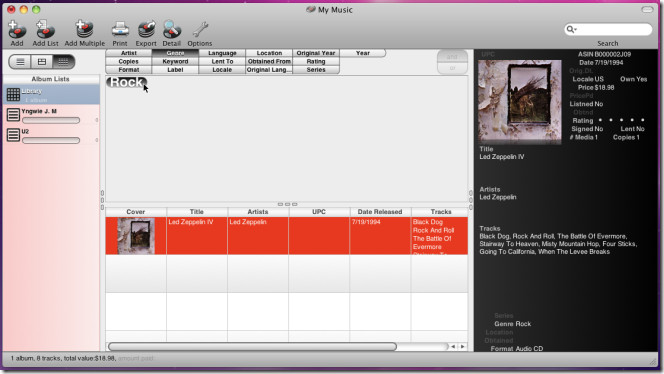 The items lists and library can be exported by simply clicking Export on toolbar. It can save the exported file in Text, XML, HTML format with an option to save only the album cover images from Export Configurations. With Text format, you can also select the library item list, and select columns to pull out specific type of data, choose either tab delimited or comma delimited, etc.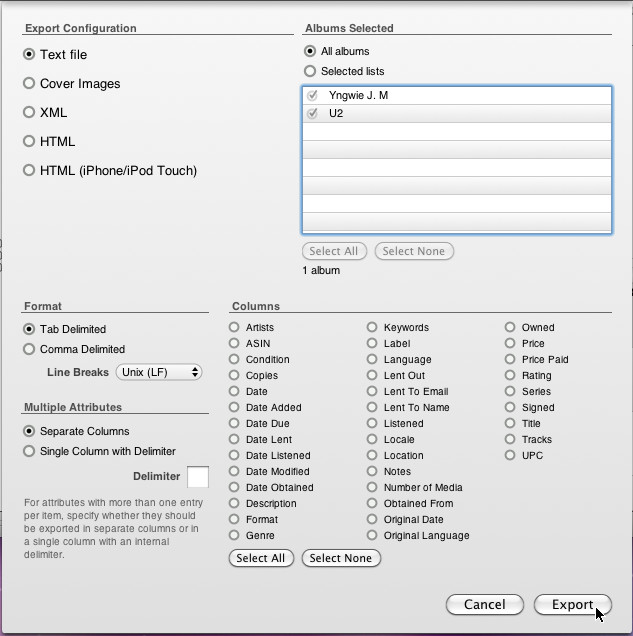 Booxter seems like one of the best free collection manager present for Mac. If you're looking for a simple yet intuitive and powerful item collection manager, do try it out. Looking for a cross-platform collection manager? Check out GCstar.