OS X Mountain Lion's New Messages App [Feature Review]
If you've been following the buzz around Apple's latest OS X release (no longer to be called Mac OS), then you know that it's got a slew of new features, one of which is Messages. The beta version of Messages is available for download and will run on OS X 10.7.3. Messages is by far one of the more talked about apps there is, and will replace iChat. According to Apple, the noteworthy features of this app are sending unlimited messages to any Apple device (Mac, iPad, iPhone or iPod Touch), transferring files between your devices, and AIM, Yahoo, Jabber, Gtalk account support. Here is a step by step break down of how to get started with Messages, set up your account and understand the interface.
Download and install Messages, and your system will need to restart. If you're wondering why everyone is so crazy excited about Messages, the simple reason is that it brings the iMessage feature from iOS to Mac. The whole point of the app is to ensure you can seamlessly leave a conversation on one device and resume it on another. During setup, you will be asked to enter your Apple ID.
What you see at first might just confuse you slightly, as the app will show you selected contacts associated with your Apple ID and Address Book, and from any other email account. The left side panel shows contacts that you are currently engaged in conversation with, and the right side shows the conversation. Assuming that you haven't added any other accounts other than your Apple ID, go to the Messages' preferences.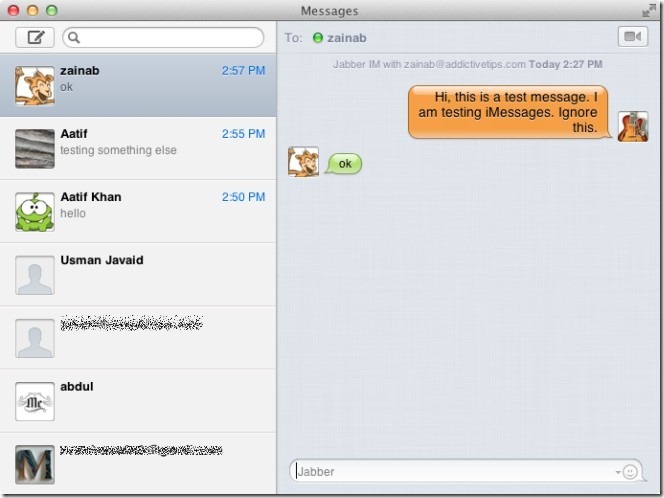 If you want to set up more accounts with Messages, skip ahead to the next section. If you want to follow this order, start off by visiting the General tab in preferences. Set the app to appear in the menu bar (this will make it easier to change your status quickly) and select a destination folder for all files that you receive.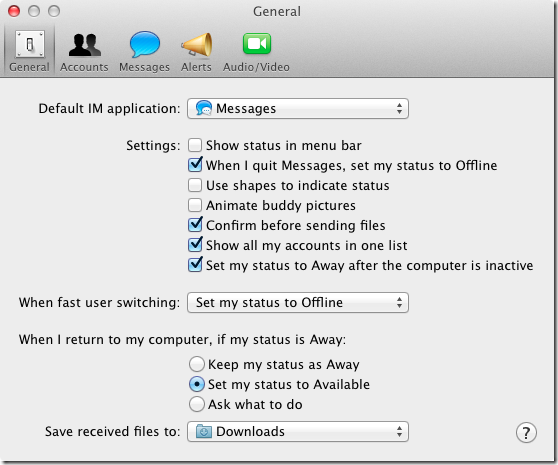 This is where you see Messages at work. Notice that there are three types of accounts; iMessages, Bonjour and Jabber. If you click on iMessages, it will reveal your Apple ID associated with it. Clicking on Account Details lets you sign out of this account and add an alternative one if you like. Go to Jabber and add an account by clicking the plus sign. You can add an AIM, Yahoo, Gtalk and other Jabber account IDs.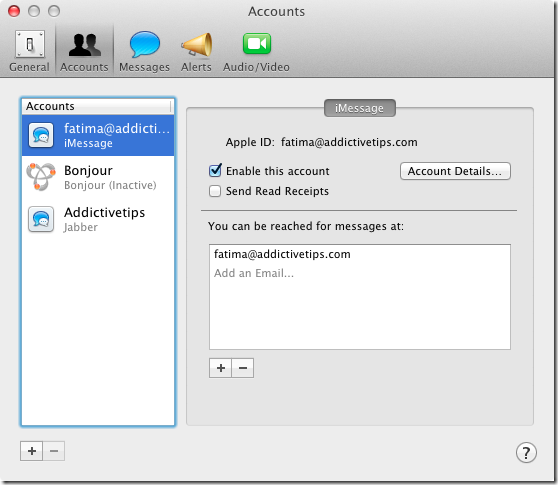 From the Messages tab, you can select font type, size, color and select where your Chat history is saved to. Additionally, you can set a shortcut to bring Messages window to front. From the Alerts tab, you can select and modify the sound alerts for incoming messages. From the Audio/Video tab, you can set up a webcam and audio input device. Why do you need to set this up? FaceTime, that's why. Messages integrates with FaceTime (since it uses your Apple ID) and lets you call any contact that you can FaceTime with.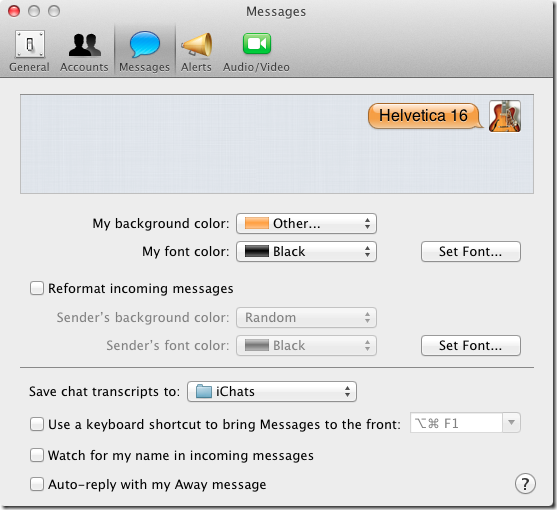 Once you've completed these settings, go to the Windows menu and select Buddies. You will see your old iChat window appear next to the Messages window. Click your user name and select Available to sign in. Double-click a contact to start chatting with them. The chat will appear in the Messages window. If you recall, in iChat, you got a separate window with tabs for each contact you were having a conversation with. That window has now been replaced with the Messages window, and, in addition to where your chat messages are sent and received from, it also lets you start FaceTime and send messages to anyone in your Address Book.
To send a message, click the write message button at the top left of the window, type in a contact's name (Messages will list matching results from Address Book) and write a message in the input field at the very bottom. To start FaceTime (only possible if your contact has it too), click the webcam button at the top right of the window after selecting the contact you want to talk to.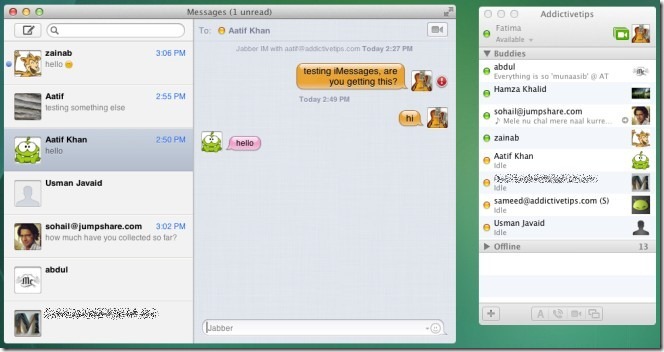 For those of your contacts that have iMessage on their mobile devices, you can send them files via Messages. If you've ever used the Gtalk client on a Windows PC, the process is the same. Drag & drop the file you want to share on to the chat window and hit Return. Your recipient will be able to open the file on their device by clicking the little blue arrow just in front of the file you've sent, should their device support it.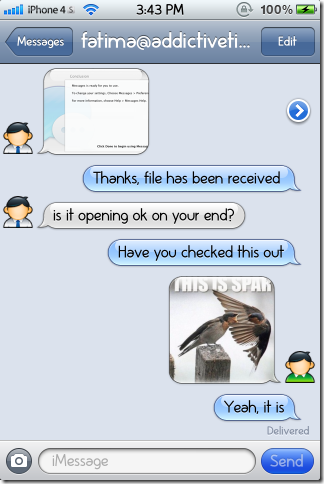 The app shows notification for new messages received on the Dock icon, and also adds a little bubble next to the contact to indicate you've received a new message from them.

And that really is it, the new Messages. If you're wondering what's great and what's not so great, here's a simple break down from what was inferred during the testing.
The Good Stuff
Apple fans will rejoice because you can send unlimited messages to your iOS devices. The app lives up to that promise spectacularly. Sending files to an iOS device is now possible too by simply dragging & dropping the file on to a chat window. Other visual goodness includes being able to zoom in and magnify the font and it now saves chat history.
The Not So Good Stuff
Apple lets you transfer files to iOS devices, but what would have been great is if you could transfer files to anyone you were chatting with. Having to find another way to send a file to your friend on Gtalk isn't fun. The fact that it takes you away from this one app and sends you looking for another is a disappointment. The interface, while it isn't bad or unappealing in anyway, was confusing for the first five minutes. It isn't something you would expect from a company that makes devices so simple a two year old could use it (i.e., the iPad). While it has added a message feature, that allows you to send and receive messages from users on iMessages, it made regular chatting slightly confusing. Under the impression that iChat no longer exists, it was a while before I went looking for the Buddies window. I was expecting it to have disappeared altogether and a consolidated message window to have taken its place. What sent me on the search was my inability to add new contacts that didn't have an Apple ID. Surprisingly, you can't add new chat buddies from the Buddies menu. You will have to return to the Buddies window and do it as you did in iChat.
Conclusion
The bad stuff might not bother you at all. Like I said, it was only 5 minutes worth of confusion and sending files and unlimited texts to iOS devices is enough to overlook this. What isn't as easy to overlook is not being able to send files to contacts who don't have an iOS device. Still, yay for chat history and being able to remember what you were talking about last time.