PhotoSweeper: Compare Images On Your Mac & Find Similar Ones [Paid]
Removing duplicate images from disk isn't easy, not only do you have to go through hundreds and hundreds of pictures just to see how many similar ones you have, but you also need to pick out which one you will keep. PhotoSweeper is a Mac app available for $4.99, which analyzes images for similarities. You can check for similarities based on six different criteria; Bitmap, Histogram, Time Interval, Time + Bitmap, Time + Histogram and Duplicates Only. It also lets you  restrict the comparison to be between similar file formats.
The app supports drag & drop behavior. Just drag the files over the app window or click Add Photos at the bottom. Once you've added all the images that you want to compare, select one of the six comparison methods from the drop-down menu on the right. Based on the method you select, the parameters that you can select will change and be listed in the right panel accordingly. A comparison scale will be omnipresent at the bottom of the right panel. Move the knob across this scale to select the level of similarity between two images. The greater the level, the more the app will scrutinize two images for similarities.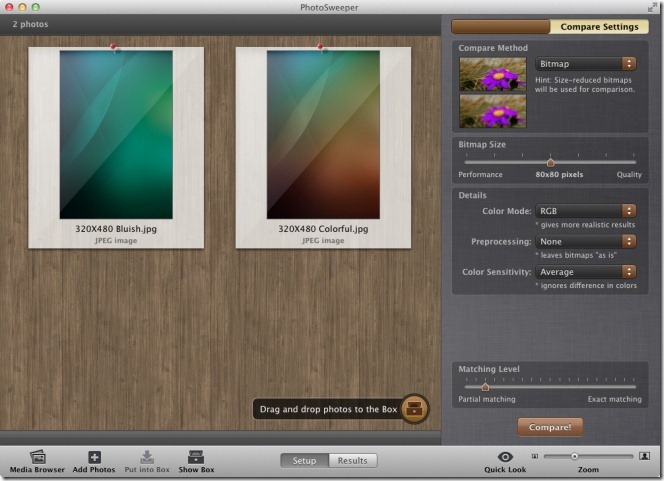 Once you've set the criteria, click Compare, and the app will take you to the results page. In the event that you see only two pencil sketches side by side, it means the app finds no similarity between the images you've compared. You can try to decrease the scale to see if any results turn up. If you've selected several images to compare, click the arrow buttons to continue comparing more images.
The app shows the similarity between two images in percentage, when you change the Matching level from the top right corner in the Results view, the app shows the results for that level. To separate an image you want to save, click Put into Box. You can set up a rule(s) for adding images to the Box from Preferences –> Auto Put Rules tab. From the General tab, you can restrict comparison to similar formats only.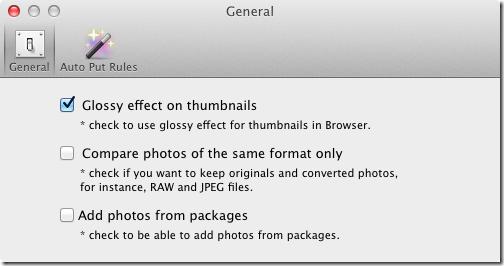 The app has a built-in Media-Browser that allows you to view images in Aperture and iPhoto library. For those who need to check images closely for similarities and need a quick solution, this app is an excellent solution. If used right, it can help you identify duplicates that you might have in a large folder of images. Think of a scenario where you have received pictures of a family wedding from several different people and would like to make sure you don't have any duplicates. Instead of going over them one-by-one, you can use Photosweeper to identify them.
Get PhotoSweeper From Mac App Store