Poptagram Shows Specific Tagged Instagram Photos At Regular Intervals [Mac]
Instagram is a more-than-familiar name for most amateur photographers, and its user-base has definitely grown with the app being launched for Android OS and the company's acquisition by Facebook. All this means more pictures are being uploaded. There's quite a few Instagram browsers available for desktop platforms, but since there isn't an official app, you will find a host of unofficial ones. Poptagram is yet another free Instagram app for OS X that allows you to search Instagram using a single hashtag. The app then regularly checks for new images that have the same tag, and shows them in the top-right corner of your screen. It's like a bulletin for the latest tagged Instagram images.
Once installed, Poptagram instantly searches for images that are tagged with one of the pre-added tags. Sadly, it doesn't provide a search bar, and in order to search for something different, i.e., a different hashtag, you need to click the Tag field and then type in the search tag. By default, the app searches and displays 20 images, and after that it displays new images as they are added by users. You can filter the results using their rating from the All dropdown menu by selecting the minimum number of times an image has been liked.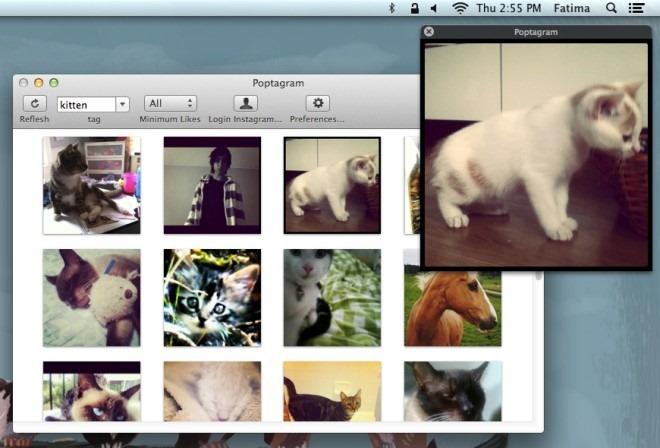 To change how often Poptagram searches for new images, click the Preferences button at the top and change the time in the Refresh field (it actually reads Reflesh but that's probably just a typo) and select how long each image will preview in the pop-up. You can also change which corner of the screen the pop up will appear in. Poptagram supports multiple monitors so if you've got more than one screen connected, it will appear in the Screen dropdown. Different screens will be identifiable from their resolution. You can also change the default position for the connected display monitor by first selecting the screen and then specifying the position.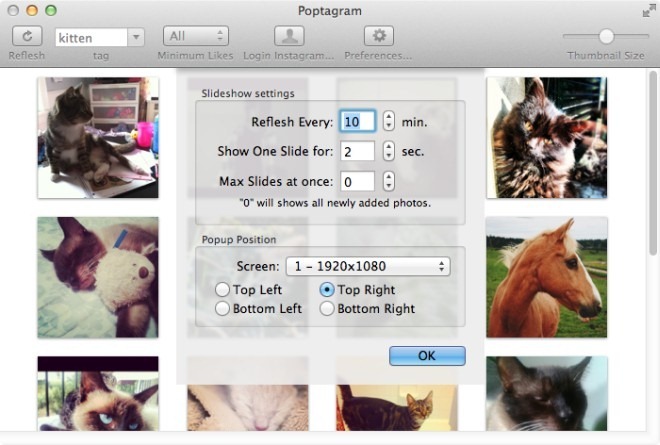 The app is pretty good, but has a few quirks nonetheless. Images cannot be saved directly from the pop up or from the app's interface to the local location. You have to double click an image to open it in your browser and save it from there. The close button on the app is inactive. You can't close the app, rather, you have to quit it each time you want to close it. Apart from this strange behavior, Poptagram is a fairly good and free search tool for Instagram that's worth a try.
Get Poptagram from Mac App Store