Reddit Notifier: Menu Bar Notifications & Audio Alerts For New Reddit Messages [Mac]
When it comes to web portals, Reddit is an amazing one; it may waste a lot of your time, but you will still end up learning a ton of new things in the process. While the site is one of the many reasons people all over the world don't manage to get to sleep as early as planned, it is also a great place for raising awareness about important events. If you obsessively read everything on Reddit, and are more than the average lurker, Reddit Notifier is a Mac app (worth $1.99 in the Mac App Store) that you may find useful. It gives you notifications in the Menu Bar and sounds audio alerts when you receive a new message on Reddit. The alerts are customizable, so you can set them to sound once, continuously or not at all.
When you first launch the app, a grayed-out envelop is added to the Menu Bar, and a sign in window pops up. Enter your Reddit credentials and sign in. The app's icon turns orange when you receive a new message. However, that is if you're an ordinary Redditor; if you're a moderator, the app's icon turns into Sno's head with red and orange outlines.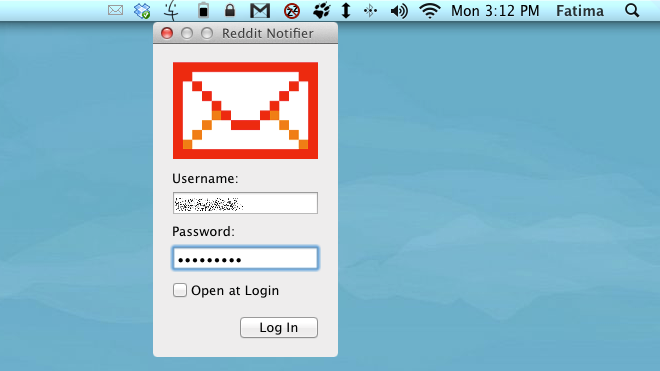 To manage the audio alerts, click the icon, and from Audio Notification, select what you want the app to announce when you receive a new message, and how frequently the audio alert should play.

As stated earlier, this isn't the kind of app that every Redditor will use. Its usefulness for you really depends on how active you are on the website, and how much you obsess over it. The app takes you to your Reddit Inbox if you click the Inbox option, and it would be nice if Reddit Notifier also showed the number of unread messages in the form of an icon badge.
Get Reddit Notifier From Mac App Store