Retato Receiver: Tilt Or Rotate Your iOS Device To Control Your Mac
We recently covered Mobile Mouse, a Mac app with an iOS client that allowed you to turn your iOS device into a mouse for your Mac. The feature rich app allows you to use your device as either a mouse, a keyboard or a track pad. While the Mac app itself  is free, the iOS device carried a trivial price tag of $1.99. If you find this price isn't something you want to pay, and that you don't need as feature rich an app as Mobile Mouse, you can try Retato Receiver. This free Mac app is accompanied by a free iOS client app that allows you to control any six functions that you define yourself. It makes use of the accelerometer and gyroscope in the iPhone, and allows you to send commands to your Mac by rotating and flipping it. While not likely to replace your mouse, it can control any number of Macs at once, and can be useful when running or testing special apps that need to be controlled simultaneously.
Install the app on both your Mac and iOS device, and ensure that they are on the same Wi-Fi network. On the Mac app, click Add New Remote and from the iOS device, and enter the code it displays at startup. Use your mouse to operate the on-screen keypad, as the app will not respond to the numpad on your keyboard.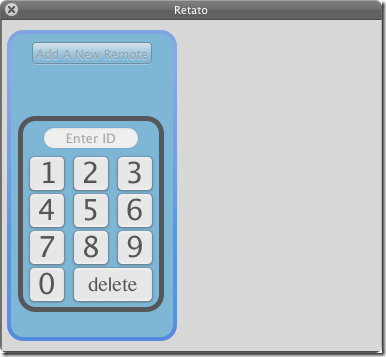 Once you've connected both devices, swipe right on the iOS device to set up and view functions. You will see four regular functions and two functions that use the gyroscope. Select a function, and from the keyboard and mouse displayed (swipe to the right to see the mouse), select a button that the respective movement will trigger. A selected button is highlighted with a blue circle on it. Click the button again to remove the function.
If you swipe further right, you can calibrate the app so that it responds better with to your movements. Calibration can be turned off as well. As mentioned before, the app isn't as feature rich as Mobile Mouse, but the real usefulness of this app lies in its ability to connect and control several Macs at once. Additionally, you can add as many iOS devices to control a single Mac as you like. For app specific functions that override the normal behavior of the keyboard, this app can be used to remotely control them.
Get Retato Receiver From Mac App Store
Get Retato Receiver From Apple App Store