RocketShip: Create Shortcuts For Openning Apps, Files, Scripts & Folders
We've covered app launchers in abundance before, and most of them provide quick access to frequently used apps or apps that you've bookmarked. The purpose of these apps is to minimize the number of apps in your dock and to allow you to group apps, so that you can easily find and launch them. RocketShip is a Mac app worth $1.99 in the Mac App Store that can be broadly classified as an app launcher. However, it is best described as a utility for creating universal shortcuts to apps, URLs, files and folders etc. The app isn't just restricted to creating keyboard shortcuts for apps; it can also open files, folders, Finder, a website, your browser or run a script. Shortcuts can be added in combination with either the Option or the Command key or both. Shift and Control keys are not supported.
When launched, RocketShip adds a rocker icon to the menu bar. The icon is only for accessing the app's preferences and to indicate whether or not the app is running. Shortcuts, when used, have nothing to do with the icon. From the menu bar icon, select Shortcuts to start.
Click the plus sign at the bottom left to add the first item and from the dropdown menu on the right, select what type of item you want to add. You can open files, folders, Finder, an app, a website, the browser or a script. Once you've selected the type, click the little arrow next to it and browse to the location of the file, folder, script or application or enter the URL if you picked the website option.
Next up, click the area that says Click and tap a key and then press a letter. You will find two buttons namely Option and Command just below this area, which tell you which modifier keys are enabled to work with the shortcut. You can enable either Option or Command, or both.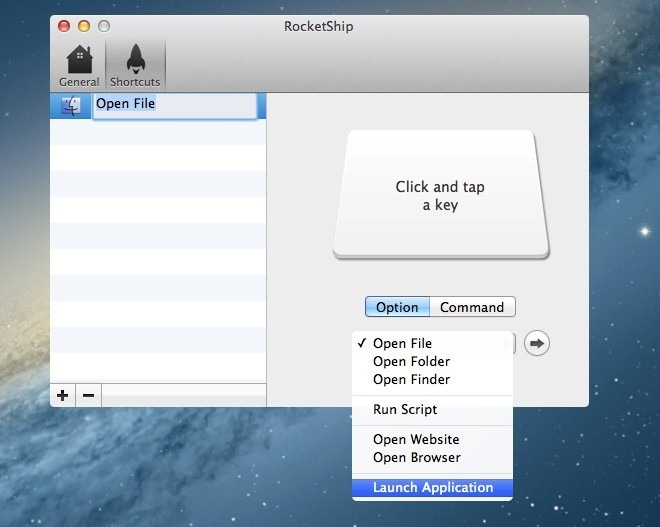 If you select Option and hit the P key, the final shortcut you will use is Option+P. The app warns you when you create shortcuts that conflict with existing one, but will let you create it anyway if you so chose. Hitting the shortcut key will launch the app associated with it and the shortcut you've just used will be displayed in the lower left corner of your screen.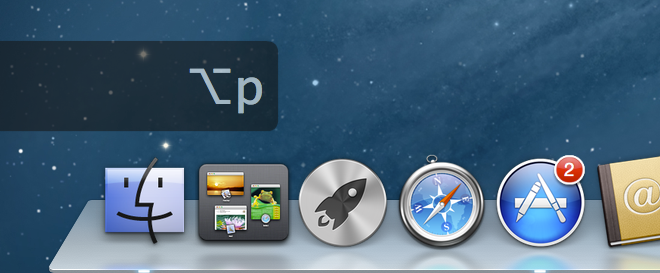 You can turn off the shortcut preview by visiting RocketShip's Preferences and unchecking the Display notifications option.

Launchit! is a free Mac app that is similar to RocketShip. So, if you don't want to spend $1.99, you can give it a try instead.
Get RocketShip From Mac App Store