Run Topic Based News Feeds Ticker On Mac OS X Desktop With retickr
In order to sift through important updates and news from online social media and information networks, one requires a dynamic tool which not only helps filtering required information and updates from multiple social media platforms but also lets you socialize within your joined networks from a single platter. If you're an avid social media networking websites user and looking for a desktop tool to enhance the way you read and share news and social media network streams, including Facebook and Twitter, with your friends and colleagues, retickr is probably the right tool for you.
Currently available for Mac OS X, retickr is an intuitive social media, RSS, and email aggregator that, unlike other social media applications, capitalizes more on personalized news and social sharing. The idea behind retickr is to provide a mash up of user-selected feeds from multiple social media and news groups to automate the process of filtering streams. These filtered streams run across your screen, so you can keep tab on most significant news and articles from selected feeds. Sharing news and articles with your Facebook friends and Twitter followers is one click away; once you've configured accounts, you can directly share news and articles over Facebook and Twitter.
retickr is customizable in terms of ticker speed and position. You can adjust it at any side of the screen and change stream speed whenever required. When launched for the first time, it asks you to register an account with retickr. Just enter login and password to create an account and then sign in to the retickr service. The main window asks you to choose news genres you like to receive updates for. It groups feeds you choose in convenient playlists. The feed playlist can easily be modified; you can add more feeds and remove existing ones.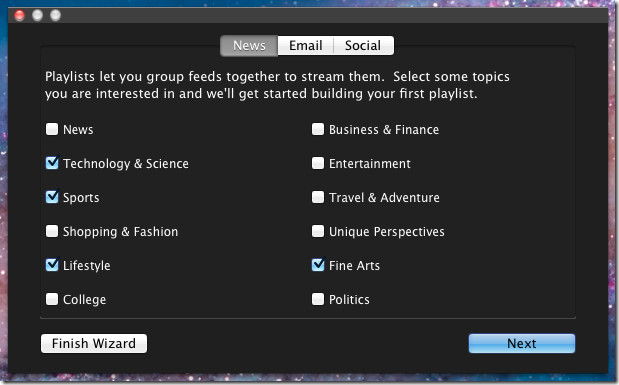 Once news types are specified, move to Email tab and enter email accounts to check new messages from its screen ticker.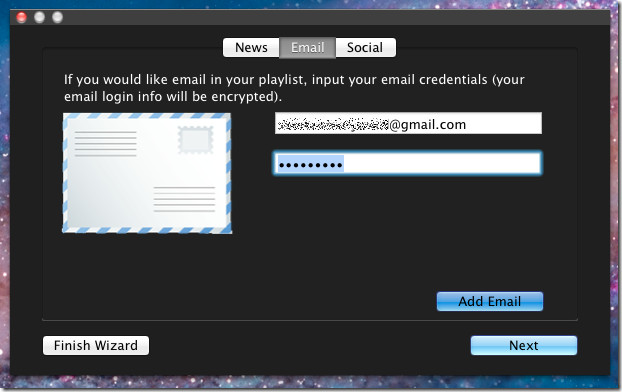 The last step is connect you Facebook and Twitter with retickr, so you can share important news, interesting articles with your friends and followers.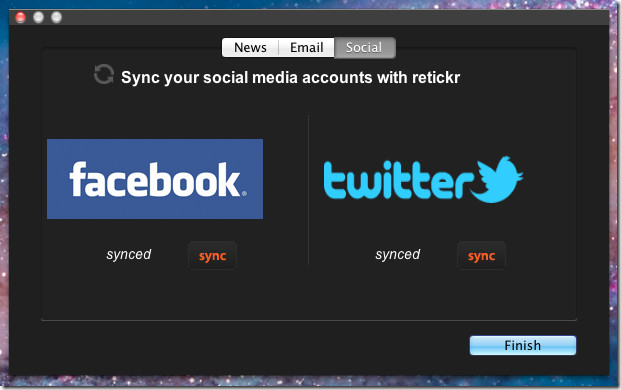 Once done, click Finish to open main interface for feeds playlist management. It shows all the widely popular new groups and online magazines, letting you further filter your feeds list.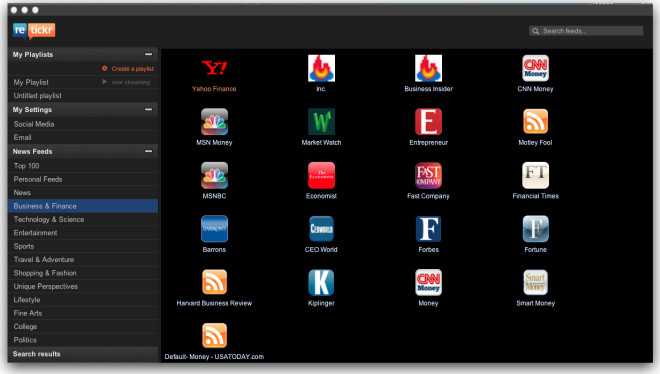 You can organize and switch between your playlists from My Playlists section. My Settings window includes Facebook, Twitter, and email sync related features. Whereas, from Account Settings, you can change retickr account password.
By default, it adds automatic news filtered ticker at top of screen underneath the menu bar, however, you can change ticker position and speed from retickr –> Preferences. You can also enable Hover to view stories and keep it at top over all active windows options.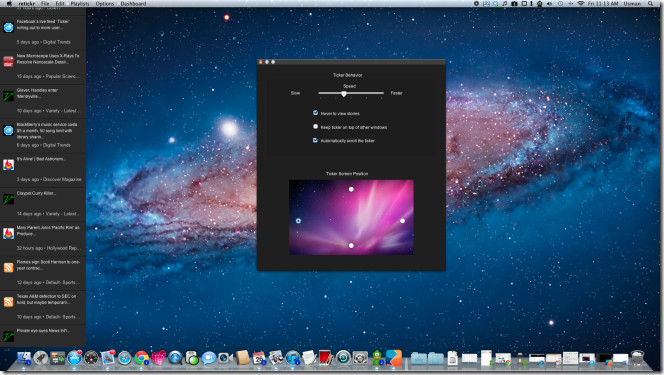 When you click a news in ticker, it will present options to share it over Facebook and Twitter and view the source page in default web browser.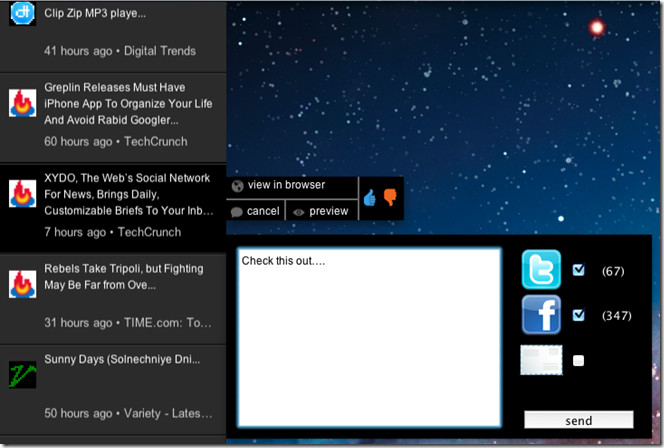 In a nutshell, retickr is brilliant social media tool to keep abreast with latest news regarding defined news genre. However, we feel that it would have been a lot better if it had options to include custom or Google Reader feeds lists as well. retickr works on Mac 10.6.6 or higher.
Looking for retickr variant for Windows, check out Snackr.