Have Your Mac Shut Down, Logout Or More When A Bluetooth Device Is In/Out Of Range
Earlier this year, we reviewed Bluetooth Screen Lock an app worth $1.99 in the Mac App store that locked your Mac whenever a Bluetooth device you had paired with it and added to the app went out of range. For forgetful users, the app presents an excellent way of ensuring you never leave your Mac open for anyone to use. If you'd like a similar but better and free solution, give Blue Butler a try. It is a free Mac app available in the Mac App Store that allows you to assign any power function (Shoutdown, Logout, Restart or Sleep) to be triggered when your Bluetooth device goes in and out of range. In addition to setting power functions, you can also have the app to open any number of files (or AppleScript files to perform a list of actions) when a device goes in and out of range. Compared to the previously reviewed Bluetooth Screen Lock, this app not only offers more functionality, but also has a lot less bugs.
Although it doesn't specifically say so, it is probably a good idea that you pair your Bluetooth device with your Mac first and launch the app afterward. Once you've paired the device, launch the app, it will sit in Menu Bar (looking rather fancy and dressed up). Access the app's settings from the Menu Bar icon. If you've successfully paired  a device, head to the 'Settings & Statistics' tab first. Add the device from the plus sign at the bottom of the left panel; you can add more than one and assign separate functions to each one. Select the relevant options to have the app detect when the device(s) go in and out of range, set an audio alert for when they do and then define a power on /off functions.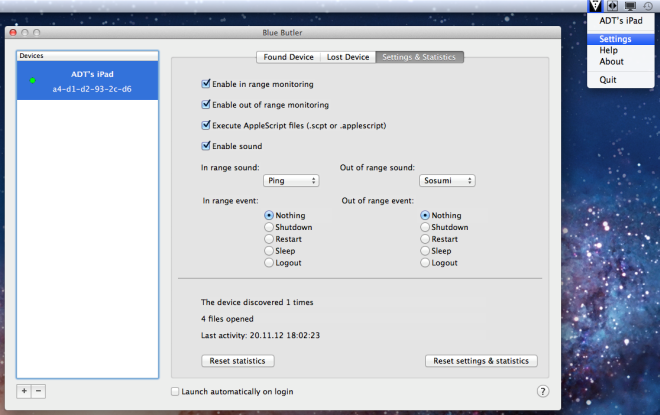 To define which files Blue Butler should open when a device is in range, go to the 'Found Device' tab and drag & drop the files you want to open. If you've added several devices, select a device before you associate files with it. You can also set up files to open when the device goes out of range and files can include apps as well.
There isn't any way of defining the range for a device as there is with Bluetooth Screen Lock so that means you device must be completely out of range before it executes a function. In addition to opening files, Blue Butler will also let you run AppleScripts if you've enabled them in the 'Settings & Statistics' tab. Windows users looking for something similar can try Blue Lock.
Install Blue Butler From Mac App Store