Share Links From Menu Bar With Another Mac On The Same WiFi Network
Sharing files between two computers is something users do so frequently that the market for apps that facilitate the transfer of files is growing all the time to keep up with their needs. For Mac users, Air Drop is a simple native file sharing solution that is available on most post 2009 models. Now, assume it isn't files you want to send; it's links. You have your messengers for this purpose, but should you grow tired of going through your chat history looking for a link shared a day or an hour ago, there is The Great Link. It's a free Mac app that allows you to send files between two Macs over a Wi-Fi connection, provided you have Bonjour enabled. The app keeps a complete history of links that you've sent and received, it can copy links from an active browser window (Chrome & Safari only), open an incoming link, or copy it to your clipboard. The Great Link runs in the Menu Bar and supports Notification Center if you're on Mountain Lion.
Once installed, make sure you have Bonjour turned on, head over to iChat (OS X Lion) or Messages (OS X Mountain Lion) Preferences to check if you do. Both Macs, i.e., the sender and the recipient, must have The Great Link installed. Click the app's icon, and you will see your Mac profile image in the pop-up that appears below. Click this image and all Macs on the same Wi-Fi network with the app installed will be listed. Click whichever one you want to send a link to.
Next, bring your browser window to the front (the app's menu will not close), and with the browser window still active, click the 'Get Browser URL' button in the pop-up. Once the link has been copied, the 'Share' button will become active. Click it and the link will be sent to the selected Mac.
To view incoming links, you will have to go to the History page, and check the 'Outgoing' tab. To switch to the History page, use the page control dots at the bottom of the panel. The third page has link history and the first page is dedicated to the app's settings.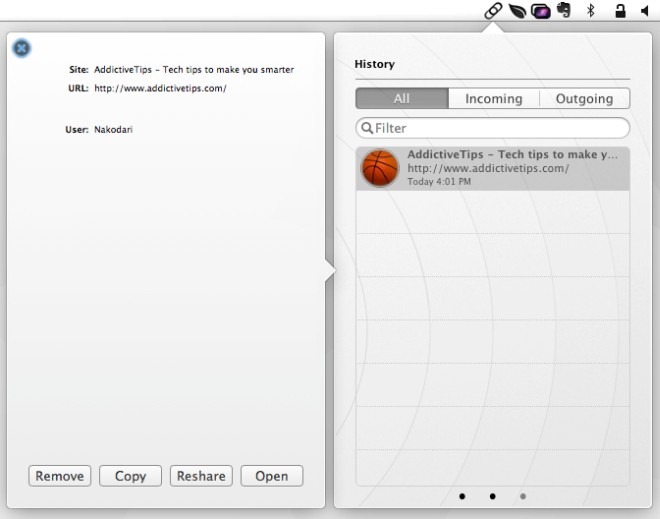 From the app's settings menu, you can enable notifications for incoming links and for when users come online or go offline. You can choose to keep history for either, or both, incoming and outgoing links, and set your Mac to be discoverable by other Macs on the network.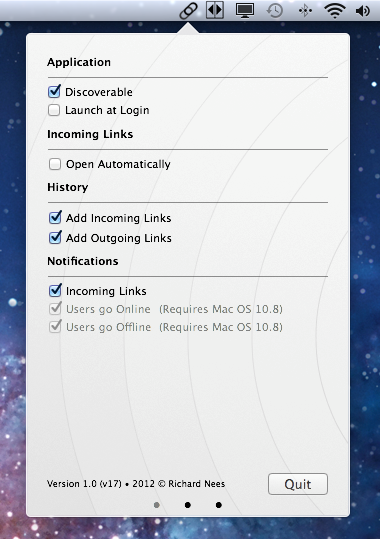 The Great Link is a good app for exchanging links, though it would help if it notified you of incoming links in a more obvious way. Lion users will have no way of knowing a when link has been shared, since they don't have Notification Center. Apart from that, the app is a useful enough tool to have around.
Download The Great Link From Mac App Store