SharePlay: Manage Podcast Streams & Project To External Screens [Mac]
You will find lots of apps for streaming podcasts on almost any platform, and for Mac, both iTunes and QuickTime are great for managing different streams, but if you have one Mac and a large audience that you want to play a podcast to through an external display, you might end up fiddling with a projector for a while before things are up and running. SharePlay is a free Mac app that streams Podcasts and automatically detects and supports external displays. Using the app's hotkeys, you can control full screen mode and forward or rewind a stream 10seconds from your keyboard.
The app lists all hotkeys at start up, as well as its preferences. The hotkeys let you convert the podcast to full screen mode, pause/play the stream, exit full screen and rewind or forward it by 10 seconds. To have the app automatically detect and play the podcast on an external display, check the Use Second Display option.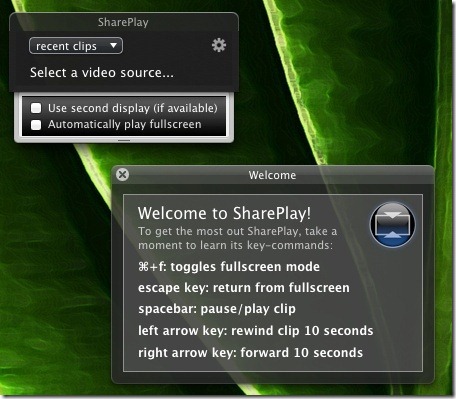 To add a stream, click the Recent Clips dropdown, and select what kind of stream you want to add, i.e., a stream URL or a Podcast URL. By default, the NBC News podcast is added, and you can visit it to test if the app is working. Click the option for the kind of URL you want to add, and paste the URL in the bar that pops up and hit return.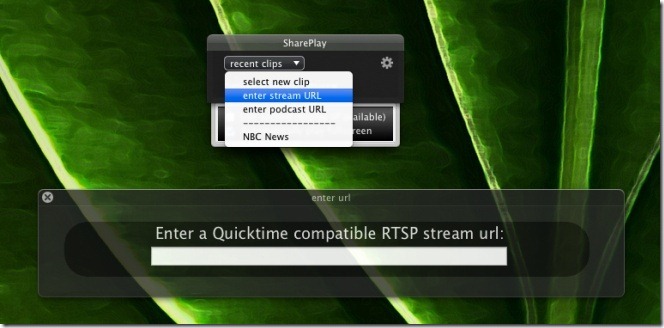 If you choose to have the stream start playing immediately, the app will load and play it. If you opted not to have the stream play as soon as it was added, go to the Recent Clips dropdown and select the stream (or any other stream that you might have added), to start playing it.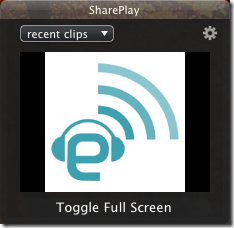 In full screen mode, you can view play/pause, forward and rewind buttons when you mouse over the screen. The app preloads the stream for smooth and uninterrupted streaming.
Get SharePlay From Mac App Store