Simplayfy: Search Music & Control iTunes From The Menu Bar [Mac]
Apps for controlling iTunes aren't rare, and they are mostly free. A typical iTunes control app lets you stop/resume music playback, most of them sporting one-click operation and functionality. Simplayfy is a free Mac app that, despite putting the play/pause function two clicks away, lets you search your iTunes library as well. The app supports extended controls for iTunes and gives you on-screen notifications when a new song begins or changes in iTunes. The app is free for a limited time, without actually specifying the duration the "limited time" entitles to.
Simplayfy can launch iTunes when it is started and keep it running in the background. You can use the app to control iTunes without having to visit the media player's own interface each time you want to change what's playing. The app takes up considerable space on the Menu Bar; a search button, and a playback toggle are added. Sandwiched between the two is a bar showing the source of the music that's being played, i.e., your iTunes library or a radio station. Each time a song is played, a notification pops up in the top right corner, which can be repositioned anywhere on the screen. A small orange button at the bottom right of the notification lets you switch to the next song.

When you click the play/pause button, a media control panel opens. You can adjust the volume, set the songs to shuffle and skip to the next or previous song. The play/pause button reflects the state of the song, so if the button shows a pause icon, it means iTunes is paused and vice versa.
The media panel has additional buttons along the bottom. The cog wheel at the bottom left opens up additional settings, where you can select how long a notification is displayed, whether launching Simplayfy should trigger iTunes launch, and if you want to view artwork or quit the app.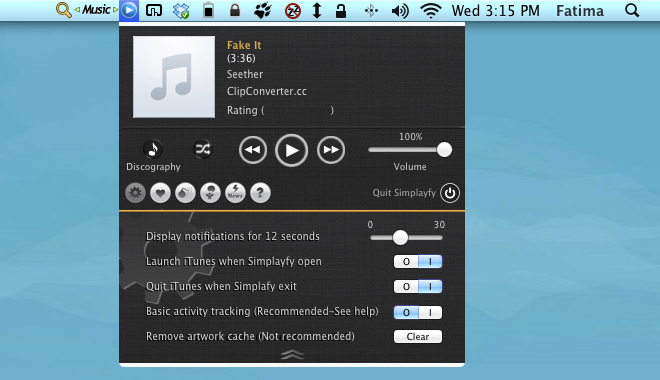 The search button in the Menu Bar lets you look up songs in your iTunes library by entering a song, artist or album's name. Since the app doesn't support real-time search, you will need to type in your query and hit Enter for results to get populated. Click a result to play it.

Although playing/pausing songs via Simplayfy is a two-click process, the app is nevertheless feature rich and gives you considerable control over iTunes, all in a reasonably-well-designed interface.
Get Simplayfy From Mac App Store