Simple Image Editing Tool Batch Converts Images & Adds Watermark [Mac]
We've covered multiple image format converters for both Mac and Windows, and several web apps that allow you to edit images, but few that allow you to add watermarks to them, and that, too, in batches. Simple Image Editing Tool is an open source, Java-based Mac app that converts images to two formats, i.e., PNG and JPG, compress images in JPG, and adds a custom text watermark to images. Image conversion and compression aside, the watermark feature is no doubt of interest to anyone wanting to protect images from copyright infringement, or even for freelance designers who want to share design mock-ups with clients who seem unlikely to pay for work.
Download the file, extract it and run the siet-launcher JAR file in LIB folder to start the app. The interface is nothing that you will instantly fall in love with, but the app works flawlessly. It is divided into five sections. The top left section is where all files that you've added for conversion are displayed. To add a file, click the Add button to browse and add files. You can later remove them using the Remove button.
In the section on the top right, enter a destination for saving the files, and if the destination is the same as the source, check either the Rename or Overwrite buttons to tell the app how to deal with duplicate file names. Select which format you want to convert the file to, and if you don't want to add a watermark, click Start on this second section.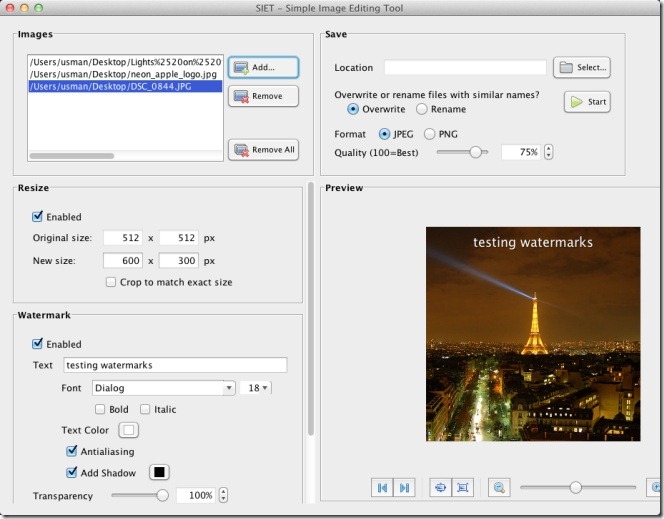 The app also lets you resize images or crop them as they are converted. By default, the app resizes images; however, you can choose to crop them by selecting the Crop to match exact size option under third section, Resize, just below the add file section.
If you want to add a watermark, check the Enabled option in the fourth section, Watermark, in the bottom left corner. Type in text for the watermark in the Text field, choose a font, color, font size, transparency and location for where the mark should appear on the image.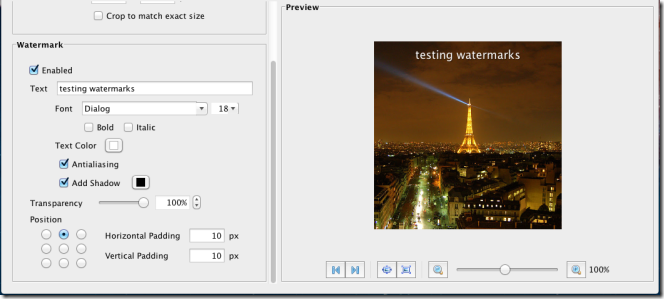 The fifth section, which takes up most of the room on the right side, allows you to preview the changes you are making to the image. In all fairness, the app is more of an image watermarker with additional features for image conversion and resizing. It is also worth mentioning that since this app is Java based, it is OS-independent, and will work on all operating systems that have a Java Virtual Machine (Hence Windows and Linux are also supported). It requires Java Runtime Environment (JRE) version 6 or higher.
Get Simple Image Editing Tool For Mac