Skip Tunes: Control The Default Music App In Mac From Menu Bar
If you use iTunes, you are likely to have an app that lets you control iTunes from the menu bar. Either that, or, at some point, you may have tried using one to make using iTunes more convenient. For whatever reason you didn't stick with the utility you tried, Skip Tunes is a Mac app worth $0.99 in the Mac app store that lets you control music in your default music player. This means it can work for either iTunes, or any other app that you use as your default music player. The app adds play/pause and forward controls to the menu bar, but expands to reveal a complete media player with a seek bar, a shuffle button and a backward and forward button. Skip Tunes itself present a neat interface that Mac lovers like to see in apps.
When you launch the app, the media icons are added to the menu bar. A small musical note accompanies the two media buttons and is clicked to expand the controls. The expanded controls allows you to see the name of the song being played and any accompanying album art. If you're playing a video, you can view the video in this pane. A small cog wheel allows you to visit the app's preferences, or quit it.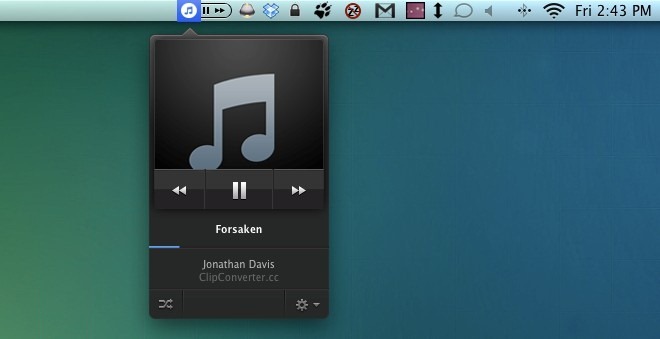 The app's preferences allow you to set the app to start at log in and to check which is the default music player. It won't let you change the default music player for the system, so you will need to do that yourself. Skip Tunes only lets you see which is the default player that it will control songs from.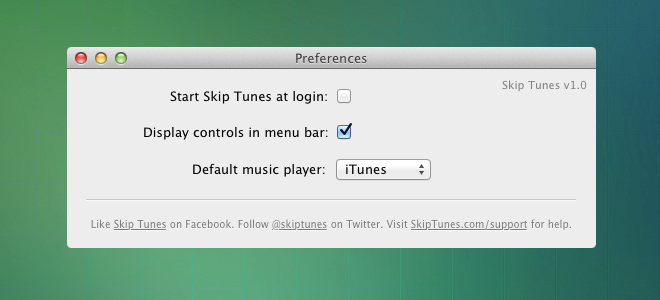 You can choose to hide the media controls too, and have only the app icon and the musical note appear on the menu bar. The icon will open the song preview pane, complete with media controls.
Get Skip Tunes From Mac App Store