SocialShoutings Lite: Post To Twitter & Facebook In One Go [Mac]
We've covered apps in the past that allow you to manage multiple social network accounts from your menu bar. Facebox is one such app, covered last year, for viewing your Facebook feed, messages and posting updates. Social Lite is another app that lets you view feeds from Facebook and Twitter and view messages in your Gmail inbox. SocialShoutings Lite is a free Mac app that lets you post to Twiter and Facebook at the same time. The app shows a character count and supports URL shortners, Goo.gl, bit.ly, j.mp and is.gd.
The app does not add an icon to the menu bar, and will reside in the Dock. In addition to adding Twitter and Facebook accounts, you can also add a URL shortner that will shrink links you post in your status updates. Before you can start using the app, you will have to add at least one account. The app takes you to its preferences when launched for the first time. Visit the Twitter tab to add a Twitter handle, or the Facebook tab to add your Facebook account. Click the plus sign to add an account. You will have to sign in to each account and authorize this app.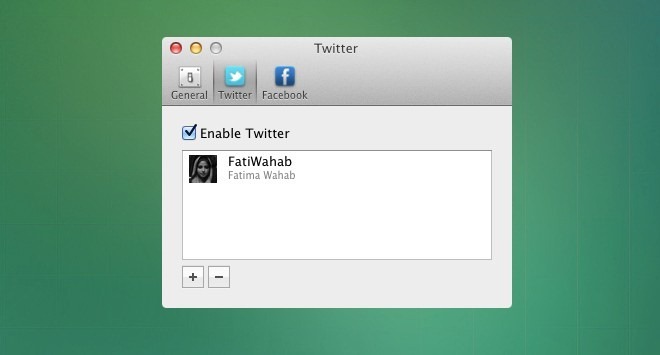 Once you've added accounts, visit the app, and you're all set to start updating your status. As you type, the number of characters of your update is displayed at the top. By default, the app will post from all accounts that you've added, and to disable posting from an account, click the account button (Twitter or Facebook) and select the account you don't want to post from the pop up.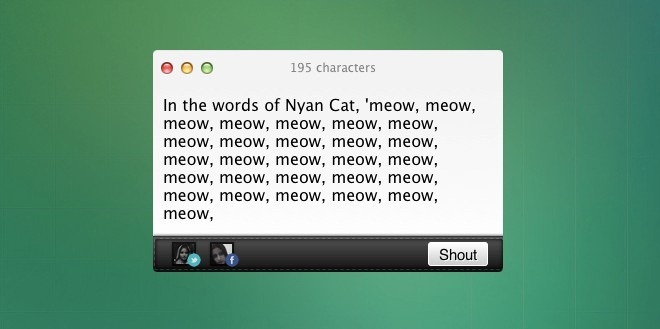 If you're posting to both Twitter and Facebook, and your update exceeds 140 characters, the app will warn you that the update is too long to be posted on Twitter. A pro version of this app is also available for $1.99 in the Mac app store, and it allows you to post to Tumbr and Posterous. What's noteworthy about the pro version is that you can add as many Twitter and Facebook accounts as you like, and chose which ones to post from. If you maintain more than one account on either of these networks, this app will help you post to all accounts or to any one more easily. The pro version will also let you share images by dragging and dropping them on to the shout box.
Get SocialShoutings Lite From Mac App Store