Sticky Notifications Lets You Pin Reminders To The OS X Notification Center
The human brain is a funny thing; it has the ability to remember the most horrific and embarrassing things about your life but will immediately forget something important and crucial. To deal with this behavior, people do everything from setting up reminders to using sticky notes and even tying strings around their fingers. What's common among most reminder apps is that they are meant to remind you something at a defined time but forgetfulness doesn't always give you a date. You might be working on something and perhaps you have a great idea that you need to get down on paper but get called away from your desk before you can. Sticky Notifications is a free Mac app (with a paid version available for $3) that is a reminder app for the present. The app is for recording an idea that you can easily view via the Notification Center the second you return to your desk. The free variant has no ads but will remind you occasionally to buy the full version.
Sticky Notifications adds an icon to the menu bar. You can access the app's preferences and add new reminders from it. Visit the preferences first and choose if the reminders should be sent via Notification Center or Growl. The app supports both so even if you haven't updated to Mountain Lion, you can use the app without a worry. You can also set a hotkey to quickly add a new reminder from the General tab in preferences.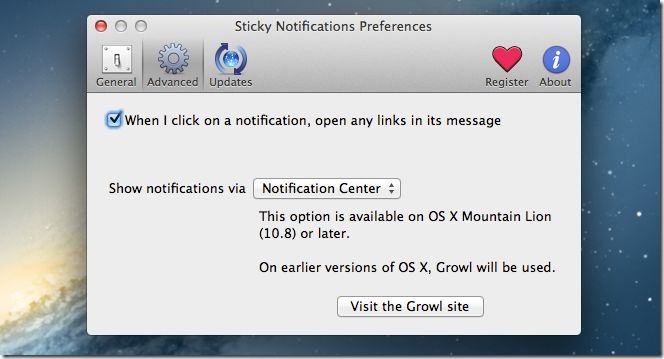 To add a reminder, click the icon or just type the hotkey if you've set one. A reminder has three elements; a title, a subtitle and the actual reminder i.e. the message. Once you've entered the details, click Notify.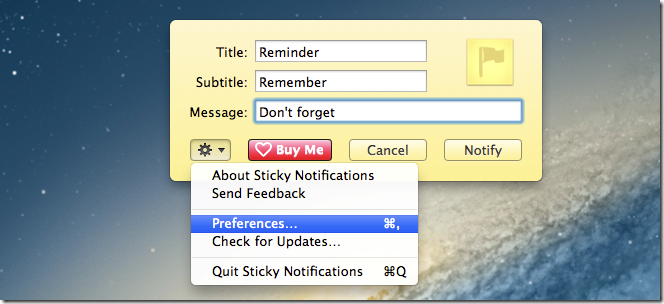 A reminder will show up instantly. There is no way of scheduling a reminder because that isn't what the app is made for. The reminder stays visible as long as it is not dismissed and can be viewed again in the Notification Center panel.

As stated earlier, this is not your conventional reminder app. It is best suited for situations where you need to remember something but are not sure when you will need to be reminded of it. While the stock reminder app is for normal scheduled things to remember, you can use this app to recall the second you are back on your desk.
Get Sticky Notifications For Mac